It's a myth Indians eat spicy food: Chef Manish Mehrotra
With Indian Accent, Manish Mehrotra, is reshaping what the world, including Halle Berry and Mick Jagger, understands about Indian food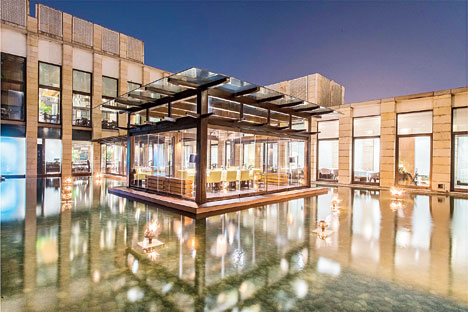 ---
---
He's the man of the moment in the Indian F&B scene and you'd expect a chef who feeds the likes of Halle Berry and Mick Jagger to be self-conscious of his importance. But Manish Mehrotra — the corporate chef of Indian Accent, in Delhi, New York and London — is as disarming as the food he cooks. In Calcutta for a culinary workshop for YFLO, Mehrotra chatted with t2oS on raising awareness about pan-Indian flavours.
What was the idea behind Indian Accent when you opened the first restaurant in Delhi in 2009?

The idea behind Indian Accent was to do an Indian restaurant, which is different from the traditional and yet touching all the different parts of India, but in my own particular way, where people from outside India can easily relate to it and be more comfortable with the cuisine. I wanted to present it in a more modern way so that it looks beautiful because presentation is very, very important, which has somehow not been there in our cuisine that much for a very long time. I wanted the colour, texture and flavour combinations to be correct.
Are the menus at the three Indian Accent outlets different from each other?

All three restaurants (in Delhi, New York and London) have different menu structures. New York and London have three-course, four-course and a tasting menu, but a very limited a la carte menu. In Delhi, we have a la carte and a chef's tasting menu, which is slightly more elaborate with more vegetarian choices.

In New York and London, we want people to eat a certain way, rather than choosing a weird combination. We have seen, especially in America, people really don't know what goes with what. They mix everything and it turns out like the a Keralan dal and it becomes very scary!
Ingredients-wise, we really struggle in India, but outside we get a lot of fresh ingredients, meats and seafood. And we really follow seasonality to the core because that is very, very important there. In India, sometimes people come in May and ask for gobi!
After Delhi, Indian Accent opened in New York and London. Why not in any other Indian city?
We tried to open one in Mumbai but somehow it didn't happen, and New York happened instead. I feel New York and London are more of global fusion cities — you find people from different walks of life and countries and cultures. Their cuisines are all very well represented. You will find Ethiopian, Moroccan, Peruvian, Vietnamese, Russian.... Unfortunately, our cuisine was always represented in other parts of the world in a very different manner. For the rest of the world, only north India existed and there's nothing called south, east or west India. Everything is naan, bread and curry. It's sad but it's changing. These two cities are also great places for foodies as people really go out and eat.

New York Indian Accent opened in 2016 and is doing phenomenally well; it's becoming increasingly difficult to get a table in the evening on the same day or even one day in advance. London opened in December 2017 and we are settling down; dinners are quite busy and lunches are catching up.

The difference between London and New York is that New Yorkers didn't really know about Indian food, while Londoners have an idea, though 80 per cent of what they know is wrong. Nobody eats vindaloo in India, apart from Goa! Chicken tikka masala is not an Indian dish. Rogan josh has various versions but they are familiar with only one. They only know what the Bangladeshi restaurants cook over there. Nobody eats onion bhaji and samosa in a restaurant, and who drinks mango lassi with food?

Also, Indian, Thai, Chinese and Mexican are not considered fine-dining; they are known to be more of a cheap takeaway kind of food. People are really happy to spend $300-$400 on Japanese, French or Italian meals but they will not pay $100 for an Indian meal. That's a mindset we want to change and it will change, but will need some time.
How have you developed the menu for Indian Accent? What is the focus?
Before Indian Accent, I had never worked in an Indian restaurant formally; I'd always worked in pan-Asian kitchens, which really helped. I broke all the rules that this thing has to go with this thing and not that. And that's the whole idea and I wasn't working with any mindset that chicken tikka has to be red or something.

When we were planning, we took over a small 14-room boutique hotel in south Delhi, inside a residential colony and we were planning to do something around a restaurant there. That time, I was in London and my boss told me what he was thinking of doing. Another chef from his London restaurant was supposed to work on this but I said, "Give me a chance but I'd like to do a different kind of Indian food." So yes, the first trials of Indian Accent happened in London and everybody liked it.
The menu took about six months and Rohit (Khattar, chairman of Old World Hospitality, which owns Indian Accent) was always around and supportive. I wanted the flavour to be really, really Indian because my clientele was the most difficult as I was doing it in India! If I do something to your food in your house, I will have to be very, very careful so that you accept it. In the beginning, people were like "You're opening an Indian restaurant in Delhi without butter chicken?" but then slowly, they started understanding what we were exactly doing.
Among the first few things that we had come up with were a Chyawanprash Cheesecake served with hot badam milk, Meetha Achar Pork Ribs, Blue Cheese Naan and Pulled Kathalphal Ka Tacos.
I remember this old lady coming up to me and telling me very sweetly that my blue cheese was spoilt and that she was just saying so that I didn't serve it to anyone else, and I didn't say anything. See, blue cheese is an acquired taste and we were doing these things for the first time, back then.
How would you define Indian food?
Indian cuisine is vast and it is still unexplored. Now, regional cuisine has started becoming more popular and we have just entered the regions, but are yet to enter the homes to understand the intricacies. For example, the mindset of the people was that Bengalis eat only fish but that's slowly changing. The range of vegetarian food available in Bengal is unbelievable and people are just starting to understand that.
How would you define your signature style?

It's been 23 years and it's really difficult to define my style. I would say I do Indian food with a little bit of a twist but with flavours. If you close your eyes and eat my food, the flavours are Indian but if you open your eyes, it's not Indian food. I pay a lot of attention to different flavours and textures.

I am from Bihar and we have a blend of sweet and savoury in our dishes, so a new dessert on my menu in Delhi is Aloo Chips with Ice Cream, wherein we incorporate two guilty pleasures — raspberry aloo chips which we serve with a homemade ice cream and a masala maple chutney. We keep changing the menu — at least four times in a year in New York and London, and in Delhi, a little more to keep it seasonal.
The one myth about Indian food that you bust with your restaurant's menu?

Everyone thinks Indians eat chillies and spicy food. Nobody eats very spicy food on a day-to-day basis, maybe on a Sunday or a holiday. Yes, India is known as the land of spices but we use it in tandem with our flavours, in combination with ingredients. I don't think there's any one dish that is dominated by a single kind of spice, whether it's panch phoron, garam masala, Kolhapuri masala, chaat masala — these are all blends.
You share a lot of pictures from the different kitchens you work in. How do you like to run yours?

I am not a very pleasing personality in the kitchen. First thing is that I never hide anything from anyone in the kitchen, unlike many chefs that I have worked with earlier who used to be secretive about ingredients and recipes. Till the time you train the chefs properly, you will not be able to move ahead. I believe in training.
I tell all my chefs to taste everything 10 times and to not trust just their own palates. I always have a habit of tasting things and getting it tasted by someone else. I don't like it when someone does something wrong in the kitchen due to negligence or because they are running short of time, despite knowing the correct way of doing it.
What makes your restaurant so popular with the celebrities? Who have you hosted?
There are a lot of them who keep coming. Halle Berry came to Indian Accent New York for lunch a few months ago, came back for dinner the same day. We were like "wow" and got pictures clicked. Then she came back for lunch the next day. Then a day and a half later, she came back again for lunch and dinner. So in one week, she visited five times. I was like, really? Am I making that good food?!

Mick Jagger keeps coming to the New York restaurant and has already visited eight-nine times. One evening we had Jagger at one table and Bruce Springsteen at another and guests didn't know where to look. We feel happy about it, of course.

The London restaurant is frequented by a lot of famous chefs and celebrities. For us everybody is a VIP and we have a rule that the celebrities should be allowed to enjoy the experience. So not a single staff member of mine will ever ask for an autograph or a photo. If the VIP is sitting at one table, the guests sitting at nearby tables become more important to us.
Indian Accent is about the entire experience, from the moment you enter to the food, the wine pairings, the service. For example, we have 102 wines on our menu and even if one is not available, we print a new menu. So we always try to make everything available.
Did you never have a fan moment?
In my 23 years, I have never asked any celebrity for pictures but only once — when it was Amitabh Bachchan. He had come with his daughter, Shweta, to Indian Accent in Delhi and this was four-five years ago. I asked his daughter and she was like, why don't you ask him? And so I asked him and then Jaya Bachchan took the photograph, in fact. I am from Bihar and I really like him.
Three ingredients you love to work with: Coconut, garlic and oyster sauce.
The most tricky ingredient: Chicken because it's very bland.
Fave kitchen tool: A wok.
The most overrated and underrated ingredients: Activated charcoal and all those things are weird and overrated. All the Indian vegetables are underrated and an underrated cooking technique would be steaming.
A cookbook that's your bible: The Flavour Thesaurus by Niki Segnit.
Fave breakfast items: Plain dosa or a nice kachori with aloo ka sabzi and jalebi if I am feeling indulgent.
Fave food to end your day with: Usually I end up eating bhelpuri that I make at home, or Maggi. What else will I do at 2am after smelling so much food all day in the kitchen?!
A fave drink: Single malt Glenmorangie.
One thing about diners that makes you lose your cool: When diners book and are no-shows.
Fave thing to cook with your daughter (Adah, 11): Maggi because we both love it.
A must-try at Indian Accent, Delhi: Ribs, Ghee-roast Lamb, Doda Barfi Treacle Tart, and all our Kulchas.
A chef whose work you follow: Cornwall-based chef Rick Stein for his honest, simple cooking. Making simple dishes is 10 times more difficult than making complicated ones.
Indian chefs who are doing good work: Many. One of my favourites is a young chef from Mumbai called Gresham Fernandes from Social who does his own thing and is very talented and is also one of the most satisfied guys in the world and does not want limelight and goes and DJs sometimes instead.