Oh! Calcutta's hilsa feast is here, snapshots
The Telegraph gets you a highlight of what delicacies the restaurant has to offer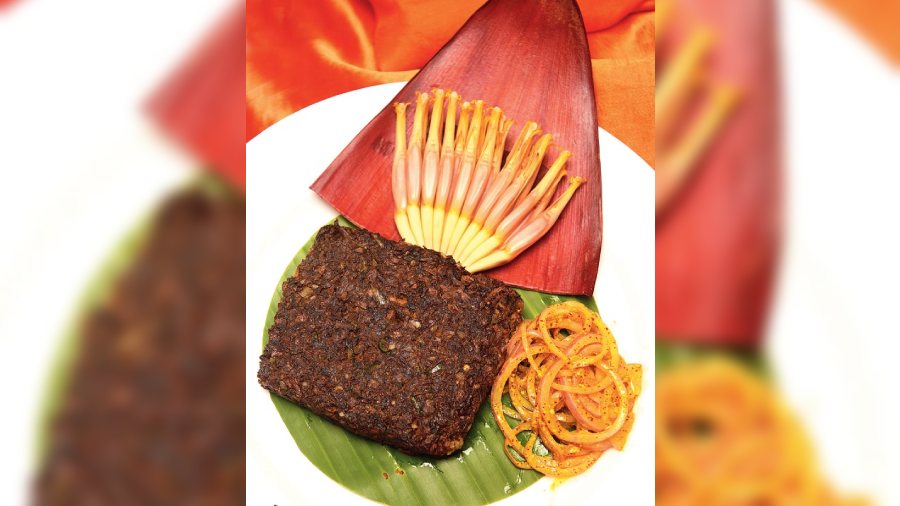 Baked Hilsa With Banana Flower (Boneless): A crunchy fare that leaves your taste buds wanting more, this Baked Hilsa preparation is an exciting mixture of spiced banana flower along with hilsa, cooked together to absolute perfection in a way that enhances the taste and aroma of all ingredients involved exponentially. Rs 1,145-plus
---
Published 23.07.22, 02:38 AM
|
---
The queen of fish, hilsa, is in the spotlight once again, due to the rains bringing in the freshest catch of the season. Making the most of the season's catch, Oh! Calcutta has, once again, organised their ever-popular River Water Hilsa Festival that has culinary enthusiasts flocking to the restaurant for ilish delicacies both old and new. 
The festival is expected to last for around two weeks and welcomes both experienced ilish-eaters who can pick out the seemingly countless bones of the fish with practised ease, as well as complete newbies who have yet to dip their fingers in the wonderful world of hilsa-eating.
The specially curated menu features classics like Steamed Hilsa in Banana Leaves and Steamed Boneless Hilsa, original creations like Hilsa with Poppy Seeds and Coconut, and new additions like Smoked Hilsa, a dish that has been especially inspired by cuisine from the Raj.
As always, Oh! Calcutta is focused on reimagining the old and preserving the traditional, all at once. This is seen distinctly in their preparations of Pickled Steamed Hilsa, which has been a favourite for sure during the festival. Multiple techniques are employed in the masterful culinary processes for these dishes while keeping hilsa the star ingredient in all of them.
Chef Sumanta Biswas talks about the combined emotions of apprehension and anticipation during the festival, since hilsa has been a symbol of cultural significance for aeons now. "Being a Bengali chef in Bengal and to serve the local people with tastes that we've known from our ancestors is a very difficult thing but when people start to like the food that we've creatively imagined, we feel quite proud. We have changed many things about the cooking methods over the years. For example, our Smoked Hilsa is essentially an Anglo-Indian creation. Unlike our traditional Bengali preparation, we grill the fish and used some smoked sauces at the top. Then there's the Steamed Mango Pickle Hilsa, which we've tried to innovate by swapping the usual banana-leaf wrapping with pumpkin leaves or bottle gourd leaves instead. There's also the Mochar Ilish, which involves the banana flower and some boneless ilish being pan-fried. Working with ilish means that you constantly have to come up with new dishes that are palatable for our customers' tastes. It is a challenge as a chef, definitely, but us chefs love a challenge."
What: River Water Hilsa Festival
Where: All outlets of Oh! Calcutta
When: 12.30pm to 3.30pm for lunch, 7pm to 11pm for dinner
Meal for two: Rs 2,000 (without alcohol) "It is quite important, in my opinion, to organise something like this every now and then. Restaurant menus are designed with quite a lot of blood and sweat put into them, but consumer palates change every so often. Coming here and ordering a few particular dishes may get monotonous after a while, and for this purpose, it is important to change things up. It may be in the form of a hilsa festival, a bhetki festival, our summer festival that features summer vegetables, and so on. The audience response is overwhelmingly positive each time, which encourages us to continue to organise events such as this," says Debashish Ghosh, general manager of Speciality Restaurants.
Pictures: B. Halder