Natasha Celmi's new cookbook is a sure-shot way to be fast, fresh and flavourful in the kitchen
'The whole book is not just about recipes but it is about time management. The first word is 'fast' and at the same time it's fresh.'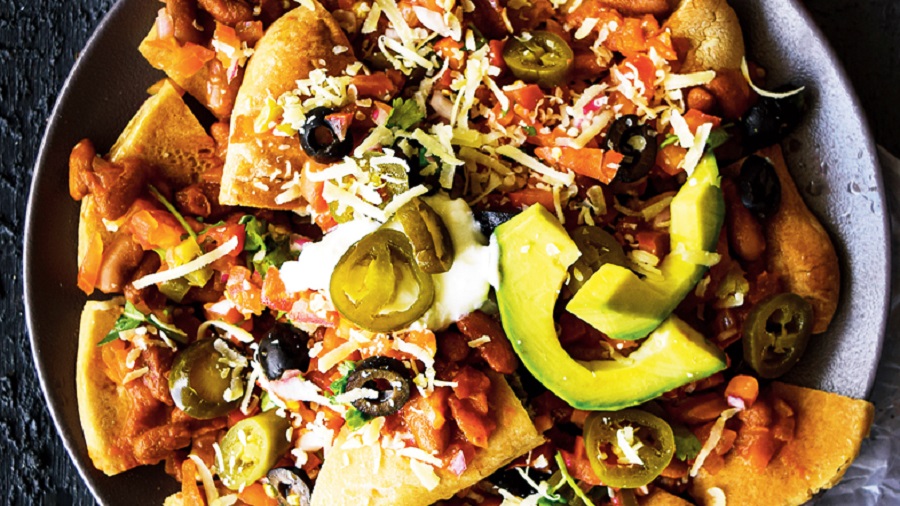 ---
---
Natasha Celmi had a very specific idea in mind when she decided to pen her cookbook Fast Fresh and Flavour: Everyday Meals Made Easy — to not let anyone spend too much time in the kitchen trying to source fancy ingredients to recreate international dishes that take immense labour and are saved for 'special days' only. Cooking must be effortless, she feels. "My audience is the urban young crowd and this book was written to address the problem of young people refusing to eat dal chawal every day for their meals. We are global citizens now and people are exposed to international flavours all the time and they wonder how to make a good Pad Thai or a good salad at home," says Natasha, who herself delved into cooking less than a decade back after being averse to the very idea of anything to do with the kitchen. She now has a flourishing social media presence with her successful blog Cucina Mia by Natasha Celmi.
"This whole book is not just about recipes but it is about time management. The first word is 'fast' and at the same time it's fresh. I am not using bottled sauces and the likes and it's definitely flavourful. The idea was to simplify the process and not spend the day in the kitchen," she said and we agree. For her book comes equipped with ways to manage leftovers, to meal-prep on weekends so your dinner is ready in half an hour after coming back from work and we learnt the usage and value of the phrase "cooking smart" where one doesn't spend eons figuring out logistics of cooking.
Don't let the "Vibrant Vegetarian" tag mislead you for this book is for everyone. Her vegetarian take on all dishes come equipped with a small tip at the bottom, telling you how exactly to bring a non-vegetarian twist to it. She is herself a non-vegetarian but increasingly finds herself leaning towards a plant-based diet. We probed her a little on this trend that can now be seen amongst a lot of this generation. "The dishes oftentimes or in most cases get their flavours from the vegetarian elements and then one can add whatever meat they like. Moreover, in my cooking classes I have noticed non-vegetarians come in for a vegetarian class to learn to make a good pasta sauce maybe," she added.
Her husband is Italian and is a superb cook, we are told, and he enjoys his lentil burger or a sweet potato burger just as much as he appreciates a non-vegetarian platter. "A lot of people are finding that being vegetarian is a healthier dietary option for the system. It's about balancing health and flavours," said Natasha and that is the reason why she has kept her book completely flexible. This book is especially aimed at non-vegetarians to assist because they are the ones who need to glamourise their food and not let a sabji be just "boiled potato or cabbage".
The book is available on Amazon and Flipkart and is already topping the charts on the former. Natasha wants her readers to create the dishes in her book, which include the likes of Italian Zucchini Rolls, Barley Risotto, Easy Cheesy Quesadillas and Kung Pao Cauliflower and then tag #FastFreshFlavourful because we all know now that you haven't really cooked if it's not click-worthy. And her dishes are just as palatable and flavourful as they are glorious to 'gram! Grab a copy and if you have any questions, the author is available for her online cooking classes!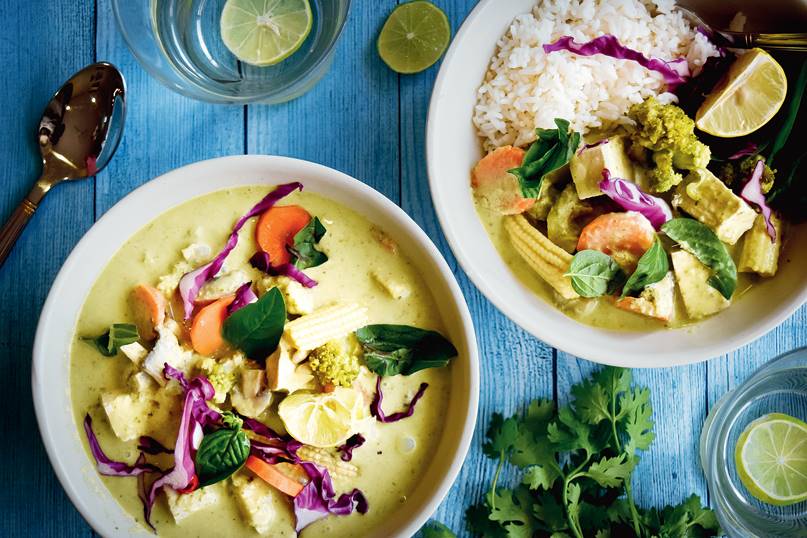 Thai Green Curry Demystified
Comfort in a bowl, aka Thai curry! This has sated many cravings, especially during my travels in Thailand. Back home, I recreated a milder version with less chilli and my own home-made paste, which brings a freshness and balance that is so characteristic in Thai food. Double the quantity of curry paste and store it for days in the refrigerator. You then need less than 30 minutes to make the rest of the curry after a long day at work. Serve it with noodles in a bowl instead of the usual steamed rice as a variation.
Ingredients
(Serves 4)
Green curry paste (makes 1 cup)
2 lemongrass stalks
2 green chillies (or more)
1tbsp ginger, grated
6 garlic cloves, chopped
1 onion, chopped
2tbsp light soy sauce
1 cup coriander leaves and stems
1/4 cup Thai basil leaves
6 Kaffir lime leaves, torn
Zest of a lime
1tsp coriander powder
1tsp cumin powder
1tsp lime juice
1tbsp water
The curry
2tbsp sesame or vegetable oil
1 cup green curry paste
3 cups coconut milk
1 cup mushrooms, sliced
2 carrots, sliced
1/2 cup baby corn, diced
2 cups broccoli or cauliflower florets
4 Kaffir lime leaves, roughly torn
Chilli powder
2tbsp light soy sauce
3/4 cup water
2 tsp brown sugar zest of a lime
1 cup tofu cubes
1/2 tsp salt
2tsp lime juice
To serve
5-6 basil leaves
8-10 mint leaves
Rice or noodles
Quick tip: If you do not have lemongrass or Kaffir lime leaves handy, replace with an extra teaspoon of lime zest.
Method:
Prepare the lemongrass and slice it roughly. Blend all the ingredients together for the paste till you get a smooth green paste. Store the curry paste in the fridge or use straight away.
Heat the oil in a curry pot. Stir-fry the green paste for 2 minutes with a cup of coconut milk to get a thick, aromatic base.
Add the vegetables (not the tofu) and saute for a minute. Add the Kaffir lime leaves and red chilli powder (if using). Add water along with the light soy sauce and salt.
Cover and cook on medium heat for 2-3 minutes till the vegetables are cooked halfway. Add the brown sugar, remaining coconut milk, lime zest and tofu cubes.
Simmer on low heat for 2 minutes. Taste and adjust the seasoning. Squeeze in the fresh lime juice.
Finish with some fresh basil and mint leaves, and serve with rice or noodles.
Make ahead/leftovers: Make some extra green paste, and freeze it in an ice cube tray for up to a month. You should defrost 3-4 cubes of paste for this recipe. The ready curry stays good for 2 days in the fridge.
Meaty addition: Replace half or all the vegetables with 300g of chicken thigh cubes and add it in the beginning. Replace light soy sauce with fish sauce.