From big-fat wedding to family-only affair
Weddings in a slightly different packaging in the new normal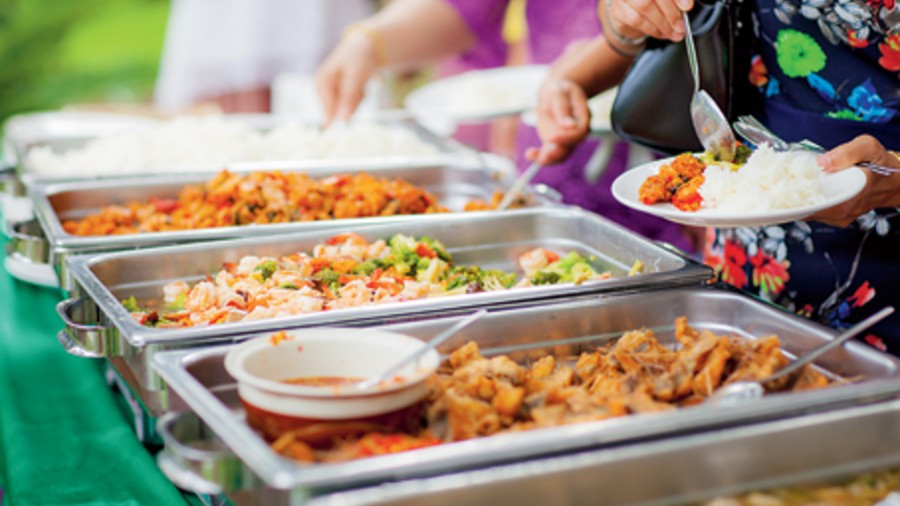 ---
---
The big-fat Indian wedding seems like a thing of the past in the current situation where it's either a small gathering or strictly, a family-only affair. Even though the ever-growing wedding industry has taken a big blow, it hasn't stopped the weddings from taking place. Now, they just come wrapped in a different packaging. There's no doubt about the fact that food is one of the highlights at weddings and it has a lot to do with making the whole affair grand. With the budgets reduced, limited staff strength, rules and restrictions to abide by, the wedding caterers and families or couples are slowly trying to adapt to the new normal and modify according to the need of the hour.
"Every time our employees are going for a party they come back and go through a RT-PCR test. We have to focus on the fact that the quality of food remains the same. We catered for a Bengali wedding where everything was sent in a large box. It was an exclusive catering because this was in June-end. All the virtual weddings were being catered to in this manner by us back then," said Anjan Chatterjee, the chief of Speciality Restaurants that has a 10-year-old Speciality Outdoor Services, which caters to several big-budget events, including weddings.
One of the things that the pandemic has done is make people more aware and cautious of their choices. It has made them rethink every aspect of a wedding, especially something as critical as food. "At the onset of the pandemic, the entire catering industry tanked a hundred per cent. In the new normal, catering is slowly picking up but people are far more cautious. The wedding parties are coming in early to the venue to check the steps that we are taking to ensure safety and hygiene," said S. Ramani, one of the partners of the 6 Ballygunge Place Group, who are one of the popular names in the catering industry in the city.
While trying to make most of the resources available, weddings are being hosted in a way where even though the celebrations are muted, they aren't dull. "People are shifting the dates. So what we are suggesting and what people are doing too is that they are spreading the celebration over a couple of days by calling small groups of people each day. There's one wedding we are catering to, where the family is hosting their family and friends over five to six days, inviting 25 to 30 people every day. People are also being cautious about the rates because of which we have come down 10 to 20 per cent from our original rates. We are now tailor-making menu according to the the budget. So, what used to be Rs 1,500 to Rs 1,700 for a plate, is now coming down to Rs 1,200 for one," said Debashish Ghosh, general manager, Speciality Restaurants, who has been looking after the operations of Speciality Outdoor Services. Branded as a non-vegetarian caterer, Speciality Outdoor Services does a lot of weddings in Calcutta, Delhi, Mumbai and Bangalore but they too are not in denial about the drop in numbers. "Bookings are very less, almost 90 per cent lesser compared to last year. The scenario is so bad that we have one wedding in January and the other in February, next year. And none after that, as of now. There has been a huge loss this year," added Ghosh.
Echoing his thoughts is Ramani, who mentioned how his company, co-owned by Aninda Palit and Sushanta Sengupta, won't be making any money through wedding catering — one of their strongest points — in 2020. "We have lost almost 98 per cent business this year. We used to do more than 30 crores of business in catering but this year, I won't even do a crore. More than 40 weddings until November have got cancelled. Most people aren't willing to pay more than Rs 1,200 (per plate cost). We are finding it challenging to give a lot of variety in the menu," added Ramani.
Aminia, that has been in the catering industry since the 2012, did 68 weddings last year. This year the number came down to 17. "We have had eight cancellations due to the pandemic. What has happened is that the invitee count has gone down and people are sticking to a short menu. This, in turn, has reduced the budget too. We used to send our staff two to three hours prior, to set up everything at the venue but now we are not being able to do that. We used to allocate as many staff as possible to deliver a flawless service but now, setting up before time has become a huge problem," said Kabir Azhar, director of Aminia Restaurants.
However, for those who are tying the knot, the pandemic doesn't necessarily seem to be a threat. For a city-based Phd scholar who got married recently, reducing the guest list by less than half was the only hurdle that she had to cross. She said that there was nothing else she would have liked to change about her pandemic wedding. "We had to reduce the number of guests from 500! But my mother was adamant about me getting married on the day that was originally fixed and luckily, we didn't have to cancel or postpone our wedding. Since my wedding caterer is someone my family knows, we were told about the price escalation due to the rise in the price of the ingredients. But he didn't divulge too many details," said Manali Roy.
On the other hand, some have given out clear instructions and are expecting their guests to follow them at the wedding. "We have made it compulsory for the guests to wear masks. Nobody will be allowed to serve their own food and there will be dedicated people from the catering service to do that. It was during the lockdown that we decided on December 11 as the wedding date. We figured that the pandemic wasn't going anywhere, anytime soon and we have to get on with our life. But we did decide to change certain things at the wedding and even locked in on an open-air space that I was looking for," said Amit Sharma, an IT professional who is based out of Bangalore and is currently in the city for his wedding.
While safety and hygiene seems to top the list of must-haves at the weddings at the moment and the months to come, the taste and quality of food isn't something that people are willing to compromise on. Even if it means a teeny-tiny increase in the cost. "My wedding was finalised after the pandemic hit us and even though I haven't had a final discussion with my caterers yet but looking at inflation over the years, I am expecting an approx 20 per cent rise. The cost pinch actually does not happen as the number of guests are already limited given the prevailing restrictions. But yes, keeping in mind safety and hygiene, I need to figure out how the operations will be handled and how best a contactless mechanism can be asserted," said software engineer and groom-to-be Debango Chakraborty, whose wedding, spread across two cities, is set to take place on February 14, next year.
As one of the worst casualties of the pandemic-hit world, the wedding catering industry has a small reason of cheer as the insiders suggest that the graph has a slow but steady pace of going up. "New bookings are coming in but it's still only 25 per cent of last year. January is looking better than December. The graph is gradually increasing," said Ramani.