Burzahom
Where the first Kashmiri settler lived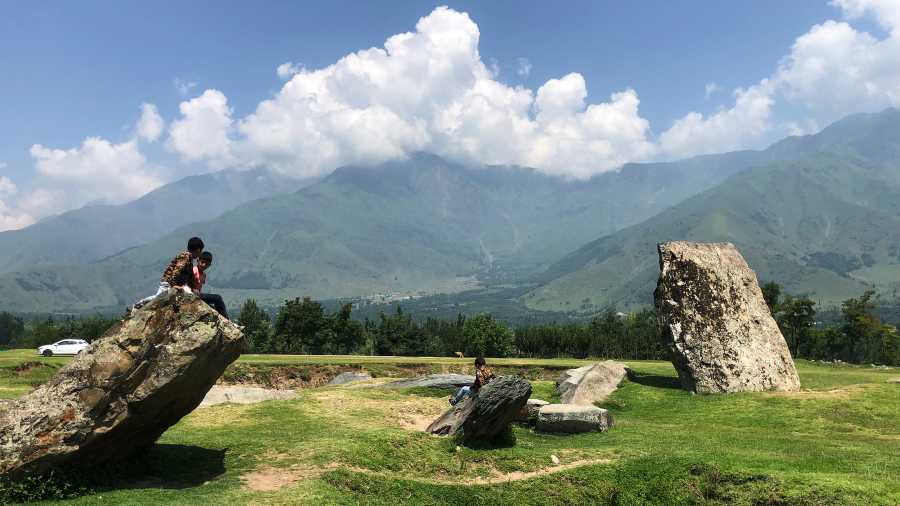 ---
Published 12.09.21, 12:05 AM
|
---
In the beginning there was the lake, the fabled and humongous Satisar, and upon its draining rose land. And upon land, unsurprisingly, arrived man: the first dweller of Kashmir, probably also the first to dare the freezing desolation of the high subcontinental north. No domicile certificate required.
The picture above is one of several such stations littered around Kashmir: Burzahom, a voluptuous plateau looming over Srinagar and formed of such firm glacial clay, it has weathered many millennial moons. And, if etchings on the site suggest right, the dazzle of two suns coursing the same sky — supernova, or some kindred celestial phenomenon.
Burzahom's natives were first thought to be pit-dwellers with no more than the most rudimentary tools and talents. That notion was revised. Professor Ajmal Shah, archaeologist and curator at Kashmir University's Centre for Central Asian Studies, says they ticked most boxes of how we mark the sprouting of civilisation. "We've found evidence of agriculture, storage, art, sun-baked pottery, jewellery, precious and semi-precious stones, elaborate burial rituals... they were contemporaneous with the Indus Valley folks, high mountain cousins..." They loved their dogs to death, literally: some pits have revealed human and canine skeletons in close embrace. A fair part of the Burzahom fortune was moved in 2017 to the Anthropological Survey of India precincts in Calcutta.
The jagged monoliths that jut off the Burzahom promontory and make it a sight to behold, may have kinship to a location that vaults far latitudes and longitudes: Stonehenge, in Wiltshire, England. "These are similarly erected stones, although they are no longer arranged. They may have been commemoration stones, or probably also to mark time and seasons and stars," Shah says, "It's quite remarkable really."
More's the pity that tourist caravans aren't bothered turning a bend uphill from Srinagar's famed Shalimar gardens they so lavish with attention, and setting foot on where Kashmir made its tryst with our kind, or the other way around.
THE DIGS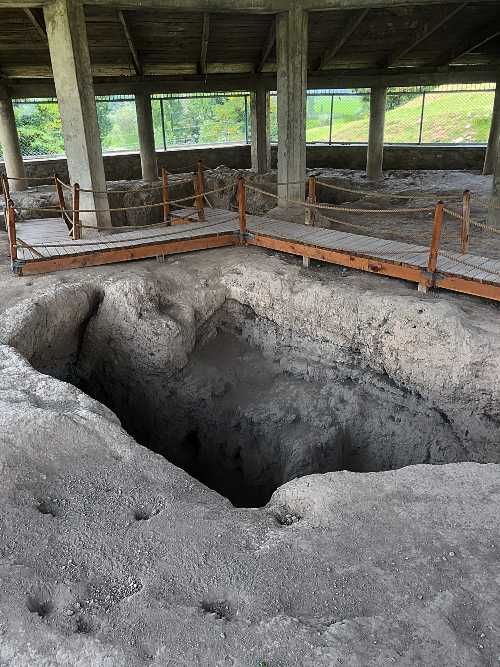 The Burzahom Neolithic site was discovered sometime in the mid-1930s, but excavation under professional supervision began much later. The unveiling of what lies underneath the mound remains a work in progress, as the photograph above indicates. Sustained work has seldom been possible because of Kashmir's recurrent waves of strife. Shortly after the Archaeological Survey of India signalled a resumption in 2019, came the sweeping political changes of August 5, and the consequent civilian lockdown. Conditions had barely limped to sub-normal when Covid-19 triggered another long disruption. "We have been waiting longingly for years to resume work," says Professor Ajmal Shah, "the recurrent upheavals are very frustrating, not sure what damage has already been done to things of archaeological value."
Burzahom is part of a chain of 47 big and small neolithic sites dotted across Kashmir. Similar remains have been found in Gufkral, Kanispora, Qasim Bagh and Pethpuran Teng among other places.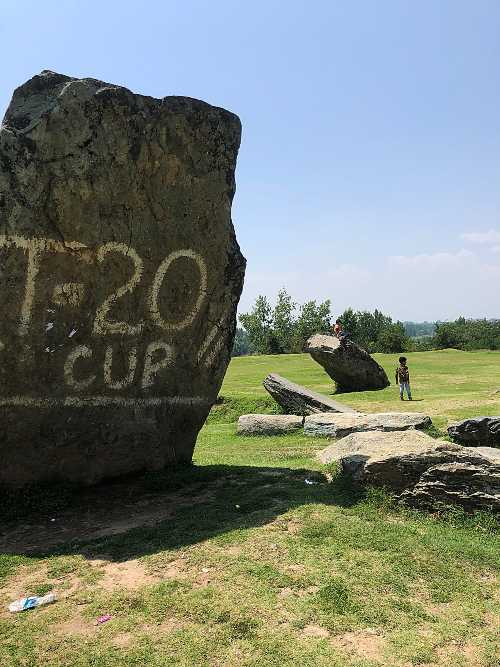 Although a protected site, the flat Burzahom top has been wantonly violated, sometimes by bike racers, sometimes by folks wanting to polish their motor-driving skills, and most often by local cricket enthusiasts. As the defacement of the rock (above) suggests, Burzahom has played host to limited-over cricket tournaments for several years now. "It is tragic that such a precious site has been rampaged over," Professor Shah says ruefully, "I often go there to check if the unfinished digs have not been tampered with. Burzahom is one of the great treasure troves of our history and as a trained archaeologist, I feel deeply for its sanctity. What lies underneath may be far more important. It's critical for us to know how our first ancestor lived."