Kashmir. Remember? Kashmir is a place. Kashmir is also a people. Some of them have been doing celebrated things with their lives; it's an insurgency that insists upon their spirit.
"Merey sheher ki ye galiyan sunsaan hain. Shor o gul nahi hai, fizayen sunsaan hain. Qaid insaan jo, Parinday azad hai." These are the lyrics of Quarantine Blues, a song written and composed by two musician brothers Numaan Baba and Furqan Baba during the lockdown in Jammu and Kashmir following the outbreak of Covid-19. Every evening just before dusk, the brothers would hum the lyrics of their latest song sitting on the window sill in their home in Pulwama in south Kashmir.
The windows would offer them a breathtaking view of apple orchards, melting snows on Himalayan peaks in the backdrop, empty roads and the flutter of pigeons on their tin roof. For 26-year-old Numaan and 21-year-old Furqan, lockdown-like situations in Kashmir are nothing new. But with Covid-19, they have spent most of this year in complete isolation.
"The huge window on the second floor of our house has been a source of a fresh whiff of air as well as inspiration that kept the artistes inside us alive even after facing the seven months of lockdown after the abrogation of Article 370 last year and then the lockdown owing to the coronavirus this year. The first two months were depressing just like it was for everyone else because we were also under a communication blockade. But we managed to jam regularly with our instruments and composed new songs. Music helped us stay sane and creative," Numaan said.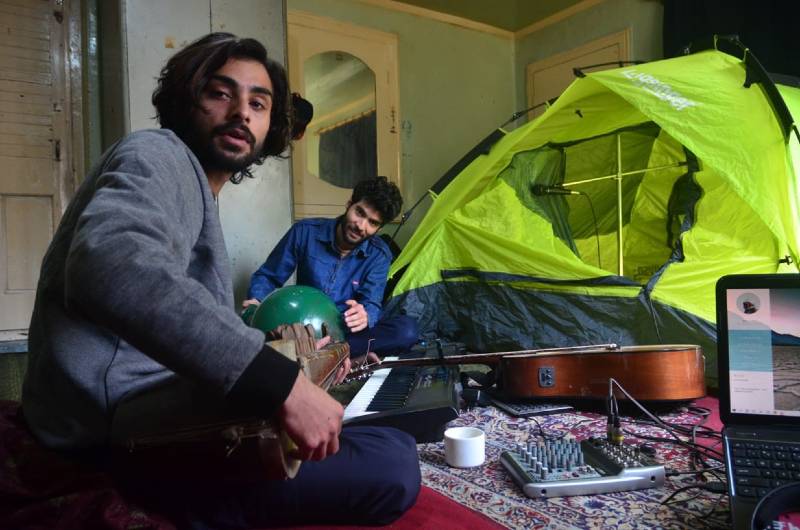 Numaan and Furqan jamming at their house in Pulwama Sourced by The Telegraph
Throughout the lockdown, the duo, also students of visual arts at Kashmir University, created a makeshift recording unit in the form of a soundproof tent inside their room where they would play a variety of instruments such as — guitar, flute, rabab and nott, a clay percussion instrument traditional to Kashmir, and record their original compositions along with classics by Kashmiri poets such as Mahmood Gami, Rasul Mir and Samad Mir. "The only thing that we missed during the lockdown was collaborating with local musicians and performing before the public," they said.
The two brothers say that they learned singing from their mother and the school music teacher.
Performing at events has been impossible lately, but for the past couple of months, the two have resumed singing at small mehfils and weddings in the Pulwama neighbourhood.
Amidst months of uncertainty and mental pressure, the two consecutive lockdowns in the Valley have proved to be an opportunity for many youngsters to hone their skills by finding resort in art to channel their feelings.
The curtailments fell over Kashmir well before the coronavirus restrictions became de rigueur — the arrangements around the abrogations and diminishments of August 2019 meant a sweep of suffocation even Kashmiris hadn't previously experienced. Over the last 15 months in Kashmir, just like everyone else, the artists, poets, photographers, writers and musicians have found themselves gagged and debilitated. But in time, they began to respond and express in different ways.
Their art expresses alienation and a resilience beyond being caged and throttled. During the last few months, social media has become deluged with the rebellion of the artistes' spirit — painting, poetry, photography, calligraphy, innovative experiments with mixed media. The political squeeze as well as the pandemic has inspired Kashmiri artists to think out-of-the-box. The Valley got its first online gallery, a brainchild of Naushad Gayoor, a multidisciplinary artist from Srinagar who devotes most of his time to painting and sculpture.
Just like musicians, poets and painters too poured out what they wished to express, and their work became tangibly manifest. Faheem Abdullah, a 24-year-old poet, suffered a mental block during the first lockdown but was soon able to find a way around and defeat it. "Forty days, one twenty cigarettes, have I died or am I alive? Spent a few cursing our fates. Have we died or are we alive? What a farce, O writer!" That's how he broke out of the first lockdown.
Faheem, an English literature student who needed to seek expert help to deal with his mental condition in the initial phase of the lockdown, says, "During September 2019, on the 40th day of the lockdown, I took a stroll around my house in Naseem Bagh. While walking amidst the giant chinars whose leaves were turning yellow, I stopped at the banks of Nigeen Lake and looked towards the Hazratbal shrine. Everything was quiet and still and it was then that I wrote, 'I want to take Kashmir in my arms and cry'. I felt like I was pouring out my emotions and it was through poetry that I made peace with everything that was going on around me."
Faheem, who shares his poetry on the Instagram handle @theimaginarypoet, derives his inspiration from the mystic poet Rumi and Kashmiri poet Agha Shahid Ali. He is set to launch his first book of poems, A diary of a Kashmiri, in March 2021.
For 22-year-old Shafiya Shafi, keeping herself immersed in art proved therapeutic during the trying lockdowns. When the August 2019 lockdown was suddenly imposed, Shafiya had pre-orders to paint murals on the walls of restaurants and playschools. But even after 15 months, none of these places have reopened. However, Shafiya, a psychologist, says consecutive lockdowns have not affected her passion for painting.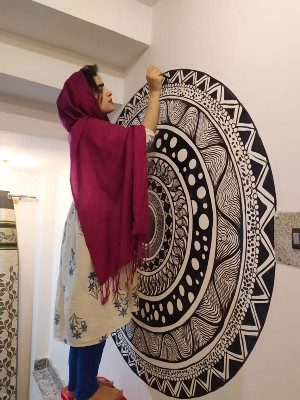 Shafiya Shafi paints a mural in a Srinagar playschool Sourced by The Telegraph
"I still remember how I went searching for canvas and colours during the lockdown in 2019. My search ended at the house of a shopkeeper. His shop was shut but he had the material at home. As soon as I painted two canvases, I felt relieved. To me it was about communicating my feelings on an empty white sheet just like I used to write my daily diary," Shafiya says. During the Covid-19 lockdown, she has tried a fusion of earthen pots and papier mache which she thinks are dying art forms.
As is evident from social media, many young artistes have started bringing in new ideas to give scriptwriting a new touch.
The lockdowns gave an opportunity to 22-year-old Farheen, an MBA student at Kashmir University, to pursue her hobby of painting. Her Instagram page, hobby_lobby _art, is abuzz with sketches, paintings and calligraphy which she has been constantly at while sitting at home.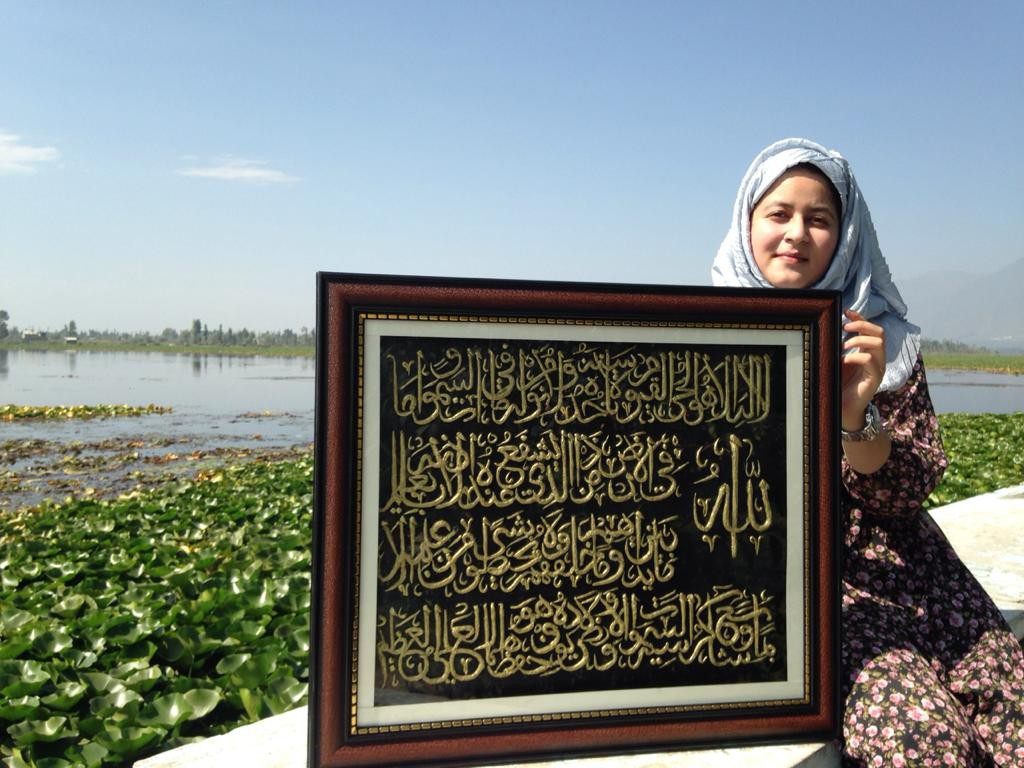 Safura Hamid with her calligraphy Sourced by The Telegraph
Similarly 23-year-old Safura Hamid from Badamwari in Srinagar is one of those who pursued her childhood dream of doing calligraphy and was also able to make a decent amount of money through her art. "I have always wanted to pursue calligraphy but I could get no time for it. There couldn't have been a better time than the Covid lockdown. I was home and had no work. After experimenting with pen and paper, I tried my hands at clay. When I shared my creations on social media, I received a positive response. I started receiving orders for gift purposes. But with the pandemic around, clay and paper calligraphy was not doable. So I developed an online 3D calligraphy style, which I used to make objects and write Quranic verses. I delivered all the orders through an online system," says Safura, an engineering graduate who has now turned to experimenting with 3D calligraphy on wood, stone and canvas.
One of the harsher consequences of both lockdowns has been the bar on physical mobility. However, the art of visualising helped some artists travel through their imagination. Zoya Khan, a 31-year-old architect and artiste, trusted her instincts and started working on a fascinating new series heavily influenced
by the heritage and vernacular architecture of Kashmir. Her latest work involves building innovative connection and contrasts with Srinagar's cityscape and imported human images — stills from Bollywood films such as Umrao Jaan, Dil Chahta Hai, and A Suitable Boy, etc. juxtaposed with images of old Kashmiri architecture.
"Kashmir requires non-traditional, out-of-the-box, radical re-thinking in terms of how ideas will emerge and shape the city. My new series is just out of instinct to explore something new. When I shared my first work, the response was immediate and interesting. That helped me engage with people. The series is a continuation of old houses I have done previously. The only difference is that I have added a few people, as all my previous works were devoid of people," said Zoya, who is pursuing her master's in international architectural regeneration and development at the UK's Oxford Brookes University.
Zoya shares her work on Instagram and is open to feedback from people. The use of locations such as the Sheher-e-Khas (downtown Srinagar), the Jhelum banks, Delhi's Humayun's Tomb, and lesser-known Srinagar lanes has established a connect.
"Growing up in Kashmir has greatly influenced my intellectual curiosity, and there is an urge to understand how the situation in Kashmir is with regard to its physical attributes and cultural ethos, the way they shape the lives of people and how it conditions social behaviour which, in turn, influences how we collectively shape and interact with the built environment. This series is close to this thought," she said.
While Zoya was putting out her remarkable visual experiments, well-known Kashmiri music artistes came together in June this year for their first-ever virtual concert in the Valley to connect people from across the globe during the Covid-19 pandemic and keep the art and culture alive. The Kashmir Music Club, under the leadership of noted singer Waheed Jeelani, organised Qarar (Solace) — a three-hour concert by Kashmiri vocalists and instrumentalists on Facebook. The event was a huge success and connected the Kashmiris across the globe in the trying times. Kashmir is more locked than merely being land-locked. But that's no bar on the song Kashmiris will sing.