Vir Sanghvi memoirs: Tell-all from one who has known all
The veteran journalist discusses his book and shares his thoughts on people who have shaped Independent India, from Atal Bihari Vajpayee to Amitabh Bachchan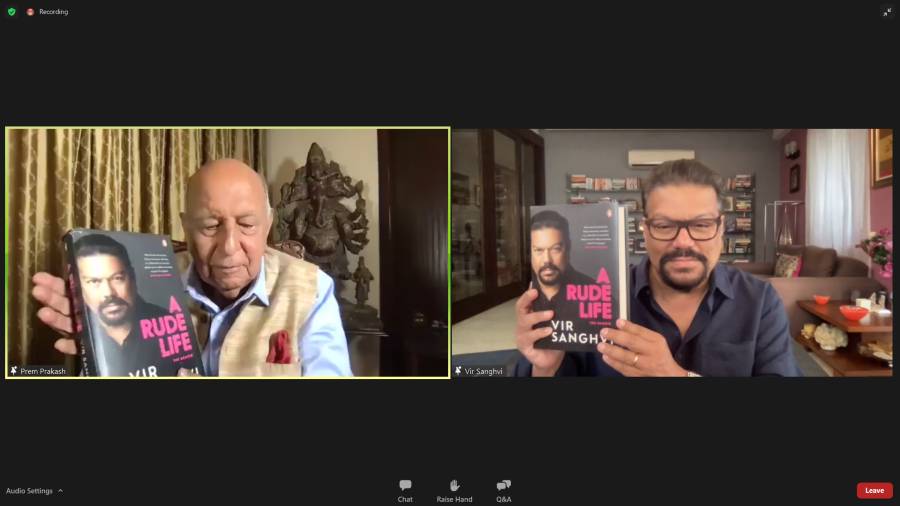 (L-R) Prem Prakash and Vir Sanghvi
The Telegraph
---
Published 09.08.21, 03:28 PM
|
---
Few journalists in India have straddled as many spaces with as much distinction as Vir Sanghvi. After completing his education at the University of Oxford, Sanghvi went on to become one of India's youngest editors at Sunday. A career in television saw him interview the biggest names in India before he returned to the editorial helm to run Hindustan Times. Currently writing on food and politics with equal acerbity, Sanghvi has recently released his memoir, A Rude Life.
At the latest virtual session of Kitaab Books, organised by the Prabha Khaitan Foundation in association with Penguin Random House India, Shree Cement Ltd, and Spectrum Pune, Sanghvi launched his eclectic memoir alongside another veteran journalist, Prem Prakash, chairman of news agency ANI. Sanghvi and Prakash were introduced to the conversation by emcee Soni Jain. Nalini Mehra, who described Sanghvi's book as a "rollicking tell-all from someone who has known all", moderated the discussion. Prakash began the chat by asking Sanghvi about his youth and how he managed to get himself admitted into a British school. "My father had always wanted me to go to school in England, but nobody quite knew how the whole thing would work out," Sanghvi said. "When my father suddenly passed away at 50, I was 15. My mother had fallen into pieces. I knew I had to figure things out myself and went about doing that. I called up the headmaster of the school I wanted to go to and arranged a meeting with him. He had me interviewed by his teachers, who were keen on me, and things worked out."
Speaking about a range of personalities pivotal to the destiny of India post-Independence, Sanghvi made a number of interesting observations. He praised former Prime Minister Atal Bihari Vajpayee for his amiability, for belonging to an era "where people could disagree with each other and still be civil." About another former Prime Minister, Morarji Desai, Sanghvi was far more critical, describing Desai as "an extremely rigid, self-righteous, and stubborn man who could not reach out to people and work in a coalition government." Prakash agreed with Sanghvi and called Desai "a thief" for stealing documents from the Prime Minister's Office. When Prakash asked Sanghvi about Amitabh Bachchan and his ill-timed foray into politics, Sanghvi explained Bachchan's choice with two reasons, citing the actor's commitment to help Rajeev Gandhi after the assassination of Indira Gandhi as well as Bachchan's desire to give back to the people of India who adored him like a national treasure.
Sanghvi rated his spell as the editor of Hindustan Times as the proudest period of his life, as he and his team were able to "modernise the paper and keep it in tune with the times."
The riveting session wrapped up with a series of questions from the audience on topics such as the role of caste in India's electoral politics, the revocation of Article 370, and the connections between crime and politics in India.