Unexpected connections
Kloeble introduces us to Bartholomew's story through peek into brutalised conditions of his life in orphanage in heart of Bombay's crumbling Black Town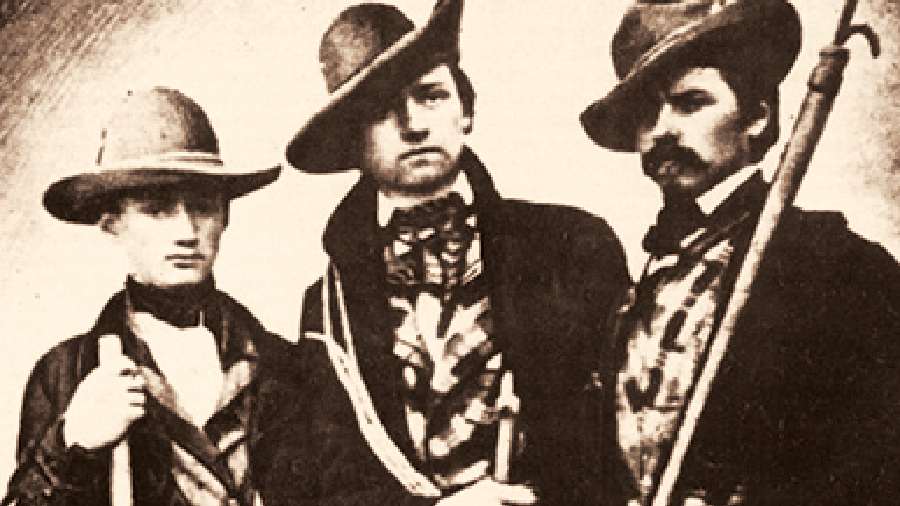 Hermann, Adolphe and Robert Schlagintweit
---
Published 17.03.23, 04:07 AM
|
---
Book: The Museum of the World 
Author: Christopher Kloeble
Publisher: HarperCollins
Price: ₹599
Hermann, Adolphe and Robert Schlagintweit were three Bavarian brothers who were reasonably well-known members of a small but distinctive community of explorers of the 19th and early 20th centuries, particularly those associated with expeditions in the Alps and High Asia. Not much was known about them outside this inner group of glaciologists, meteorologists and mountaineers, even though they left behind a rich corpus of writing about their travels in India and Asia. It is only now that historians have begun to take an interest in their scientific expedition to India in the mid-19th  century as a story that reveals the complex entanglements of Humboldtian science with colonial conquest.
The Schlagintweit brothers began as foot-soldiers of the German scientist, Alexander von Humboldt, who had initiated an international collaborative project on the study of the earth's magnetic field in the mid-19th century. The East India Company agreed to collaborate with this German project and allowed a Bavarian scientific mission to enter India and High Asia in 1854. By the time the rag-tag expedition of the Schlagintweit brothers wrapped up in 1857, one of them was killed in Kashgar on suspicion of being a Chinese spy, while the others survived grinding treks, avalanches, blizzards, fierce resistance from locals and a rapidly unravelling caravan crew to return to Germany to tell their story in books, journals and memoirs. Their research yielded not only reams of geo-magnetic survey data but also a huge collection of zoological, botanical, ethnological specimens, many of which found their way into museums as curiosities. Their collections looked unruly and random, but everything — from skulls, to rocks, to bottles of water, prayer wheels, animal and reptile specimens and a few human heads — was connected in the Humboldtian scheme of a patterned universe. It is this vast museological project that perhaps inspired a critical point of entry to Christopher Kloeble's fictionalised account of the Schlagintweit brothers' expedition to India. Kloeble's story, narrated through the voice of a precocious twelve year old with a flair for languages, is a subversive take on the Humboldtian project of decoding a connected history of the world.
Kloeble introduces us to Bartholomew's story through a peek into the brutalised conditions of his life in an orphanage in the heart of Bombay's crumbling Black Town. It is in the orphanage that we also meet the enigmatic Father Fuchs, the Bavarian minister and amateur botanist, who holds the secrets to Bartholomew's birth, life and longings. Bartholomew's tryst with the Schlagintweit brothers begins at the very moment when Father Fuchs disappears from the orphanage one night. It is that last conversation with Father Fuchs that drives the story of Bartholomew's entanglement with the Schlagintweit expedition and his pursuit of an impossible dream. 
For it was to Father Fuchs that Bartholomew had expressed his life's desire to build a museum of the world even while not knowing what this might be. Unwilling to disappoint the little boy, Father Fuchs tells Bartholomew he needn't worry about setting up a museum when it was already in his head! All he had to do was to put everything he had observed, collected and remembered onto paper.
'The Museum of the World' is thus crafted as a whimsical ledger of Bartholomew's collection of experiences, objects and relations as these unfolded through his journey with the Schlagintweit brothers as one of their youngest translators. Each chapter is titled as a classified museum object with a number. Yet, through this seemingly playful collection of Bartholomew's places, things and people, Kloeble weaves together an extraordinary series of connections between the Schlagintweit expedition of 1854-57 and the East India's Company's wars against Hyder Ali and Tipu Sultan in the late 18th century. The key link to this story is Eleazar, Bartholomew's friend, described as a "Bania from Cochin". Surprisingly, it is the taciturn Eleazar who becomes the unwitting conscience-keeper of the Schlagintweit crew and the destroyer of Bartholomew's idealised world of Humboldtian science, German civilisational superiority, and the all-embracing benevolence of Father Fuchs. It is through his tense yet poignant relationship with Eleazar that Bartholomew gets a sense of dwelling in a world that was never his. He came to realise the 'Vickies' (as he had learned to call the Victorians) and the Germans were playing the same game and that India was their common playing field. Both Eleazar and he were thrown into that game but it was only the elusive Father Fuchs who knew how. It is toward the end of the expedition and in the aftermath of Eleazar's painful death in a lonely prison in Kashgar that Bartholomew is compelled to disown the memory of Father Fuchs and rewrite his museum of the world in a language and sensibility of his own.
Kloeble's adroit linking of the Schlagintweit brothers' scientific expedition in India with the sordid legacy of a Hanoverian regiment's involvement in the Company's campaigns in the Carnatic is an inventive narrative move that gives what could have just been a racy bildungsroman its disquieting political edge.