The Mountbattens: Their Lives and Love
Andrew Lownie's meticulously researched new biography, The Mountbattens: Their Lives and Loves, manages to shed new light on the partnership of Dickie and Edwina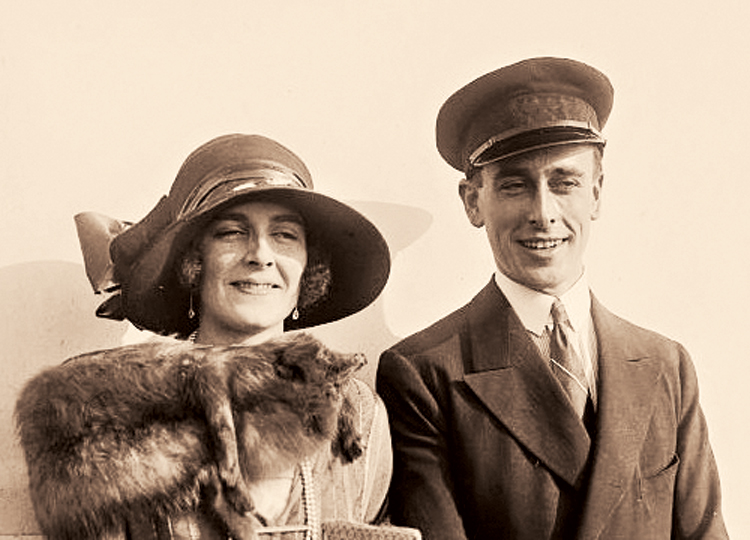 Edwina and Louis Mountbatten
Source: Wikimedia Commons
---
Published 03.01.20, 10:51 AM
|
---
In the first quarter of the 20th century, perhaps no other wedding gained so much attention as that of Lord Louis Mountbatten and Edwina Ashley. The marriage of Queen Victoria's grandson on Tuesday, July 18, 1922, in the presence of King George V, Queen Mary and other members of the royal family generated interest throughout the world, with individual issues of magazines, postcards, souvenirs and even a short film being released to commemorate the grand occasion. Since then, both Dickie (Mountbatten's nickname) and Edwina shared the limelight as one of the glamorous couples of the century. Although their individual lives have already been chronicled separately by Philip Ziegler and Janet Morgan in Mountbatten: The Official Biography (1985) and Edwina Mountbatten: A Life of Her Own (1991) respectively, it is Andrew Lownie's meticulously researched new biography, The Mountbattens: Their Lives and Loves, that readers would have to rely on to experience the complex, nuanced nature of the private and public relationship shared by the couple. As Lownie points out in the Preface: "What is missing is a shorter, joint biography of these two remarkable figures, a book which is also a portrait of an unusual marriage — one that was loving and mutually supportive, but also beset with infidelities."
Lownie's joint biography manages to shed new light on the partnership of Dickie and Edwina, not only incorporating new facts released under the freedom of information requests, but also painstakingly accumulating resources from dozens of archives — most notably the Mountbatten's archives at Southampton University, United Kingdom. The archival research has been further supplemented by interviews of people who had personally interacted with the Mountbattens.
Beneath the apparent royal patina of nuptial bliss — blessed with daughters, Patricia and Pamela — their marriage was frequently rocked by various factors: geographical distance, professional ambitions, spells of indifference and frequent infidelities with both sexes on either side. Dickie's own observation underlines the stress and strain of the relationship: "Edwina and I spent all our married lives getting into other people's beds." Edwina's long list of infidelities, perhaps emblematic of an inner void and disquietude, was initiated three years into her marriage when she trespassed in her friendship with Hugh Molyneux. This was not to be a temporary aberration; rather, it was a prelude to a sequence of successive exploits spanning continents and involving a wide gamut of characters like Stephen 'Laddie' Sanford, Mike Wardell, Ronald Colman, Larry Gray and Ted Phillips among others. It was her association with Laddie that gained attention in the media with the Star managing to photograph them together. When Edwina witnessed how deeply upset Dickie was, she held herself responsible, confessing to her husband: "I feel I've been such a beast."
Unfortunately, such self-reflections failed to put the brakes on her escapades; the eruption of scandals in the public domain continued unabated. Her trips to America and India found Edwina drawn to people of colour. As Lownie describes it: "This was not simply because she delighted in confounding prejudice or because, with her Jewish blood, she was sympathetic to the outsider and the oppressed — though that was part of it — but because she found darker skins, whether dusky Indian or jet black African, attractive." Rumours and accusations flowed, referring to her string of associations. Notable among these was the accusation of Marjorie Hall Simpson, alleging that Edwina had "frequently committed adultery" with her husband, Henry Anthony Simpson. These circumstances forced Dickie and Edwina to settle for an arrangement: "She would support him in his career and he would recognize her need for emotional and physical fulfilment elsewhere, as long as she was discreet. They would stay together, but in an open marriage." Even such a pragmatic settlement did not help in sparing further disgrace. On May 29, 1932, The People, directly alluded to Edwina's ("a woman highly connected and immensely rich") association "with a coloured man" (supposedly Paul Robeson) with her being "caught in compromising circumstances". Although Edwina emphatically denied the charges, it is believed that she even doctored her diary to conceal the matter from her husband. In this period, her name was linked with Bobby Sweeney (an American Rhodes scholar in Oxford) and Leslie 'Hutch' Hutchinson (the best known black entertainer of the time).
Louis Mountbatten was to have his first affair in 1932 with Yola Letellier — the much younger wife of Henri Letellier, a French media giant. She would become his principal mistress until his death almost four decades later. During his lifetime and even after his death, rumours circulated about his sexuality. Most of these were encouraged by Dickie's friendships with well-known homosexual figures such as Noël Coward and Tom Driberg. Lownie devotes an entire chapter to the subject, exploring several claims and counterclaims about Dickie's bisexuality. He assimilates views from various contemporary sources, without imposing a verdict. The evidence includes Hugh Montgomery-Massingberd's memoir which, while commenting on Mountbatten's home in Kinnerton Street, mentions that "[t]he tiny mews house seemed awash with young, muscular and suspiciously good-looking Naval ratings bustling about the place to no apparent purpose".
Running parallel to an unwearied exploration of personal lives, there is the account of the couple's professional challenges. The onset of World War II transformed the lives of both Dickie and Edwina. While Dickie took command of HMS Kelly, Edwina managed to put aside her frivolous lifestyle and plunge into serious charitable work on a grand scale. By July 1942, Edwina had been appointed Superintendent in Chief of the Nursing Division, the highest post in the field. Other prestigious responsibilities for Dickie included his appointments as the Head of Combined Operations and subsequently the Supreme Allied Commander of Allied Forces in South East Asia. In the latter capacity he received the capitulation of thousands of Japanese soldiers at the end of the war. In the highly engaging chapters, "A Poisoned Chalice" and "A Tryst with Destiny", Lownie explores Dickie's new challenge upon being appointed the 45th and last Viceroy of India. This entrusted him with the unenviable task of overseeing the transition of British India to independence.
This biography also traces Edwina's association with Jawaharlal Nehru. Boosted by an earlier introduction in Singapore, both Dickie and Edwina built a personal rapport with Nehru in their distinctive ways. Edwina, according to Lownie, "instantly warmed up to the lonely and charismatic widower". In sharp contrast, the Mountbattens found it difficult to establish a similar rapport with the "austere and intransigent Jinnah", failing to convince him of the importance of an undivided India. Nehru's association with Edwina blossomed further in the post-Independence period as, amid the isolation of high public office, Nehru found someone he could trust. According to Edwina's younger daughter, in Nehru her mother had found "the companionship and equality of spirit and intellect that she craved". Lownie traces the nuances of a mature relationship: "Restless and difficult when apart, Edwina would become exhilarated at the thought of being together with the Indian leader." Ironically, according to Pamela, the relationship came as a relief for Dickie as Edwina's "newfound happiness released him from the relentless late night recriminations".
Lownie's work is of paramount importance for readers as it provides an engaging insight into the lives of a controversial couple, who shared a uniquely open relationship, amid challenging political circumstances and radical shifts of power.
The Mountbattens: Their Lives and Loves by Andrew Lownie, Blink, Rs 699