Songs of nature with Ruskin Bond and Soumitra Ray
It was fitting that the session was titled 'How Green Is My Story'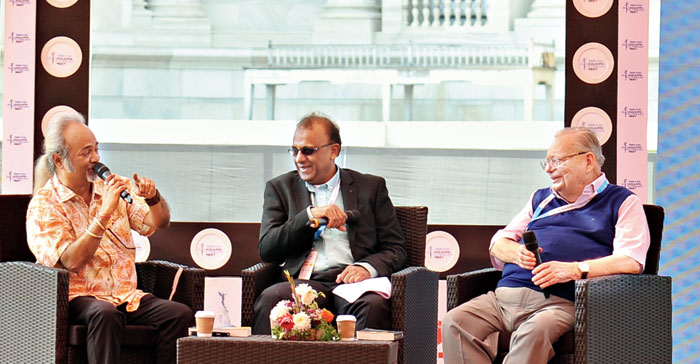 (L-R) Soumitra Ray, Balaji Vittal and Ruskin Bond at the session titled How Green Is My Story at KALAM on January 25 at Victoria Memorial
Chanchal Ghosh
---
Published 04.02.20, 02:20 PM
|
---
There has been a longstanding relationship between nature and literature, with authors managing to transport a reader from the inescapable traffic of the city to the serene calmness of lush meadows through words.
For me, the name Ruskin Bond is synonymous with the earthy scent of the mountains, lazy walks through Dehradun and gazing longingly at the starry night sky. Moreover, the hilly setting was never just a silent spectator in his stories but a character in itself, brimming with as much life as the central protagonists of his novels.
Soumitra Ray, after years of enthralling audiences with his unique brand of music, ventured into literature with the compelling read, Mr Adivasi, which is heavily influenced by his love for nature.
With author Balaji Vittal moderating the conversation of a panel comprising such illustrious names, it was fitting that the session — at the Tata Steel Kolkata Literary Meet, in association with The Telegraph and Victoria Memorial Hall — was titled 'How Green Is My Story'. Excerpts.
Soumitra's writing style
When asked about his writing style, Soumitra said that he doesn't really plan each and every page, or how to specifically end a story, although he does have a vague idea. Instead, he explained how thoughts would come to him when he would write in a flow. This reinforces his incorporation of those known to him as characters in his stories. However, it wasn't such a breezy journey throughout, given how it took him four years to handwrite the 470-page manuscript, and two more years to get it published. Despite all the accolades, Soumitra had the broadest smile while referring to the most special one, "When I finally finished the book, my son, who is my biggest critique, wrote 'Bondesque' on it, referring to Ruskin Bond. It is the biggest compliment I've ever got."
Bond's take on psychopaths
Having romanticised Mussoorie in several of his stories, the conversation took a more solemn turn when Bond was asked about the fateful September shooting in Mussoorie, during a clash for Uttarakhand's statehood protests, an incident which even rendered the author lost for words. His take on the matter was one of sensitivity, explaining how both psychopaths and innocent people exist everywhere, and how each of us has a Dr Jekyll and Mr Hyde within, who tend to bring out our worst in our dreams. He even confessed that all the stories in Death Under the Deodars are inspired from real people and events.
Mr Adivasi's philosophy
Readers got to see an extremely candid side of Soumitra, as he explained how the philosophy of Mr Adivasi was completely his. "The way I think and feel is a part of Mr Adivasi's psyche. His quotations and expressions, from Dylan to Shakespeare, are with me. He originates from my inner thoughts," said Soumitra.
Stories from the silver screen
When Vittal remarked that readers would love to see Mr Adivasi on the silver screen, Soumitra looked towards the heavens with folded hands. Bond mischievously added that he felt it would make a good film, provided he was offered a small role in it. Soumitra instantly got up and touched his feet. In response, Bond reminisced his small role in No One Killed Jessica that "ended his film career". "I was so bad, they never offered me a role after that. But, I had the distinction of giving Priyanka Chopra a peck on the cheek," he chuckled. He fondly remembered how his clumsiness led to seven takes and seven kisses, after which the director inquired if he was doing it deliberately.
But first, a musician
To commemorate Bhoomi's 1,790th concert happening later that day, Soumitra sang Mone aar naire, their first recorded song. Explaining its significance, he stated that it was a Bhatiali song about an aged boatman forgetting where he has rowed to, but even the mere sight of the Ganges makes him feel alive. After the soulful performance, Ruskin asked him why all Bengalis sing so well, as the audience cheered.
Nostalgia: A floodgate of emotions
According to Bond, nostalgia for him is a way of looking back and preserving all that is good about the past. He added that people tend to forget unpleasant things but hold on to precious memories from childhood, although melancholic emotions also motivate authors to write. Soumitra added that he also looks back with positivity and happiness, and his next book revolves around this emotion.
The power of pain
When Soumitra was asked if pain ever acted as a barricade in his writing, he replied that it's a natural mix of emotions and one must take it in their stride. Bond added that pain is universal, and while youth often makes us dismiss pain easily, the process of ageing and losing close ones makes pain an integral part of everyone's creative life.
Writing in first person
Bond addressed the criticism he has received over the years for writing in first person, by saying that he writes extensively from his life experiences, which makes his writing more intimate and personal. "I'm a sentimental and emotional writer, which is often disapproved of in the West. But particularly in Bengal, if you look at Tagore's writing, it has a lot of subjectivity in it. The world is full of all kinds of writers, and I'm one of them," he said.
Sexuality & children's literature
Towards the end of the discussion, Bond was asked about the challenges of tackling sexuality as a children's writer. He said that by the time he started writing for children in his 40s, he had already been writing for more than two decades. He emphasised more on the story and characters, and every conflict was on practical lines. He even admitted to getting confused occasionally about who his primary audience is. "Basically, I'm writing for myself, and I think most writers in the world are writing for themselves. Everyone's basic audience is themselves, and if somebody else comes along and enjoys what you write, then it's a bonus," he said.
Vittal ended the session with a poignant quote from Bond's Scenes from a Writer's Life: A Memoir, which is perhaps more relevant today than ever before: "And when all the wars are over, a butterfly will still be beautiful."