Nine books to keep you occupied on Independence Day
Pick one up and curl up in your cosy corner. There is something for everyone!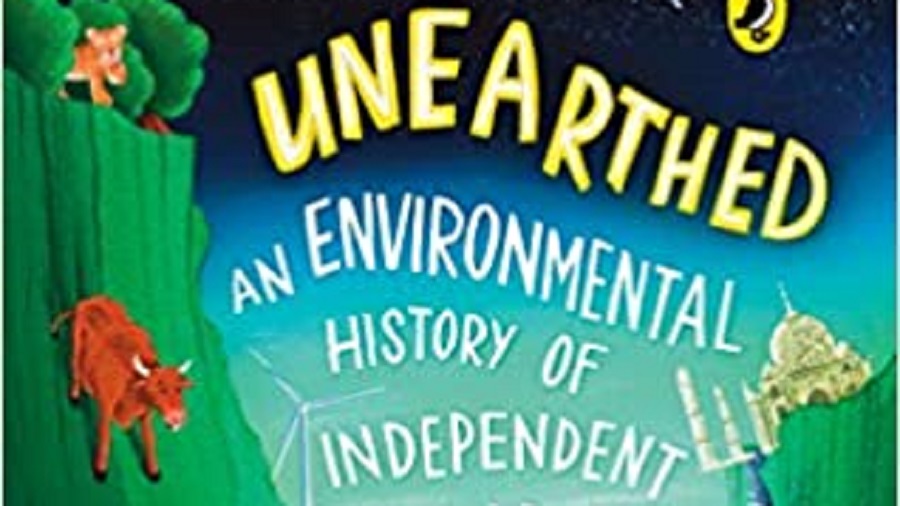 ---
---
Different readers, different reading styles — we absolutely agree. While some love to deep dive into old classics, revisiting moments that have absolutely kneaded their insides, some never look back and only keep looking for more and more new pages to consume. If you belong to the latter, we have a list of recent and upcoming releases that might be of interest. Pick one up this Independence Day and curl up in your cosy corner. There is something for everyone!

Unearthed: The Environmental History of Independent India by Meghaa Gupta
Puffin; Rs 299
Written for children, this book with its deep research into historical tragedies in the country, can be a great read for adults as well. Tracing key events in our history, the idea is to understand the environmental impact of the events on the landscape. Be it the Green Revolution, or Bhopal Gas Tragedy or water crisis in Chennai, never before has a book chronologically documented the collective environmental impact of these incidents. Complete with illustrations and profiles of those working in this areas with years of expertise, there is something for everyone in this latest offering by Puffin Books. Staying home on Independence Day, we find no reason to not curl up with this one and get schooled on history and environment in one go.

Midnight Sun by Stephenie Meyer
Hachette India; Rs 799
Meant for die-hard fans of a saga that Stephenie Meyer created many years back that would send giddy schoolgirls into a dizzy, the Twilight saga gets a new addition. The tale of Edward Cullen, the vampire, meeting mortal Bella Swan and falling irrevocably in love with her, went to great lengths to keep readers invested into this fantasy world. Now, Meyer has written the same tale from Edward's point of view. His tortured soul finally gets to unleash his pain onto pages, making it the right recipe for a lazy Independence Day at home for a fan!

The Plague Upon Us by Shabir Ahmad Mir
Hachette India, Rs 550
Being hailed as a strong emerging voice in contemporary fiction, this debut novel was written in the heart of Kashmir, after the revoking of article 370, while the state stayed in complete shutdown for over a year. Tales of four inter-connected characters are revisited to throw light upon varied opinions that Kashmir bears the heavy weight of. A novel for our times, four friends — "a youth caught in conflict, the daughter of a social climber, the son of a moneyed landlord and a militant" — have their stories spelt out in the midst of extreme emotional turmoil. We couldn't have suggested a better time to immerse yourself in this fictional rendition of someone's truth.

To you with love by Shravya Bhinder
Penguin, Rs 250
Sometimes, you want to shut yourself up from the reality of the world and immerse yourself in some romantic fiction that mostly comes with a happy ending. The trajectory of boy meeting girl, slowly falling in love, encountering a problem and then living happily ever after is comforting a respite. If that is the mood you are in, this story of very carefree Sahil and a very reticent Arya might just be the book you need. The author has previously written the bestseller Something I Never Told You and we are expecting something similar with this one too!

Those Delicious Letters by Sandeep A Mukherjee Datta
HarperCollins; Rs 299
There is a chaotic energy in the life of NRI Shubha that perfectly emulates the chaos often felt in the kitchen at its peak hours. A novel meets a cookbook, where Shubha receives letters from a woman who claims to be her grandmother, all the way from Calcutta to the US, Shubha starts experimenting with the recipes in the letters creating dishes that are an instant hit in her immediate circle of friends. However, they also begin to cause agony in her relationship with her husband. A very interesting take on love, life, food and relationships, this book makes for a lovely addition to your shelf, well past your days of having read it.

The Rules of Contagion: Why Things Spread — and Why They Stop by Adam Kucharski
HarperCollins; Rs 599
Providing a macro view of the happenings of the current world we occupy, is Adam Kucharski, professor at the London School of Hygiene and Tropical Medicine, who has previously worked for the Ebola epidemic and the Zika virus. From financial decline in an economy to changing social dynamics, the author presents arguments and revelations pertinent to the society at large and not limited to geographical boundaries. A commentary of sorts, he attempts to educate the world on concepts ranging from loneliness and its causes to hidden laws of the society at large. "Along the way, Adam Kucharski explores how innovations spread through friendship networks, what links computer viruses with folk stories — and why the most useful predictions aren't necessarily the ones that come true."

Out-Innovate: How Global Entrepreneurs from Delhi to Detroit are Rewriting the Rules of Silicon Valley by Alexandre Lazarow
Penguin; Rs 1,250
Silicon Valley has formed the crux of start-up culture worldwide with innovation coming out of the area that has guided the rest of the world. From an Amazon to Tesla, start-ups that are looked up to, have been tied to the Silicon Valley but not anymore. With the advent of technology, the 'next big thing' could be born in your neighbourhood, argues venture capitalist Alexandre Lazarow, in this book. He highlights the need to rethink and overhaul the current mindset and points out possible limitations like economic instability and lack of infrastructure in the valley. If you, like myriad others, have even briefly thought of using this lockdown to strategise and finally launch the long-withheld dream of 'doing your own thing', this book might come in handy.

Between Life and Death: From Despair to Hope by Dr Kashyap Patel
Penguin; Rs 499
An oncologist in the US, Kashyap Patel deals with terminally ill patients and gets to witness life and death from really close quarters. In this pandemic, we have all come to contemplate our relationship with death and what the journey might look or feel like. He introduces readers to Harry, someone who has lived his life and is now at a terminal stage of lung cancer. From people with different personalities to different age groups, stories emerge that are inspiring and heartbreaking. Learn a lesson or two on faith and finding joy and grace in misery from this book.

What We Carry: A Memoir by Maya Shanbhag Lang
HarperCollins; Rs 499
Maya Shanbhag Lang is a first-generation daughter of an Indian immigrant mother who grows up watching her mother excel in the medical profession and generally idolises her. However, the narrative shifts slightly when Maya herself becomes a mother and her mother is found to be suffering from Alzheimer's. A study of a relationship that has oftentimes been elevated to the position of the supernatural in art, motherhood gets a different kind of visibility in this memoir that is being hailed as a nuanced take not to be missed.