Little Women had what Louisa May Alcott didn't
Anne Boyd Rioux draws deft parallels between the writer's life and her work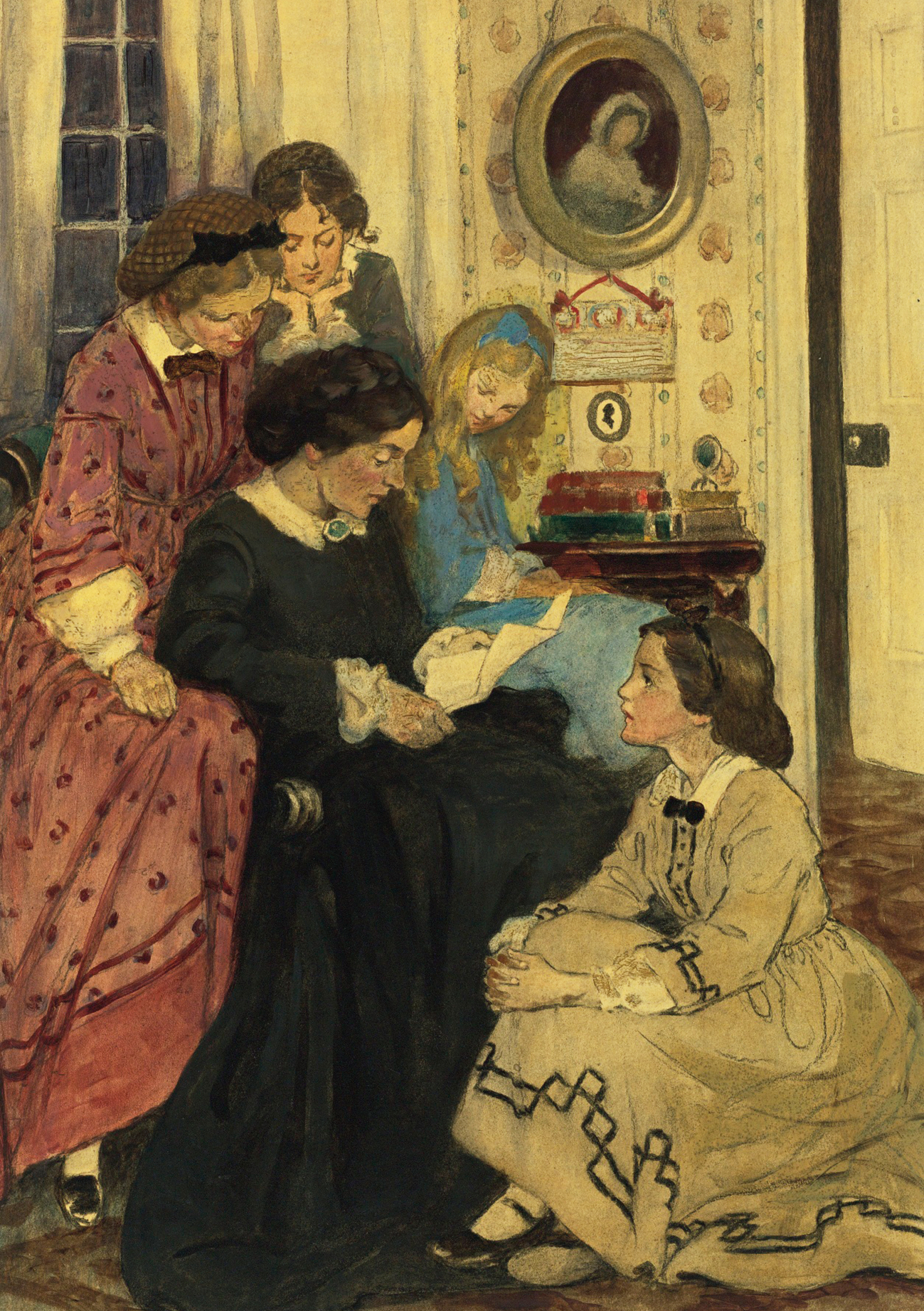 Illustration by Jessie Wilcox Smith of a moment from Little Women
Image: Agency picture
---
Published 14.12.18, 09:46 AM
|
---
"I can't help looking over at your house," Laurie confesses to Jo in Little Women, "you always seem to be having such good times... you forget to put down the curtain at the window... it's like looking at a picture to see... you all round the table with your mother..." Like Laurie, generations of readers have looked in at and taken comfort from the warmth that emanates from the March household. Many have speculated that this is like peering into the lives of the Alcotts themselves. But Little Women is as much based on reality as it is Louisa May Alcott's fantasy of what home should be like. With Meg, Jo, Beth, Amy: The Story of Little Women and Why it Still Matters, Anne Boyd Rioux invites readers to have a closer look at the real life of the author who changed women's literature in America and fired the imaginations of countless women.
Unlike the perennially poor but cosily settled Marches, the Alcotts moved house 30 times in 22 years, mostly as a result of the missteps of Louisa's father, Bronson Alcott. It has long been established that Bronson was an absentee father — explaining Mr March's elusiveness in the novels — who was an impractical idealist, leaving his family in debt more than once. While Rioux does not mince words in describing Bronson, she also has for him a compassion — much like his family did — which most critics have not shown. It is this balance that is her greatest gift. She is one of the rare academics who can combine meticulous research with a lightness and informality of prose to satisfy scholars as well as engage lay readers.
Rioux deftly condenses Alcott's biography into a few chapters, finding important links between her career as a writer of sensational stories and her role as the author of a much-loved classic. For instance, in an early draft of the work, instead of turning away and leaving when Jo rejects him, Laurie grabs and kisses her. Amy, too, emerges as far less of a flirt than she originally was. It was perhaps the "chain armor of propriety" that transcendentalists like her father and her neighbour — and long-time crush — Ralph Waldo Emerson, had saddled her with that led Louisa to strike off these references. The most fascinating chapter is perhaps the one that deals with illustrations and audio-visual adaptations of the book. Rioux carefully traces how geography, history and politics shaped these presentations. The changing political scenario also affected the book's fortunes — it regained popularity during each World War and was banned in Russia during the Cold War.
Given the skill with which she balances her adulation for and criticism of Alcott and her work, it is unfortunate that Jo — "the mother of us all", as the chapter dedicated entirely to her puts it — looms over Rioux's work. More so since the author picks up interesting threads of the other sisters' characters that remain under-explored. Take, for example, Beth's resolve to remain a child in a novel about growing up, or her deep depression and perhaps even anorexia nervosa — what else explains the fact that not a single scene of feasting shows Beth actually eating or enjoying the food, or her wasted frame at the time of her death? But as far as Rioux is concerned, she might as well have been writing Jo and Her Three Sisters instead of Meg, Jo, Beth, Amy.
Meg, Jo, Beth, Amy: The Story of Little Women and Why it Still Matters By Anne Boyd Rioux, Norton, $27.95