India: The surveillant state
The BJP and the plethora of Hindu nationalist organisations are shifting the relationship between the Indian state and its diverse peoples and communities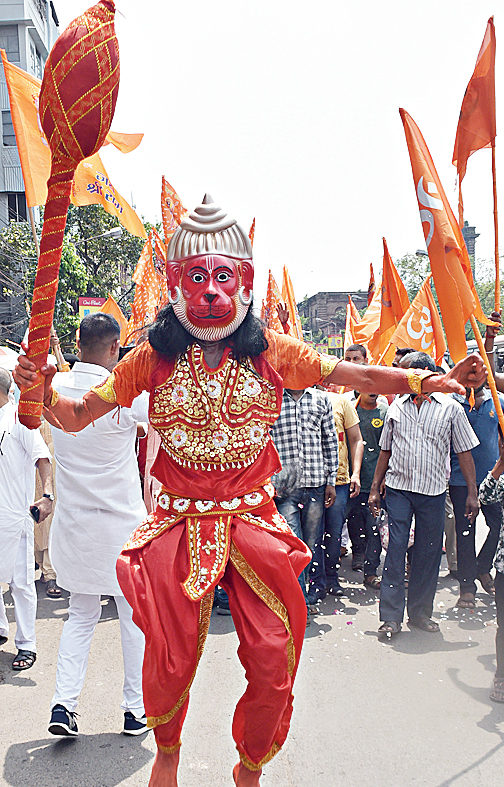 A picture from a Ram Navami rally
From The Telegraph archives
---
Published 09.08.19, 12:40 PM
|
---
One wonders if what India has been witnessing in the last decade or so indicates a neo-liberal economy riding on the shoulders of Hindutva, or Hindutva seizing the neo-liberal moment to bolster Hindu majoritarianism. Presumably both are happening, the buckle between the two being the surveillant state. The Narendra Modi-led Bharatiya Janata Party's coming and staying — with a flourish — in State power reveals a programme conceived with mastery. It is totalitarian in the sense that all aspects of an individual's public and personal life and all forms of dissenting collective action are vulnerable to the surveillance of the security-sensitive State, of the majority party determined to diminish liberal dissent, and of men and women co-opted to serve as the everyday eyes and ears in institutions like the academia, the bureaucracy and the locality. This syndrome of authoritarianism threatens the liberal democratic ethos envisaged in the Constitution for independent India. Majoritarian State: How Hindu Nationalism is Changing India explores how "the political and social dominance of the BJP and the plethora of Hindu nationalist organisations are shifting the relationship between the Indian state and its diverse peoples and communities"; and how citizenship rights are seriously compromised. The edited volume also offers a critical exposure of the ways of "a broad nationalist and communal majoritarianism that targets liberal elites, castigated as excessively emancipated, immoral, westernised and pro-minority, and… minority communities"; and how this is "being contested from the streets to the courts".
Apparently, the Modi-led BJP has reached this position of dominance from where it can broadcast the prospect of a new India which foregrounds "opportunity and achievement, thus replacing key reference points such as welfare and redistribution". It has woven this new developmentalism with Hindutva, and both with nationalism. It has changed the categories of thinking while trying to convince Indians that "the relevant unit of society was neither caste nor class, but the ethnic nation, a nation made of the ethnic majority which could rally around a common cultural identity". Further, it thoughtfully coined for 2014 election the slogan, 'Nayi Soch, Nayi Ummeed' (New Thinking, New Hope), suggesting that we need to break out of the conventional thinking on development. And the BJP has initiated it. In fact, an imminent change for the better has been forecast in a fascinatingly ambiguous colloquial 'Achchhe din aane waale hain' (Good days are coming) for everybody.
But it has not been invoking people's hope only by managing a high growth rate. It brings into play the fear factor also; and Majoritarian State, in its 21 articles in eight clusters, dwells on the anxieties generated by the Modi-centred BJP government and the party between the 2014 and 2019 parliamentary elections. To give normality to the desire for Hindu majoritarianism secured by a strong State and a 'neo-sultan', and for global pre-eminence as a super-power, the party must have worked hard to scare Indians about external threats, internal challenges mainly from the minorities, and even constraints owing to democratic procedures and an independent judiciary. As if the people are being prepared for an 'unquestionably' necessary authoritarian turn in State practices. For many people, the turn has taken place. Dissenting bureaucrats, firm judges, public intellectuals and student radicals have already experienced it. Vigilant violence "generally reinforce[s] already existing caste, gender, class, and communal-racial attitudes prevalent among upper caste Hindus and aspirational lower caste groups". Lest the project of the Hindu State, which involves extensive cleansing, should look too harsh, occasional toppings of 'humane' Hindutva are supplemented, like adding post-2019 massive victory, 'Ab Sabka Vishwas' (now everybody's trust). There is also intimacy play like Chai Pe Charcha (Chat over Tea) and Mann Ki Baat (Heart's Voice). But, to the sceptic, these could be ways of watching over the thoughts of unsuspecting people. After all, catching data is vital to the hunt for the big data necessary for predictive analysis useful for comprehensive control.
The projected transformations in economy, society and culture are apparently seductive to a cross-section of people, like Hindus who hate Muslim appeasement, "the middle class and the neo-middle class" in "search [of] sanitised politics", "upper and middle castes" resenting "pro-poor policies", the business elite and the multi-national organizations weary of State regulations, "lumpenised 'angry young men'" readily available for anomic violence in innumerable micro-spaces, and misogynists against gender equality. The BJP could apparently evolve a campaign strategy to reach its promises — sometimes incompatible with one another — to such a wide variety of constituencies. That included projecting Modi as the vikas purush committed to the pursuit of an inclusionary policy of 'Sabka Saath, Sabka Vikas' (Everyone's support, everyone's development).
Majoritarian State is an engaging volume to be read by everybody — including those capable of critical review among the burgeoning supporters of the incumbent regime — concerned about challenges to liberalism, democracy and cosmopolitanism in India. The recovery of loss is urgent because this "more restrictive but not fully authoritarian regime" must be prevented from degenerating into hybrid authoritarianism.
Majoritarian State: How Hindu Nationalism is Changing India, Edited by Angana P. Chatterji, Thomas Blom Hansen and Christophe Jaffrelot, HarperCollins, Rs 899