Author Jeffry Archer gets candid with The Telegraph
I just do my thing and I pray people will read it, tells the bestselling author during the interaction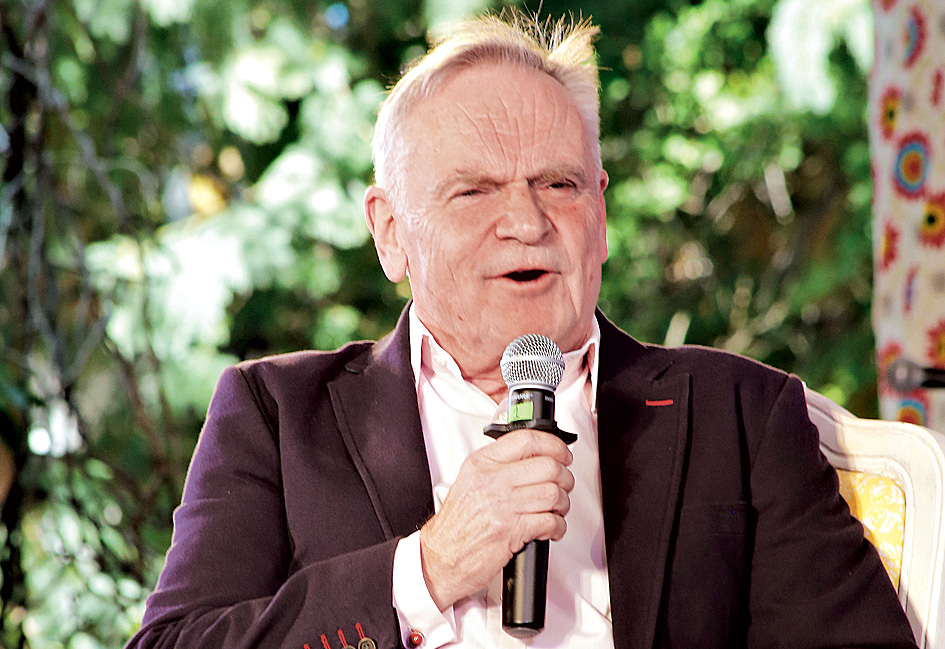 Jeffrey Archer at the Zee Jaipur Literature Festival 2019
The Telegraph
---
Published 31.01.19, 06:23 PM
|
---
You have to speak up, I cannot take that soft Indian voice. Shout at me!" bellows the 78-year-old Jeffrey Archer, as we sit down for an interview in one corner of a room on the media terrace, on a bitterly cold afternoon. We are at the Zee Jaipur Literature Festival 2019 at the Diggi Palace and Archer has just finished his long session with Barkha Dutt, addressing a packed house on the Front Lawn. The bestselling author of books like The Fourth Estate, Kane and Abel and A Prisoner of Birth spoke about his strict routine of writing for two hours with two-hour breaks, that allows him to finish a draft in 50 days, among many other things.
Just before we enter the room, Jeffrey writes 'HELL' in capital letters on a board propped on the terrace, answering the question, "What is the place of literature in the age of micro-blogging?" That's Jeffrey Archer for you! His spirit is that of a teenager, age notwithstanding, smiling and cracking jokes despite a packed schedule and several requests for autographs and photographs.
Excerpts from the interview:
You have a huge fan base in India and you've been here many times. What do you like the most about the country?
I think the people here are very gentle and kind compared to almost any nation in the world. And it is pleasing me now that the new generation of women, the young women coming through, are beginning to dominate. I think the next generation of women... India belongs to them. And, about time too!
Tell us a fun anecdote from your India visits...
There was this one occasion in Mumbai when I was in a car and a boy tapped on the window and the window went down and he has a pile of books. He says, "Would you like the latest Jeffrey Archer?" and I said that, "I am Jeffry Archer!"
With a shocking twist at the end, your latest novel Heads You Win is being called your most ambitious and creative work since Kane and Abel ...
I never thought of Kane and Abel as shocking. And indeed, there's a twist in the end in Heads You Win ... it is banned in Russia, which is very sad, because it's selling everywhere else in the world in such vast numbers. In India, it has been Number One for 10 weeks.
Could you give us an overview of what Heads You Win is about?
It's the story of a young Russian boy whose father is murdered by the KGB and his mother decides that they would have to escape. They can't decide whether they go to Britain or to the United States. And I
write the story of them going to both. Same child lands in the two countries on the same day and you follow the two stories. You follow the story of Sasha and you follow the story of Alex and see how arriving at a different place could change your whole life.
Your first novel, Not a Penny More, Not a Penny Less was published in 1976. What's the secret to being an author for more than four decades?
Kane and Abel is 40 this year, I've sold 32 million copies and it is on its 124th reprint. If you're asking me the question that how can that be possible, I don't know! I'm as puzzled as you are. People of your age are reading Kane and Abel 40 years later and know that your great grandchildren will be as well, I hope (laughs)!
You have fans from all generations. How do you keep so many different age groups in mind while writing?
It's puzzling, isn't it? If you looked at that audience in the afternoon, 3,000 people came to hear me speak. I'd say 60 per cent were women and 40 per cent were under the age of 30. And I'd say 20 per cent were under the age of 20. If you say to me, "Well, explain it Jeffrey, we want to know why", I do not understand it. They are buying Kane and Able 40 years later... someone said to me today that they do because their grandparents and parents tell each generation... and that may be the answer.
Is it ever hard to stick to your ethics as a storyteller while looking at the commercial viability of a novel, given that you're such a commercially successful novelist?
I write what I write and I always say to other people, 'If you want to write, for heaven's sake, do what you feel safe with'. I don't do sex, I don't do violence, I don't do bad language. I do my thing and I pray people will read it. I have been very lucky.
Do you ever think of your fans while writing, something would go down well with them?
No, you must write your own thing and pray (claps hands)! Don't start... otherwise you'd be writing sex and violence books or chick flicks. No, I do my thing.
What was one of the most difficult novels that you wrote?
I think the latest one, Heads You Win ... the challenge of writing about the person in two different situations was a great challenge.
How have you seen readers change over the years?
Readers don't change, books change. And India is a great country because they teach the next generation to read. In a lot of other countries people are on Facebook or Twitter, or on whatever they are on... God bless them! But still in India, there is a real tradition of reading.
I'd never get a 3,000 in any other country on earth.
How do you think technology has affected the reading habits of people?
Well, they kept telling us that novel is dead. I'm selling more now than I ever have, so it can't be that dead. I sell millions of copies of every book that comes out. So, long live technology!
What is the most enjoyable and the most difficult part of being an author?
The difficult part, of course, is the discipline of when you are writing your first draft. That is hard work. And actually, festivals like these are hard work. Well, that speech took a lot out of me and then I had to sign a 1,000 books. But I'm not complaining. If someone said to me this morning, 'Gosh, do you mind all these women stopping you and wanting to take a picture? Do you mind all these people wanting you to sign books?', then I'd say, 'Look, the other side of it is that nobody asks you, nobody reads you. No, thank you. I'll stick to where I am'.
What are you working on next?
I have taken to the Clifton Chronicles, which is a series of six books where Harry Clifton is the hero. He was a writer and he wrote about a man called William Warwick. I have taken William Warwick out and I hope that if I live long enough, I'll do seven books on him. William Warwick, of course, was a detective in the British police force and he went to Scotland Yard. So he will start his life as a constable in the Scotland Yard and then I should take him, I hope, all the way to when he becomes the commissioner of the Metropolitan of Police. But it's not a detective story I'm writing, it's a story about a detective.
What's your writing process like?
It's very disciplined. It's ruthless. I handwrite every word. I write from 6am to 8am, 10am to noon, 2pm to 4pm, 6pm to 8pm and I'm in bed by 10pm. Every word is handwritten and the first draft is ready in 50 days. And the book you have in front of you, Heads You Win, that is the16th draft. I wish there was a shortcut... there isn't.
We have heard that you go to Mallorca to write and never write in London. Why?
I have a home in Mallorca, yes. London is too noisy, too many busy people like you wanting to see me, wanting to do things. To write, I need to get away... complete peace, complete quiet and complete sanity. I can't mix it with something else.
You're one of the most famous bestselling authors in the world. Do you think luck also plays a factor somewhere?
No, I do not! Get on your knees and get to work. Slave. Write, write, write. Do I think there's luck? Five per cent, maximum. Go away and work (laughs)!
What does success mean to you now?
There were 3,000 people this afternoon in a city in India who came to hear you speak... wow, that's very exciting and very privileged. And a 1,000 people waiting to get an autograph for their book in one city in India, that's very special. I'm a very lucky man.
Do you have any regrets?
No daughters... I always wanted a daughter. I have sons and grandsons and I always wanted a daughter. I should've married a woman who would give me six daughters. Instead I married a woman who became a Dame (Mary Archer), runs one of the great institutions in Great Britain and gave me two sons.
What would be your tip for young aspiring writers?
Don't start too early. I wrote Kane and Abel when I was 38- years-old. Even my first book was when I was 35... get some experience from life. Read, read, read the great novelists of the past, the present and work hard .
Rapid fire with Jeffry
All-time favourite novel
The Count of Monte Cristo (Alexandre Dumas). Marvellous piece of storytelling. Close behind would be Stefan Zweig's Beware of Pity.
Favourite novel written by you...
The critics think that the best thing I've ever done is this book, Heads You Win. But the public are still saying Kane and Abel.
As a reader, one book that changed your life...
Certainly Stefan Zweig's Beware of Pity... I felt I'm in the presence of a master storyteller, a master writer and I was determined that when I grow up I'm going to be Stefan Zweig.