Cromwell's head, Potemkin's heart, Rasputin's member: Things Simon Sebag Montefiore is interested in
Upala Sen catches up with British historian and novelist Simon Sebag Montefiore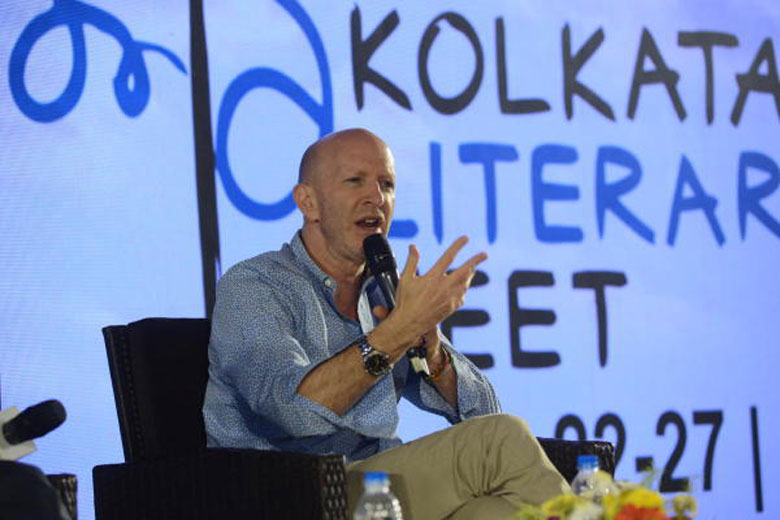 British historian and novelist Simon Sebag Montefiore at the Kolkata Literary Meet
Image: The Telegraph
---
Published 02.02.19, 07:00 PM
|
---
Montefiore is a super prolific writer. He is also part of the UK power set with a Royal connection. His in-laws, the Palmer-Tomkinsons, are friends of Prince Charles — skiing companions according to news reports. And when Montefiore and Santa married in St. John's Wood in 1998, Prince Charles and Camilla Parker Bowles apparently chose the occasion for their first public outing together. Montefiore is also said to have introduced David Cameron and Prince Charles in 2006 — he cooked dinner for them at his house.

As I waited for this round of introductions, I buried myself in the archival recesses of his timeline, a curious mix of politics, history trivia and travel musings. Scroll down, down, down. Retweets of messages slamming the Labour Party's anti-Semitic politics. Scroll up, up, up. A retweet and a reaction to The Cromwell Museum's update about a recent donation — a replica of Cromwell's head. Montefiore wrote: "I am endlessly fascinated by Necrohistory from Cromwell's lost head to Potemkin's lost heart and Rasputin's lost member". Scroll further up. A blurry video of Calcutta by night, an unmistakable Victoria Memorial, iridescent and splendid, and the words, "...after a Bengali feast. Thrilling to be here after a long voyage".
When I finally met Montefiore, I learnt that this was his first time in the city. That late afternoon, in his shirt and track pants, the 53-year-old seemed less Bruce Willis. He did say that he was excited to be in Calcutta — "I always wanted to come here. The whole of this trip has been built around coming to Calcutta" — but he looked tired and distracted.
In time, I figured he was waiting for his cup of tea, and he also told me how he had been out for a fair bit of the morning taking in the city — a synagogue, College Street, "one of the English cemeteries" and the National Library.
All said and done, Simon Sebag Montefiore is best known for his writing. He does not serve his history cold. In fact, he is known to plough through vast tracts of cold archival material and channelise them into immensely accessible reading, with a telling that makes you want to lean in and be let in into his secret. Sample this. "Stalin was born with the second and third toes of his left foot joined," reads the excerpt from his Stalin: The Court of the Red Tsar. It continues, "He suffered a pock-marked face... was exceptionally intelligent with an ambitious mother who wanted him to be a priest..." In Catherine the Great and Potemkin: The Imperial Love Affair, he chronicles the love story of the Empress and the soldier. Citing undated notes from Catherine to Potemkin, Montefiore writes: "The first [note] is addressed 'Mon Ami'... In the second... Potemkin has been promoted to 'Mon cher ami'. Already she is using the nicknames they have made up for the courtiers: one of the Golitsyns is 'M le Gros' — 'Fatty' — but more importantly, she calls Potemkin 'l'esprit' — 'the wit'."
At the literary meet the previous day, Montefiore had spoken about the many hours he had spent in the Russian archives. A good speaker, he had the audience roaring with laughter with his elaborate anecdotes and humorous portraiture of Russian archivists — working hard at obstructing material instead of facilitating access, unleashing a greymalkin on his bald pate to punish his persistence, etc. I wanted to know if a lot of the primary material, especially those for the books on the older periods, was in some kind of old Russian. Was he fluent in the language? "I studied Russian to write these books. I am not fluent in it. But I know enough to do research in it," was his reply, to the point and serious.
The tea finally arrived and I brought up Audrey Truschke's Aurangzeb book. How the American historian is trolled relentlessly for being this White person apparently trying to humanise a despot. Montefiore listened. He was yet to read her book but he knew of her work. He told me he was going to be in a session with Truschke at the upcoming Jaipur literary fest. I said I could understand that we in India were less likely to be outraged by a British historian's take on Stalin, but I wanted to know if Montefiore had been criticised in Russia for his portrayals. He replied, "Nobody wants to read any foreigner's work [in Russia] at all. And there isn't the same market for this kind of history anyway." What about the scholars, those teaching in universities in Russia, wouldn't they nitpick? He said, "The scholars literally write unreadable scholastic, academic stuff. There is no market for popular history."
At the literary meet in Calcutta, he had spoken about finding Stalin's mother's memoirs in the archives. Stalin had forbidden the press from publishing interviews of his mother. But when the determined Keke (Ekaterina) wrote her memoirs, an obedient archivist had to file them, albeit under a misleading header, so they were difficult to remember, let alone access. I wanted to know more about Keke's memoirs but was redirected to his Young Stalin. "It's all in there," he said. But why didn't Stalin want them to be read, I persisted. "Like any politician, Stalin didn't want anyone controlling any part of his image," Montefiore replied. But surely his mother… I had barely completed my sentence, when he said wryly, "Your mother is the last person you'd want to be in charge of your image."
His novel, One Night in Winter, is being turned into a TV drama. Fox has got the Royal Rabbits of London: Escape from the Tower, which he wrote with his wife Santa. It will be making a "hybrid-animated live-action feature film" of the book. No less than Angelina Jolie has bought the rights to Catherine; she is likely to play Catherine. Speaking of whom, like Marie Antoinette and the let-them-eat-cakes story, Catherine too is yoked to a story, a far more unkind and equine one. "Most odious," muttered Montefiore. I hurriedly asked how he would recommend Catherine to the uninitiated reader. "Inspiring character, self-made liberated woman, supreme politician," he said.
And while women leaders are quite the talking point here and now as well, of all Montefiore's works the one that the Indian reader ought to pick up is Jerusalem. Jerusalem is at once place and palimpsest, much like Ayodhya, and in a way Kashmir too.
Montefiore, who is himself from an old Jewish family, has earlier spoken about how he had to juggle many an awareness as he wrote the book. He said: "My father told me, 'If you say King David did not exist I will never speak to you again.' My Armenian friends said to me, 'If you don't make it clear that the Armenian massacres were a genocide, we will never speak to you again.' My Palestinian friends said, 'If you don't mention the Deir Yassin massacre, we will never speak to you again.'"
What happened when the book was out? Was everyone okay with it? Montefiore replied, "It is the hardest book I've ever done. And most important too, since peace is impossible without each side recognising the true narrative of the other. I was lucky and the right people, the centrists, liked the book and the extremists did not. And that's the way it should be."
Speaking of extremists, as I got ready to leave, I asked Montefiore about the current anti-Semitic diatribe in the UK. He had reportedly said last year that he would not stay in England to see his children living in an environment hostile to Jewish people. Did he mean it? He replied, "I would stay and fight it obviously… But I want people to understand that this is serious." But if for a second we were to assume that he would indeed move, where would he go?
He sipped from his cuppa and said with a laugh and a languorous stretch, "Moving is good actually. I could move to New York or Berlin or Spain. Why, I could come and live here, in Calcutta."
Going by his profile photo on Twitter, British historian and novelist Simon Sebag Montefiore is a lost-at-the-Kumbh-Mela kind of twin of Hollywood actor Bruce Willis. His brief online bio is casual, reads thus: "Writer:Jerusalem.Stalin. YoungStalin. CatherinetheGreat. The Romanovs..." The use of punctuation and non-use of the space key are intriguing. Carefully careless, carelessly careless, or just a man in a hurry, I wondered.
At the time of this interview, Montefiore was in Kolkata for a Literary Meet hosted at the Victoria Memorial grounds. He had one session the day before and the other was a few hours away. But when I turned up at the author's lounge of a five-star hotel in south Calcutta for the scheduled interaction, I was told there had been a mix-up about the time and while he was most apologetic, he was "miles away", and so on and so forth.