An election tourism nama
Ruchir Sharma's Democracy on the Road: A 25-Year Journey through India is pegged as a celebratory toast by Sharma to himself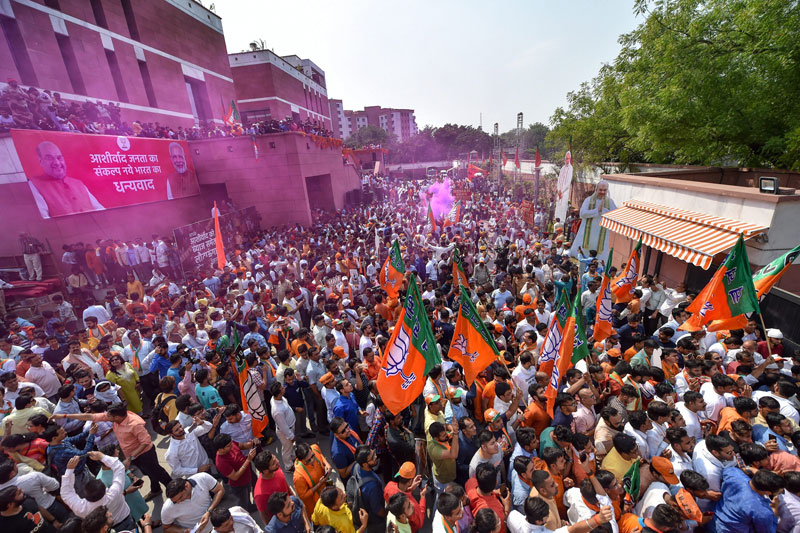 ---
---
Democracy on the Road: A 25-Year Journey through India was launched just a short step ahead of the landmark 17th general elections, with the expected exhilarating pomp and drumrolls befitting an acclaimed global investor and desi-pollster-by-choice author. The election was cast as nationwide showdown between Narendra Modi and the rest, a referendum on India's appetite for strongman rule and commitment to democracy and a visceral, near titanic clash of two different political visions, one celebrating the reality of the many Indias, the other aspiring to build one India. It was predicted that, facing unified alliances, the Bharatiya Janata Party could win a third of the popular vote, as it did during the Modi wave of 2014, yet lose its majority of seats in the Lok Sabha. This would be in keeping with the rallying cry of the prominent 1960s socialist leader, Ram Manohar Lohia, to all opposition movements — "Sarkar tave ki roti jaise hotee hai, usko palat tey raho nahin toh jal ke raakh ho jayegi" — and reaffirm that democracy was indeed thriving, in an era when it appeared to be in retreat worldwide.
As it often happens to the most credible of predictions, democracy's 'leela' gave it a churlish toss. Modi's magic worked and his party improved its tally to an impressive 303, leaving in its wake stupefaction and disbelief among many professedly progressive people.
Ruchir Sharma tells us that he started out as an idealist in his early twenties hoping that our elections would install a radical reformer as prime minister, capable of transforming the Indian economy from a central perch in Delhi. What he did not understand, by his own admission, was that India's political DNA was fundamentally socialist and statist. There was no real support for systematic free market reform, either among voters or the political elite and no sign that what was generally considered good economics would ever become a consistent election-winning strategy. Prime ministers like P.V. Narasimha Rao, A.B. Vajpayee and Manmohan Singh pushed reform only to stave off crisis, not out of any deep or enduring conviction. Modi came to power sounding like India's version of Ronald Reagan, promising to minimize the role of government, only to reveal himself as more than willing to use State power to meddle in and mould the economy.
To win Indian elections, political parties have to pass a battery of simultaneous tests, careening over complex hoops of community and family strangleholds, competitively vicious violence, dirty money, criminal strangleholds, raw disillusionment, despair twinned with soaring aspirations and yet be supremely uncertain about their chances of making it safe and dry to the garbha grihas of democracy.
The book is pegged as a celebratory toast by Sharma to himself — obviously — and his "merry band of fellow writers" aka "limousine liberals" who have made 27 election trips to date, typically covering between 1,000-1,500 kilometres over about five days. In total, the campaign trails have statedly taken them a distance nearly equivalent to a lap around the earth. More than half the states have been traversed, taking in both state and assembly elections. Ten of the most populous and politically important ones have been tapped more than once.
As an innovative start-up in the huge, burgeoning public polling industry and one that stayed the course, the annual motor-yatras of the elite, well-wired cognoscenti have earned archival space for themselves.
The reminiscences spanning a challenging and complex quarter century make for an easy, engaging read. However, they are inherently limited in their scope, claims of being only one-of-a-kind notwithstanding, in a very basic sense and may appeal to those who have not tracked elections during the period. There is very little in the not-yet-known genre of the core subject that is, or can be, realistically speaking, thrown up. The differentiator, perhaps, can be pinned on the peek-a-boo charm in the manner of retelling what may otherwise appear stale and rehashed tales.
It may amuse and entertain some to know how club class denizens had to rough it out in the boondocks and come out with a gritty desire for more slumming year-on-year. The hotel and loo- woes, bare-bones logistics and transport infrastructure pair exquisitely with the intimate interactions with the crème-de-la-crème of the political upper crust, local large-hearts and resourceful fixers. These are tantalizing asides mixologists die for.
Amit Shah's acrid jibe in Varanasi to Team Sharma in February 2017 during the state assembly elections sums it up neatly. "So what's the big deal, what have you done for the country? You roamed around but what have you done for it?"
At best, a souped up Election Tourismnama.
Democracy on the Road: A 25-Year Journey through India by Ruchir Sharma, Allen Lane, Rs 699