The recipe for creating the perfect sleuth with Ann Cleeves
'We are all the sum of how our parents raised us, the friends we played with, the places we played'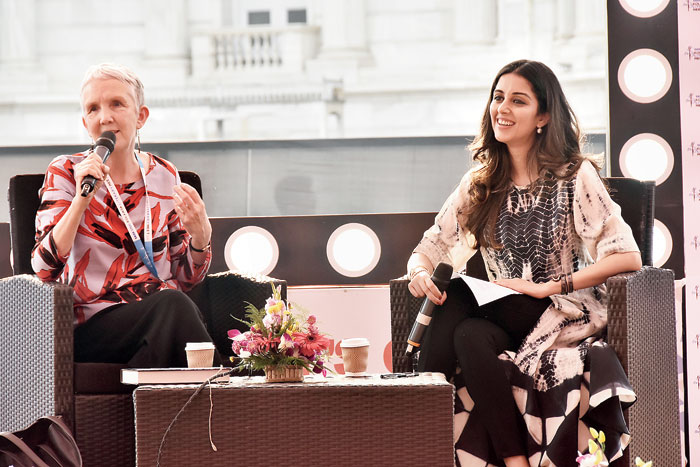 ---
---
For award-winning English crime writer Ann Cleeves, it's more than just writing whodunnits — it's about the story that she often lets unfold by itself. For example, take Vera Stanhope, whom Cleeves let barge into a funeral of the character she had developed and then killed, when she did not know how to take it forward. Then ITV picked up the first book of the series and the rest has become history with Oscar-nominated Brenda Blethyn playing the lead in the web series. Of her own admission, she dislikes plotting and therefore the structure of writing crime fiction often acts more as a corset for her than a straitjacket. We caught up with Ann on the sidelines of the Tata Steel Kolkata Literary Meet 2020, in association with The Telegraph and Victoria Memorial Hall, on how this daughter of a village school head-teacher went on to create a place for herself in an otherwise world of Scandinavian noirs, and win the inaugural Duncan Lawrie Dagger, the richest crime-writing prize in the world, while at it. Even as she settled in for KLM, she received the happy tidings that her latest book, The Long Call, has been nominated for an Agatha Award in the Best Contemporary Novel category. Excerpts from a chat with The Telegraph:
You had famously said once that "we are all the sum of how our parents raised us, the friends we played with, the places we played" — so how is your body of work an extension of who you are?
I was brought up very much in the country and my dad was a village school head-teacher so he taught me. I was in a very little village, with very little contact outside around the Welsh-English border. There were only 30 kids in the school and in a place like that, it's quite tough if you're the teacher's kid because you are not going to be terribly popular. I can't remember ever being invited home by anybody to play or for tea. I think I was very much an outsider, which made me an observer because I was watching and listening all the time, always curious and that is what partly made me a storyteller. I became fascinated with other people's business. I am still incredibly curious about people. In the UK there is a time of the year in autumn when people switch on the light but forget to draw their curtain. So when you're walking down the street, you can see inside every house. I love that! The snatches of domesticity and the different stories that you get to see. And then it's all about making stuff up.
A bird observatory cook, an auxiliary coastguard, a probation officer and a library reader development officer — how did your own professional life inspire you in your writing?
I started off working at Shetland because I dropped out of university and just by chance, I got offered this job of being an assistant cook at a bird observatory in Fair Isle. I could not cook but learnt a little about birds but just loved it and that just gave me a chance to read incredibly widely, much more than I did at university and there were no distractions. And that also introduced me to Shetland and that's where Raven Black, my breakthrough novel, happened. I think it was that place, that background and that geography that caught people's imaginations and it was also a time when Scandinavian noir was starting to hit the bookshelves. Shetland belonged to Norway at one point so it's very Scandinavian. I am lucky that the setting made it popular though I did not write the book because of it — it was just the book that I wanted to write then.
What made you choose crime fiction and then stick to it?
I don't really enjoy plotting and the great thing about crime fiction is that you have a structure — a murderer, a limited number of suspects and a resolution. It's not very simplistic but it does give you a structure to hold you up and I thought when I started writing that I was going to write a great work of literary fiction and I had all these characters that were very interesting. But you can't just have them sitting in a room, talking to each other and till I killed one of them off, I was up and away and that structure — someone said it's not like a straitjacket, it's like a corset that keeps you upright. You can play with the conventions and subvert them. But that plotting structure is very helpful, which is why for new writers, it's a good genre to start with.
How did you conceive Raven Black? Did you ever imagine the fame it would eventually bring you?
It was mid-winter and just seeing ravens and snow and thinking if there would be blood and that it would be a very visually strong way to start. I had been to Shetland a lot and there was this sense of what it would be like to have been a teenager there. And that was the time when the oil industry had just come to Shetland so lots of people from outside were coming in and yet Shetland was able to assimilate them in a way that quite often in the south people are reluctant to welcome strangers. So I was looking at what was it about that particular society and how did people try to belong there and how did they survive. So the first book is all about belonging and how you fit in.
I had been going for such a long time without any commercial success that all I really cared about was writing the best book that I could write and there was nothing more than that.
So how did you realise that it has become so big?
It happened very gradually, even after the television because all publishers have this mantra that marketing spend follows sales and that's really counter-intuitive. But slowly it developed after the TV and people realised that they are based on books.
Tell us how Vera Stanhope happened?
I had this new, very fashionable editor who thought that crime fiction was dead and that it was only for old and boring people. I did have this idea for a psychological fiction that was set in my home county of Northumberland. So I had these three women who were doing this environmental survey at the national park before the creation of a monster quarry and they were surveying what natural history was there and one of those girls were going to die. But there wasn't going to be any detective and I just got stuck. I don't plot in advance and decided to open the door and see who came through. It was the funeral scene with everybody and when everyone stands up to sing the first hymn, the door swings open and in goes Vera Stanhope. I had her name, I could see her and she was big and ugly and a middle-aged single woman. How unlikely is that as a hero of crime fiction? And then that was it. When I finished the book, the trendy young editor went off elsewhere with her husband and my new editor was more sympathetic about crime fiction and that's how it goes.
So setting has always been very important to you. What is its importance in your books?
I think it has more to do with the quote you picked up for the first question. I believe in community and that setting is just not about landscape or a pretty backdrop to the action — it informs who we are. So if you grow up in the middle of a big city, you're going to be a different person from those who have grown up in a village, where you know everybody. So I am very interested in how landscape and community forms an individual.
Have you read any Indian crime fiction writers?
Only Abir Mukherjee, who sets his stuff in Calcutta, who is a great friend and whose books I like very much. But it's quite ironic, isn't it that he does not live here; but it's very interesting for me to read about how his central character, an English detective who is placed in a position of authority even though he is not very competent but just because he is white and British, and is propped up by this Indian sergeant who holds him up and lies for him.
When did you find out that your books are being adapted into series and did you ever second-guess it?
Not at all and it happened just by chance that someone went into an Oxfam shop, looking for a book to read on their holiday and picked up a copy and just happened to be from the production unit of ITV, which was looking for a series with a strong female lead and picked up the first of the Vera books. Another lucky coincidence that the guy who worked with the lady who picked up my book was someone who went to university with my daughter and he called her to check if the rights of the book were available. It also depended on Brenda Blethyn agreeing to play the role because she had just been nominated for an Oscar.
Do you think she was the perfect fit?
She is now, yeah. Because she used to act in this very subversive sitcom in the UK called Outside Edge and she was very funny, dry and witty in that. I knew she could do drama because of Secrets and Lies, where she is so moving and such a brilliant actor. I remember I was on my way to the local pub when the scriptwriter called to tell me that Blethyn said yes but we couldn't tell anyone because ITV wanted to make a big announcement about it. So we bought everybody a drink at the pub and we could not tell them why. The 10th season is airing now.
Do you like the way they have been adapted?
I don't care really because I like writing the books. And I do think that it's wrong for writers of prose to meddle in adaptations — you take the money and hand it over. When the books are finished, I don't consider them mine anyway.
What do you think about the constant comparison with Agatha Christie?
I don't accept the comparison really because I think Christie wrote very plot-driven books. I think she wouldn't have gone halfway through with it not knowing how things wouldn't have ended. I think she is very cold and ruthless — she wrote about serial killers long before Hannibal Lecter was invented and she killed schoolgirls. Now, I think we want to know why people do what they do and I don't want to create a monster or write about a serial killer. I want to write about people I understand or try and understand what makes them do something. That's where my social-work training comes in as well. I am just very curious about people and what makes them who they are.