A look beyond the pandemic at the future of literary festivals in India and our neighbouring countries
Playing host to thousands of people under a single roof, what its future holds in the coming year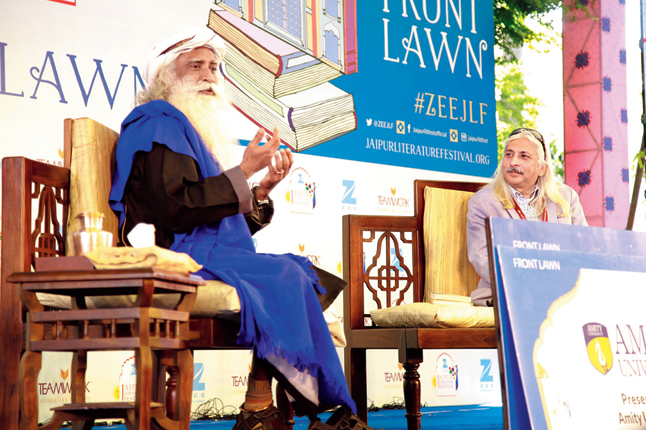 Sadhguru in conversation with Sanjoy K. Roy at Zee JLF 2017
Sourced by the Telegraph
---
Published 08.06.20, 04:21 PM
|
---
Freytag's dramatic structure, if marked against the backdrop of our current state of being, would suggest that we are in the climax of our very own Shakespearean tragedy. We were 'introduced' to the horror of the present time, we have watched it 'rise' and now we fight in this climax. Drawing upon a literary parallel is imperative as we speak to the showrunners of the greatest literary events around the country and beyond, asking them to imagine the final act of this tragedy. What will literary festivals around the world look like? What are the fears and trepidations associated with the next stages? What is the ray of positivity emerging from this crisis? All forms of live arts are in immense confusion and a debilitating lack of clarity, but the arts are tenacious. They pull through and in turn, pull us through every difficulty in our lives. As more and more people reach out to their long list of to-be-read books, we wonder what the future of a festival, playing host to thousands of people under a single roof, holds in the coming year.
Pushing back the calendar
A delay in the beginning of the yearly literary calendar is the first thought to occur perhaps. "Even if things miraculously get back to normal, one might have to reduce the capacity of the audience from 750 to 300 with people wearing masks," imagined Malavika Banerjee, director of Tata Steel Kolkata Literary Meet that takes place in association with The Telegraph in Calcutta in January every year. A lot of festivals were postponed indefinitely with a comeback scheduled for the year 2020 but that appears to be immensely difficult now. The imagined situation then becomes a personal narrative while reflecting upon a community struggling to remain positive.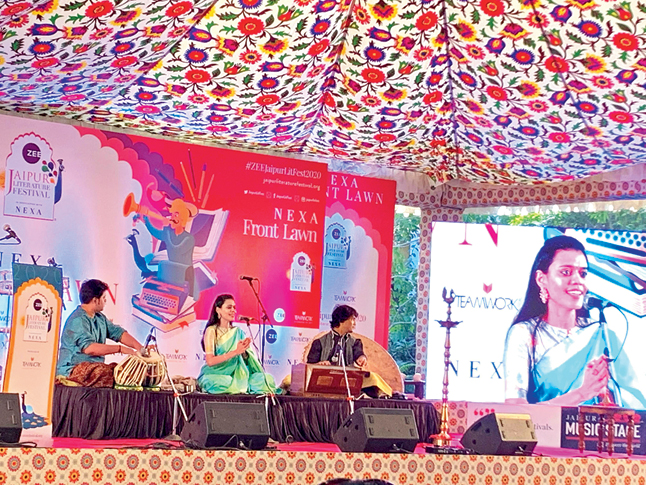 Pausing for breath
This added time to our days has, however, also proved to be a boon with a recurring thought of rebooting appearing in the conversations. "Every crisis affords you an opportunity to relook and reconstruct and that's certainly happened as far as we are concerned. We found the time to look at a lot of what we had been doing, non-stop, because of the kind of pressure that we were always under, without necessarily reinventing it," said Sanjoy K. Roy, managing director of Teamwork Arts who produce the Jaipur Literature Festival and president of the Event & Entertainment Management Association (EEMA).
Echoing his thoughts was Mita Kapur, director of the JCB Prize for Literature, CEO of Siyahi and former festival producer of Mountain Echoes Literary Festival held in Bhutan every year in August. "It has given us the opportunity to regroup and re-engineer a lot of things and the visions that we had started out with this year, are being met."
Digital foot forward
It is not like these events did not command a digital presence before. Every session would be televised and cast live on social media channels. Namita Gokhale, writer, publisher and co-director of the Jaipur Literature Festival, succinctly compares the tenacity of the literary world to the ability of amphibians to exist on land and in water — the digital and the virtual world. The need of the hour is content that is specifically created for an audience that is online. JLF Brave New World, a digital project with a stellar line-up of authors and thought leaders exchanging ideas on a digital platform, has seen immense traction in the middle of this lockdown. Their video views on YouTube are on a sharp rise with names like Orhan Pamuk and Margaret Atwood.
"We are now considering our options for physically conducting JLF London and America. Is it possible to merge the five separate editions of the festival in America into a singular one and create a digital skin to amplify it? Think, a space with separate rooms and one click takes you to Boulder while another takes you to Houston," suggests Roy. Since our conversation, the curtain-raiser for JLF London at the British Library was conducted on all their social media channels.
There is trepidation in the minds of everyone involved with a slow-burgeoning faith in the digital model. "We can have lit fests over different available digital platforms at little cost, but it won't be as exciting as a physical event. And I don't think writers will be too keen to be part of online lit fests — these won't give them an opportunity to travel, see new places, meet their readers and fans face to face and sell their books," says Ajit Baral who is the founder and director of Nepal Literary Meet. But the online space has its benefits too with a "sense of community emerging on social media" adds Gokhale.
The house is clearly divided in their opinion on the response garnered by live sessions. While some believe that a 45-minute session on your screen will never possess the grandeur and the electric energy of a live session, others marvel at the response received for such a session on social media. Attention span on the Internet is an elusive beast and how one responds to a piece of content today may be different the next day. The lifespan and virality of content have as much science behind it as it has brushes with luck. The physical sharing of space contributes to the making of memories as does the palpable energy around you. Whether we learn to replicate the emotions virtually is a tale only time can tell.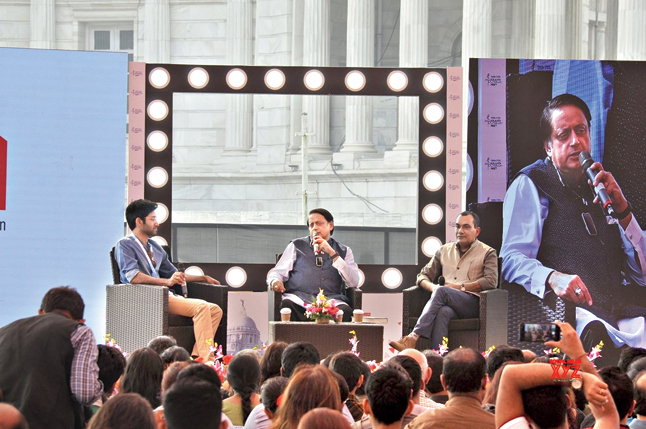 Will any of this make financial sense?
The events and entertainment industry has approximately lost Rs 40,000 crore in the first quarter of the financial year (data according to EEMA). How does one monetise a product in its nascent stage? Teamwork Arts is dabbling with a few ideas that include uploading parts of the content for free usage while putting the rest behind a paywall, the museum format with a suggested amount that one should pay when they engage with the content, and advertising a product on the platform. "We are seeing robust conversations with brands. Even though the normal opportunities of advertising have disappeared, with that, a lot of restrictions disappeared too. An alcohol brand for instance," said Roy.
It also helps that JLF's products like The Brave New World or Under the Banyan Tree are not focused on the Indian market and attract a global audience instead. Some international collaborations are keeping their word and the first physical event is going to be India by the Bay in Hong Kong in October 2020. Best practice systems will be incorporated to any on-ground activities and one can only hope for a positive outcome.
Patronage at its finest
Sponsors of such large-scale events have been extremely benevolent in their approach of what lies ahead. "There has to be mutual support between industry and the festivals and it's definitely working. We, at Siyahi, are also spearheading another project with Prabha Khaitan Foundation called The Universe Writes, which is getting fantastic response, just as we are getting responses from publishers for the JCB Prize for Literature 2020," said Kapur. The main agenda at this point is to keep the conversations alive with patrons and sponsors and be flexible towards fresh new ideas and models, felt Banerjee, about the strong set of sponsors helming KLM.
However, such clarity may be a privilege not available to all. The Kolkata Literature Festival is housed within the International Kolkata Book Fair that is the largest retail book fair in the world reportedly visited by over 2 million people over 12 days. "Part of this book-buying crowd visits this lit fest and with this current state of uncertainty, the fate of KLF will, therefore, be linked to the fate of International Kolkata Book Fair," said Sujata Sen, director of Kolkata Literature Festival.
Literary awards and launches
Two literary awards that are at the helm of fiction writing are The JCB Prize for Literature and the DSC Prize for South Asian Literature — both associated with large-scale literary events honouring the awardees.
"Digitisation appears to be a key survival strategy going forward. Literary prizes depend on publishers to send the best entries. Would prizes struggle with a dearth of entries and would they need to look at the possibility of sending e-entries to the jury members to read and evaluate? Would the curbs on social gatherings necessitate the announcements of the longlist, shortlist and the winner to be made in a virtual set-up or through electronic press releases? And finally, as the pandemic would definitely cause an economic downturn, would the literary prizes have the funds and resources to carry on as before?" asks Surina Narula, founder and patron of the DSC Prize. However, the DSC prize is perhaps better insulated because of the scope of the award that invites participation from authors of South Asian origin or books with a South Asian connect. Virtual events to commemorate the awards seem to be a clear way forward.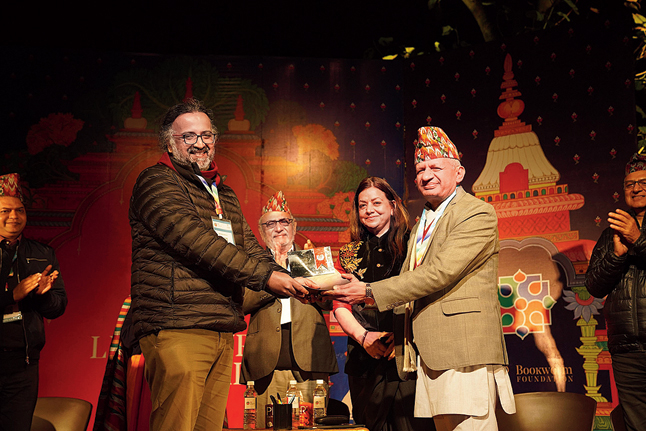 Neighbouring Nepal
Last year, the DSC prize winner was announced at the picturesque Nepal Literary Meet held in Pokhara. However, this year, the festival looks impossible. "In Nepal, the number of coronavirus cases is less in comparison, but with the lockdown in place for almost three months, economic activities have come to a standstill. I think the worst is yet to come. Our public healthcare system is pathetic, without enough kits to test people. I feel we are sitting on a ticking time bomb. And if it explodes, it will affect us more deeply. We are thinking of taking the festival online but we have time in our hands," said Baral.
Books as a common thread
Tying these myriad opinions together with the single thread is the cause of books — the one form of culture that will remain unaffected by this crisis. "I know it's a phase and a cycle that has to be completed but as an industry professional the only thing, I feel, that one can do is reaffirm our faith in books, to continue to tell stories and to continue to be inclusive," said Kapur.
The need for artists to perform and promote their art for monetary benefit is reiterated again and again by Roy. "We are just a platform on which the arts can stand and shine, but it is imperative that one continues to create that platform in whichever format," he added.
It's heartening to witness the struggle to keep fighting for the arts while a different form of a fight ensues around us. One is reminded of Camus in The Plague as he writes: "What's true of all the evils in the world is true of plague as well. It helps men to rise above themselves." Books will definitely help this waiting process.