Beyond JLF: The rise of lit fests
JLF's huge success has had a multiplier effect and resulted in literature fests mushrooming across the country from Kozhikode to Kasauli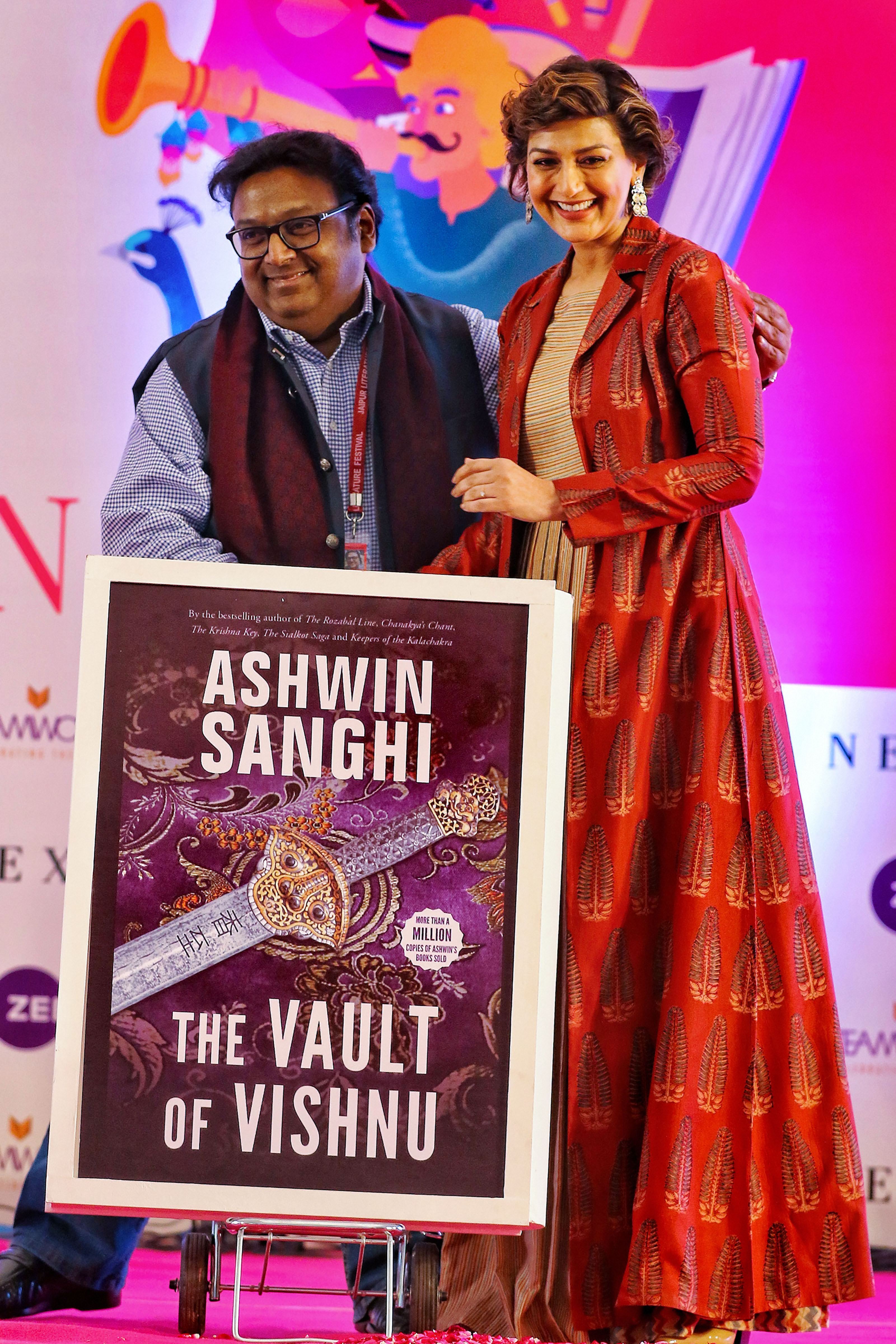 Sonali Bendre and Ashwin Sanghi release Ashwin Sanghi's new book at the Jaipur Literature Festival (JLF) 2020
PTI
---
Published 23.01.20, 12:02 PM
|
---
If sales aren't huge, how do publishers benefit from literature festivals? Sayantan Ghosh, senior commissioning editor at Simon & Schuster India says that the buzz created by lit fests is what makes them worth it. "Actual sales are very low. As publishers we make peace with that. But it is the sheer number of people which is a huge boost for the authors."
Then there is all the social media attention that authors get at lit fests. Says Sharma, "Things are shared on social media. Sessions are put on YouTube and they get widely shared and stay online for posterity. It creates a buzz around a book." Lit fests also create an interest in an author's previous books. So, while sales may not be great at a festival, they do have an impact over the long run.
With lit fests being held in smaller towns like Kasauli, Indore and Raipur, will the charm of the book fair wane? "Unlikely," says Sharma. "There is space for both." He feels lit fests compliment book fairs. Bloomsbury India had its highest ever sale this year at the recently concluded World Book Fair in Delhi. William Dalrymple was their highest selling author and sales were 50 per cent higher than last year. "While lit fests are about new and popular authors at book fairs even older books sell." Agrees Ghosh, "If anything, sales are only increasing at book fairs."
Nielsen estimates the Indian book market is worth $6.76 billion, predominantly consisting of educational books. The Indian book market is growing at a compound annual growth rate of 19.3 per cent. India has over 15,000 publishers, of whom around 9,000 are officially listed.
With so many lit fests, a glut is likely to set in sooner or later. The Mumbai edition of the Times Literary Festival that was supposed to be held in December was called off because of lack of sponsorship. The Hindu Lit for Life scheduled for early January has also been postponed for later in the year as under the current economic climate sponsors are not forthcoming.
Kapur who has conceptualised and produced various literary festivals such as the Patna Literature Festival in 2013-14 and the Mountain Echoes Literary Festival in Bhutan from 2010-17 says the biggest challenge is getting funds. "Once a festival is established it becomes easier, but then it increases in scale and costs rise," she says. "However, if you are committed to enriching the cultural space then you have to find solutions."
Literary festivals also need to carve out a niche for themselves. For instance, Bookaroo that is held in Delhi every year is the largest literary festival for children. Then there are festivals focusing on LGBTQ literature. Last year, four queer literature festivals took place in Calcutta, Chennai, Lucknow and Delhi respectively. Each of these events amplified local voices and covered wide ground.
Singh feels having a concept helps a literary festival stand out. He gives the example of the Chandigarh Literature Festival where several literary critics are asked to nominate one book each. At the festival, discussions happen between the critic and the author whose book he nominated. "As a concept it works because both the people know the book inside out."
Also, the effectiveness of a lit fest depends largely upon the amount of thought that has been put into it. "When organisers are not that invested, they hurriedly put together a panel," says Singh adding that he has been invited to moderate panels where till the last minute the panellists and the moderator haven't been introduced to each other. 
The 13th edition of the Jaipur Literature Festival or JLF has kicked off today and the Pink City is crawling with bibliophiles. Over 35 lakh people are expected over the next 5 days to hear nearly 500 authors who churn out their words in 20 international and 15 Indian languages. Everyone from Nobel laureate Abhijit Vinayak Banerjee, to Man-Booker-winner Howard Jacobson will be there. Little wonder JLF has become a place to see and to be seen.
JLF's huge success has had a multiplier effect and resulted in literature fests mushrooming across the country from Kozhikode to Kasauli. There are 10 festivals over the next month alone and a couple concluded before JLF. "There are today nearly 300 literature festivals across South Asia from Lahore to Bhutan," says celebrated author William Dalrymple who is also the co-director at JLF.
What makes literature fests so popular? "At a lit fest you can hear a celebrated author for free. We should realise how remarkable that is. Authors are being given a platform they deserve. So, I think it is a wonderful opportunity for writers. You get to meet your fans and sell your books. You are also promoting literature and the arts. There is virtually no downside. It is unquestionably a wonderful thing," says Dalrymple.
For the thousands who throng to these festivals, readers and non-readers alike, it is an opportunity to listen to authors, some famous and some to-be discovered. "Even if you haven't read a book, it is important to engage with an idea. So even if you are listening, it's great," says Mita Kapur, founder of literary agency Siyahi and who has put together various lit fests in the past.
Kapur says that sprouting of lit fests in small towns is a good sign as they also promote regional languages. "Lit festivals provide a holistic platform for writers from all walks of life to intermingle which leads to more engagement and more ideas," she says.
Dalrymple says 100,000 books are sold at JLF every day, but some publishers are sceptical about such figures. On the contrary, most publishers say book sales at lit fests are mediocre. "Sales at lit fests are incremental but they are not the main source. A Margaret Atwood will sell 400-500 books after a session as people would like to take back a signed copy. But that's not true for all writers," says Yogesh Sharma, Senior VP, Sales and Marketing, Bloomsbury India. Bloomsbury has 18 authors at JLF including William Dalrymple, Elizabeth Gilbert and Howard Jacobson. Bloomsbury participates in around 15 literature festivals every year.
In fact, often there is no correlation between the number of people attending a panel discussion or lit fest session and the number of books sold after each one. Jai Arjun Singh, author of The World of Hrishikesh Mukherjee had an experience that many others have also had. He was in a discussion with Rauf Ahmed, author of Shammi Kapoor: The Game Changer at JLF a few years back. "There was a huge crowd and they all seemed pretty engaged. But then it is not difficult to get a crowd interested in a film topic. Post the session exactly one person came up to me who had bought the book from the stall and wanted it signed," he says.