Amitabha Bagchi bags literary award
The DSC Prize was given to the author for his literary fiction novel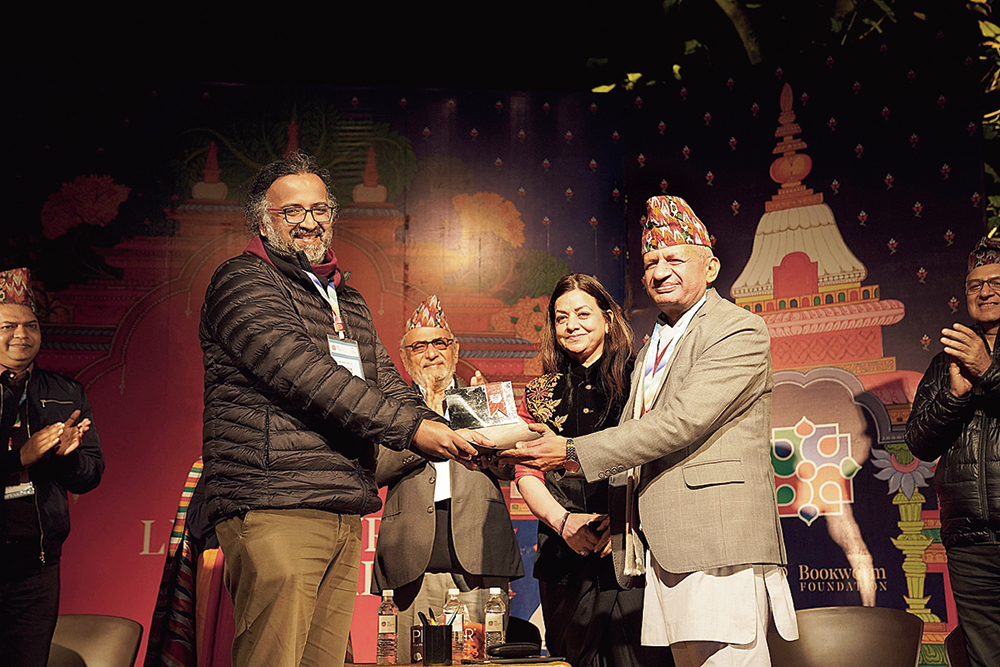 Amitabha Bagchi (left), winner of the DSC Prize 2019, receives the trophy from Pradeep Gyawali, minister for foreign affairs, Nepal (right) and Surina Narula, co-founder, DSC Prize, (second from right) to applause from Harish Trivedi
Sourced by correspondent
---
Published 18.12.19, 01:16 PM
|
---
Amitabha Bagchi's 2018 novel Half The Night Is Gone has been shortlisted for a lot of awards, but, unfortunately, hadn't taken home any — till Sunday, December 16. That evening, it won one of the most prestigious awards of the subcontinent, the DSC Prize for South Asian Literature 2019, which included a whopping sum of $25,000. Held at the picturesque Pokhara on the final evening of IME Nepal Literature Festival, the event saw the author accompanied by his novelist wife Ritika Kapur and son Kisho Bagchi.
The shortlisted novels included Manoranjan Byapari's There's Gunpowder In The Air translated from Bengali by Arunava Sinha, The Empty Room by Sadia Abbas, Madhuri Vijay's Far Field, Jamil Jan Kochai's 99 Nights In Logar, and Raj Kamal Jha's City And The Sea.
Bagchi, who is a professor of computer science at IIT Delhi, oftentimes doesn't write for months on end, he tells us. But when he does, his focus remains on the art of language. His wife Ratika Kapur, a novelist herself, firmly believes in his art, perhaps even more than he himself does. "Sometimes, as much as you write for yourself, the external validation does help and I am glad that he was able to get it at such a crucial period of his writing career," she tells us. Bagchi received the prize from Pradeep Gyawali, Nepal's minister for foreign affairs, and the DSC Prize co-founder Surina Narula.
There was equal support for all six shortlisted books. Jury chair Harish Trivedi said, "After arriving at a shortlist for an award like this, we hardly knew how to proceed. Comparing six different novels, each worthy of winning the prize in all our opinions, is an impossible task. We do it in all humility and with due hesitation, that no judgement is final."
The jury also included Jeremy Tambling, former professor of literature at the University of Manchester; Kunda Dixit, editor and author; Carmen Wickramagamage, professor of English at the University of Peradeniya, Sri Lanka, and Rifat Munim, writer, essayist and translator from Bangladesh.
Speaking to The Telegraph, moments after winning the prize, the author is visibly calm and poised as he patiently signs books and takes pictures with his fans from Nepal. Excerpts.
How are you feeling?
I feel great. I wasn't expecting it because I have been shortlisted before and not won. Jury decisions are subjective. So, I am really glad that this one went my way.
How do you think life is going to change after this win?
Well, I hope more people will read my books. It's literary fiction, so recognition helps. But, at the end of the day, readership has to come and meet you halfway. So we hope that happens.
Since you mentioned, what is your definition of literary fiction?
I think literary fiction is one where there is serious engagement with language. I believe that it's not so much about plot, theme or characters, but it's about the prose. The prose has a certain quality and tonality and if that is not the case, it's not literary fiction. You can have the most commonplace themes with seemingly popular fiction settings, but language can make the difference — like my first book, Above Average, was set in the IIT campus and people thought it was popular fiction because of that. But actually, those who read it carefully realised that there was a challenge in the language. That is the definition of literary fiction as far as I am concerned.
Did you have an audience in mind when you were writing this (Half The Night Is Gone) book?
No, I did not. This book was basically written for myself. Of course, I wanted people to read it, but for this book, or as a matter of fact for all my books, I have felt that audience questions can only take you so far in the sense that you hope for an audience, but you don't base your decisions on it. In this case, I was not thinking at all.
What are your thoughts on translated works being on the same platform as original writing in English?
I think it is very important. That means that a few of my contemporaries writing in languages other than English and I are being put on the same stage. I am exceptionally happy about it. I don't think original writing in English has an edge over texts that have been translated either because literary quality is not dependent on language at all. In fact, last year, I was shortlisted for a prize which was won by a translated piece and I completely agree with them because it was a fantastic book and it deserved to win.
The narrative of Half The Night Is Gone was an extremely difficult construct. Was that done consciously?
I apologise for that! (Laughs). I also strive for clarity and when I say that I was writing for myself I meant that the primary audience was myself but I don't like being obscure or difficult to follow. But while writing this one, the structure got a little convoluted and I am sorry about that, really!
Many different things came together to make this book happen. There was a germ of an idea and to make that idea come alive, various decisions had to be made — like the novel-in-the-novel format that was borrowed from Amrit Lal Nagar. So, a lot of different things that I was reading; and it all came together.
How do you think your writing has evolved in the course of the last four books?
I have evolved, I feel, but the basic thing that concerns me has remained the same — the basic notions of masculinity, how they work, how men are victims of their masculinity — that plays out. But the settings and prose forms have changed. Evolution goes on I guess.
So would you say that you write to understand yourself better?
I think partly yes, everybody writes for the self but it is not all of it; the self is one thing to hold on to and it takes us further into the world.
Do you have a writing regimen?
I don't have one, I have a day job and a family. However, when I am writing I do but when I am not writing, it can even be months and years.
What are your thoughts on the literary events that are being held in every part of our country?
If they are curated with a serious intent, then it's great. But if they are not, it is unfortunate. Then it's just a waste of everyone's time.
There appears to be two schools of people when it comes to fiction — those who believe in the supposedly imperative social responsibility of fiction and those who feel that fiction works as long as it is the author's truth. Which school do you belong to?
I think I belong to a third school of thought that is the house of art. Neither does fiction have to be personal, nor does it have to be socially responsible. It has to be responsible towards the basic principles of humanity as presented to us by the tools of the art form with which we work.
Language, characters, form, plot, narrative — within the limitations of the art form, we strive towards the basic principles that make us human. Sometimes that becomes social responsibility and sometimes it may not, but the basic principles are there.
Looking at publishing right now, do you think India is straying away from literary fiction?
Literary fiction does not sell and publishers also need to look out for their bottomlines. This is a real thing, so it requires a lot of effort to take literary fiction to a larger market. And we hope that people will strive for that.
What are you reading right now?
Lucy Ellman's Ducks, Newburyport.
Are you working on something now?
I am supposed to be (grimaces!) but I am not right now! Hopefully soon.
Will this award act as a push?
Not really. Recognition is good and lack of recognition is unfortunate, but it really doesn't affect the writing process.
Any message for writers who are just starting off?
Focus on prose. Make it the best language that you can ever write and that's the most important thing.