Tripura's theatre artistes anxious under new regime
They find themselves negotiating a clampdown of sorts under CM Biplab Deb
---
---
A makeshift mosque stands tall onstage. A play is in progress. An actor playing Swami Vivekananda is talking about the greatness of all religions. Some scenes later he refuses to meet the Brahmins — he is keen to know about the starvation deaths in Bengal's Murshidabad, and tells his disciples, it is more important to feed starving people instead of starving cows.

Bibhu Bhattacharjee's Swami Vivekananda is the inaugural play at the three-day theatre festival in Agartala, Tripura. And he is apprehensive that "radicals" may interrupt the show for these portrayals, but thankfully, it all goes off uninterrupted.
"In today's Tripura one has to be careful," says Bhattacharjee who runs the theatre group, Tripura Theatre. He continues, "We are showing Swami Vivekananda's religious and social sides. He had said, first feed the people, then the cow. It's a fact."
With the change of regime in the state, there is a fear that liberals will be targeted, as in other parts of India. Artistes of Tripura claim hooligans affiliated to the ruling BJP have spread terror. In the districts, offices of theatre groups have been locked down — no one will say by whom. Anonymous callers have threatened artistes not to stage plays critiquing the state government. Threats also emanate from fake Facebook accounts. Culture department officials make surprise visits to halls and auditoriums where rehearsals are held.
"There is anxiety and dilemma. What should we do, is the question we are all asking," says a Khowai-based playwright whose office was locked out by unknown people thrice. There was a "note" on the main door of the office saying he must stop doing plays. "But we broke open the lock all three times and resumed work," he says, though he adds that this may not be a viable solution. "This is not the right atmosphere for art to thrive. We cannot express ourselves in such an atmosphere."
There is no official diktat from the government but the cultural committees of the subdivision and the districts have stopped inviting independent theatre groups. "They don't invite us to perform at festivals and other events. They have also threatened private organisers that they should not invite us," says a playwright and actor in a theatre group in Kamalpur.
But the state director of information and cultural affairs, Vishwasree B., says she has not received any such complaints as yet. "There will be issues everywhere but art is above everything. We are constantly trying to help artistes and people who promote art as a career," she says.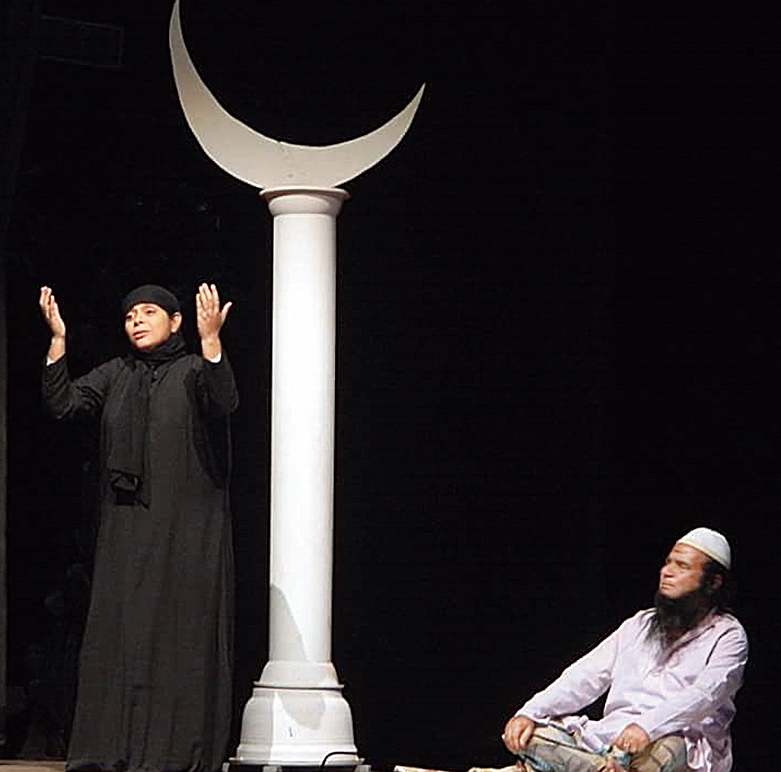 History
Tripura has a tradition of theatre that goes back to the 17th century. Kaliya Daman was the first play staged in the palace of the Tripura king, Ratna Manikya. However, the first theatre group of the state — Ujjyanta Natya Samaj — was established only in 1892. Mostly historical and mythological plays were produced during this time.
In the late 1950s and early 1960s, theatre personalities of Tripura, including some big names such as Tripuresh Mazumder, Shakti Halder and Shibdas Bandopadhyay, came under the influence of the Indian People's Theatre Association (IPTA). Bandopadhyay's Tripura Sanskriti Parishad staged anti-capitalist and pro-people plays. Apart from Agartala, theatre groups started across the districts — Khowai, Kailashahar, Dharmanagar, Amarpur, Udaipur.
Since the late 1970s, theatre in Tripura has always been progressive. All the popular theatre groups — Shilpatirtha, Natyabhumi, Tripura Theatre Academy, Sarathi, Bornali, Natya Samsad, Rangrup and Agantuk — have voiced the views of the people. These groups staged many anti-establishment plays during the Left-regime. Plays such as Natya Bhumi's Money Bag and Ek Ononter Khoj took potshots at the corruption in the government. Way back in 1990, Natya Samsad's Annya Prithibi criticised the Indian Army's "obsession" with Pakistan. Apariter Diary criticised the state government's anti-insurgency operations.
"But we never faced any disruption from the Left government," says a senior member of the 51-member theatre group, Natya Samsad. He continues, "Unfortunately, even before we could come up with any new production targeting the current establishment, they are trying out different ways to silence our voice."
No support
Chief minister Biplab Deb was invited to grace the three-day theatre festival as chief guest, but he didn't respond to the invite. Another senior government official was approached but she didn't turn up either. Later, Manipuri theatre actor Sabitri Heisnam was invited to inaugurate it. People are left to decipher what message the government wants to send out to the artistes and theatre groups by staying away from such events.
A senior government official says it's time to change "stereotypical" thinking among artistes. "The Left groups never encouraged others to emerge. It's time to give space to others," says the official at the department of information and cultural affairs.
And what might some of the non-stereotypes be? Says information director Vishwasree B., "We are trying to involve the theatre groups to publicise Swachch Bharat and Poshan Abhiyan (nutrition programme). Plus, next year, we will engage with them during the year-long 150th birthday celebrations of Mahatma Gandhi. Good talent will always find space."
Remember, next year is also the election year, says a veteran actor. He predicts, "Basically, this government will use theatre groups to propagate its agenda. Art will die a silent death in Tripura."