It took 10 years for King Lear in Kathakali to come to India
French dancer Annette Leday, and Australian playwright David McRuvie adapted Shakespeare's play to the dance form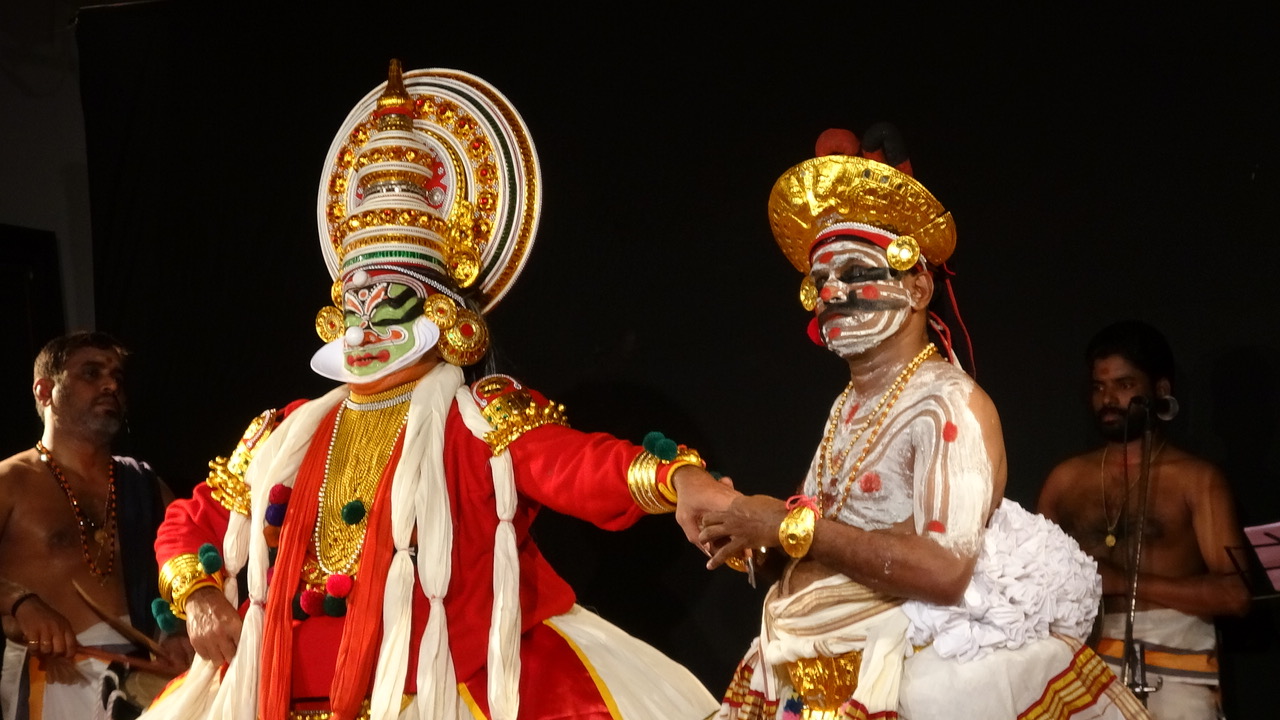 A kathakali performer from Kerala plays Shakespeare's King Lear at the India Habitat Centre, New Delhi
Image: Keli/Paris
---
Published 13.12.18, 09:49 AM
|
---
In association with Alliance Francaise, Annette has presented Kathakali King Lear in New Delhi (December 6), Chennai (December 8), Mumbai (December 13) and Pune (December 15). It will now be performed at the Theatre De La Ville Paris in April 2019.
Kathakali is traditionally performed only by men. Even today there are very few women artistes. So did Annette face any challenges while learning the art? 'My teachers initially did not want to teach me but once they realised I was willing to work extra hard, they agreed,' says Annette who besides learning the dance form also learnt Malayalam.
In the original performance, Annette played the role of Cordelia while King Lear was played by two of her teachers. Thirty years on, five of the artistes are from the original play and Annette is directing. 'I am happy being behind the scenes,' says Annette as she explains that the new play has a faster tempo. 'Also, David wanted the Lear to be angrier as he is a very angry character in the original play,' she says.
As the curtains go up (or in this case down, Kathakali uses a curtain held aloft by two assistants, which is brought down once the performance starts) and we are introduced to King Lear and his three daughters -- Regan, Goneril and Cordelia -- it is so evident that Regan and Goneril are wicked while Cordelia is pure. Kathakali uses traditional costumes to depict positive and negative characters. So while Lear is dressed in a kathi vesham (representing 'anti-hero' traits), Regan and Goneril are dressed in kari vesham (used for demonic characters) and Cordelia in minukku vesham (symbolising gentleness).
While Annette has adapted a western story, the dance itself has not been contemporised. As Lear dances, percussion instruments such as chengilam (gong), ilattalam (cymbals), chenda and maddalam (both drums) play in the background while two vocalists sing in Malayalam.
David has condensed the five-act play into nine scenes, starting from Lear dividing his kingdom to him losing his mind, the death of Cordelia, the battle for Britain and then the death of Lear.
The play that lasts about two hours features veteran Kathakali artistes — Peesappilly Rajeev (King Lear), Kalamandalam Manoj Kumar (the fool), Sadanam Bhasi (Goneril), Kalamandalam Unnikrishnan Nair (Regan), and Kalamandalam Praveen (Cordelia), among others — all from Kerala.
While I have never seen a live Kathakali performance before and am no art critic, I was really moved by the performance. In a particular scene where Goneril is trying to attract the attention of the King of France by acting all coy, I felt the artist was looking straight at me and couldn't help but smile all through that bit.
Whatever text is lost in translation is more than made up by the artistes' facial expressions and foot movements. William Shakespeare's famous tragedy King Lear about an ageing king who disposes of his kingdom by giving bequests to two of his three daughters, egged on by their continual flattery and with tragic consequences, has lent itself to multiple adaptations. So it wasn't surprising when French dancer and choreographer, Annette Leday, and Australian playwright David McRuvie of the Annette Leday Keli Company thought of King Lear as the ideal choice to adapt to Kathakali.
'By keeping only the story of the king and his three daughters, David did an adaptation that allowed us to fit it into the conventions of Kathakali. That means not too many characters, a simple yet powerful story. The themes of the play — kinship, love, renunciation of the world, war — are all central Kathakali themes,' says Annette when I meet her just before the Kathakali - King Lear performance at the India Habitat Centre in New Delhi as part of the Delhi International Arts Festival in the first week of December.
'I was interested in theatre and dance movements. So Kathakali for me was very complete. It's about creating theatre in an empty space. That really attracted me,' says Annette who discovered Kathakali in France and then got a scholarship to study it in India. She learnt it from 1978 to 1984, first at Kalakshetra in Tamil Nadu and then at the Gandhi Seva Sadan in Kerala. When she returned to France, she wanted to do something creative with her skill and that's when David suggested they adapt King Lear to Kathakali. It was performed for the first time in 1989 in Paris. 'We performed the first adaptation of King Lear over a period of 10 years around Europe, including at The Globe in London. Personally, there was frustration that we had not performed it in India. So on its 30th anniversary, we decided to bring it to India,' explains Annette.