Greedy for love
First published in 1998, Octopus Limited was a critique of the open-market economy that seemed poised to transform India after the first generation of economic reforms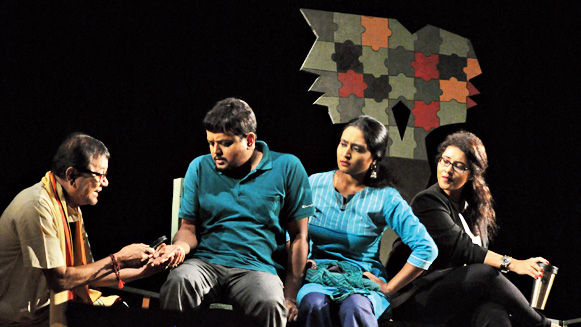 A moment from Octopus Limited.
Samstab
---
Published 13.11.21, 02:28 AM
|
---
Clairvoyance is a quality that separates Mohit Chattopadhyay (1934-2012) from many of his contemporaries. This was evident in Samstab's Octopus Limited, which premiered at the Academy of Fine Arts recently. First published in the autumn of 1998, Octopus Limited was a critique of the open-market economy that seemed poised to transform India after the first generation of economic reforms. Chattopadhyay scripted a familiar plot, involving a young couple whose dreams of marriage are frustrated by unemployment. They seem happy, munching peanuts on the park bench and indulging in idle daydreams, till a chance meeting with the dashing executive of a leading corporate changes the course of their life. The corporate, Octopus Limited, offers to sponsor their marriage and five years of conjugal life, while they flaunt its brand logo, among other things, in return. Other corporates join the fray.
Chattopadhyay's engagement with abstraction and fantasy as a means to explore reality led to some hilarious dramatic moments laden with irony that Samstab, under the stewardship of Dwijen Bandyopadhyay, has attempted in the past. Partha Sarathi Chandra, the debutant director this time, retained the signature of his mentor, exploring the subtleties of human response, and succeeded in mounting a smart, 45-minute-long drama laced with humour. Sima Mukhopadhyay's creative inputs must have been useful.
The play ended with the corporates fighting among themselves over the sponsorship. The disgruntled couple leaves the spot, discovers themselves amidst the nothingness and takes a leisurely walk towards the tree at upstage centre. The leafy tree — the most significant element in Sandip Suman Bhattacharya's symbolic stage design that replicated the US political map most of the time — suddenly transforms into conjoined human faces as Badal Das uses backlights to magical effect. Although Dishari Chakraborty's musical score missed the eerie moments, Chattopadhyay's brand of dry humour was duly complemented.
Playing the corporate executive, young Amrita Mukhopadhyay mesmerized with a polished act, holding the drama together. The couple found suitably understated treatment from Susnato Bhattacharjee and Kankabati Bandyopadhyay.