Familiar, yet faraway: BBT's 'Theatre & Theatre'
The festival started with the organizers staging Ara Baha, a Santhali adaptation of Rabindranath Tagore's "Raktakarabi", directed by Partha Gupta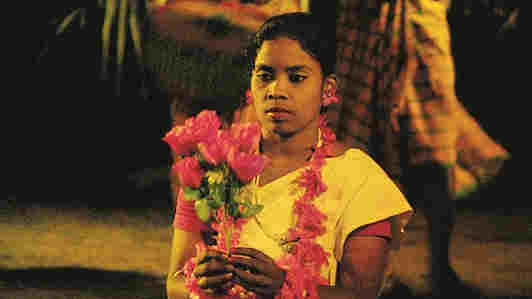 ---
---
Politics of location is fast emerging as the signpost of contemporary Indian theatre. With the urban proscenium spaces bearing the brunt of the pandemic, many suburban and rural spaces are offering an experience that is both unique and distinguished. Birbhum Blossom Theatre's Theatre Cottage, a pastoral getaway in tourist-friendly Dwaronda village located 12 kilometres away from Bolpur railway station, made headlines by hosting the National School of Drama's Adivasi Adivimb festival in the recent years. Appreciating our tribal theatre practices under the open sky against a bare backdrop lit with minimal lights is a welcome break for someone rooted in urban aesthetics. This time BBT organized Theatre & Theatre, a three-day festival (December 11-13) which turned out to be a blissful union of performing art forms practised in the region and other parts of West Bengal.
The festival started with the organizers staging Ara Baha, a Santhali adaptation of Rabindranath Tagore's "Raktakarabi", directed by Partha Gupta. It was remarkably different from what Santiniketan produces and what Bohurupee and Sombhu Mitra set out to do with the historic 1954 production. In the inaugural function that preceded the staging, Sahana Bajpaie sang the opening lines of "Tomay gaan shonabo" — one of the high points of "Raktakarabi". Gupta set Ara Baha in a world far away from traditional tropes of Rabindrik aesthetics.
He did away with the words and designed a soundscape with traditional instruments and vocals. With the conch shells and cymbals taking over, and ritual moves predominating in a semi-lit arena, the onslaught of an invasive industrial civilization on agrarian social fabric took the centrestage. Innovative props and intoxicating rhythms underlined the inherent dynamics. The scenography was suggestive and the narrative kept the focus firmly on Nandini, Bishu, Kishore, Adhyapak and of course Raja. Ranjan, represented symbolically, was pitted against the feverish pace of an industrial society where oppression and surveillance have taken deep roots. Within 40 minutes Ara Baha was successful in presenting the essence of "Raktakarabi" as an anti-imperial text and a critique of mindless industrialization.