The dance of brushstrokes
Bringing together the art of the two Pradhans in one show was a gesture of sorts by Maya Art Space to correct the gender imbalance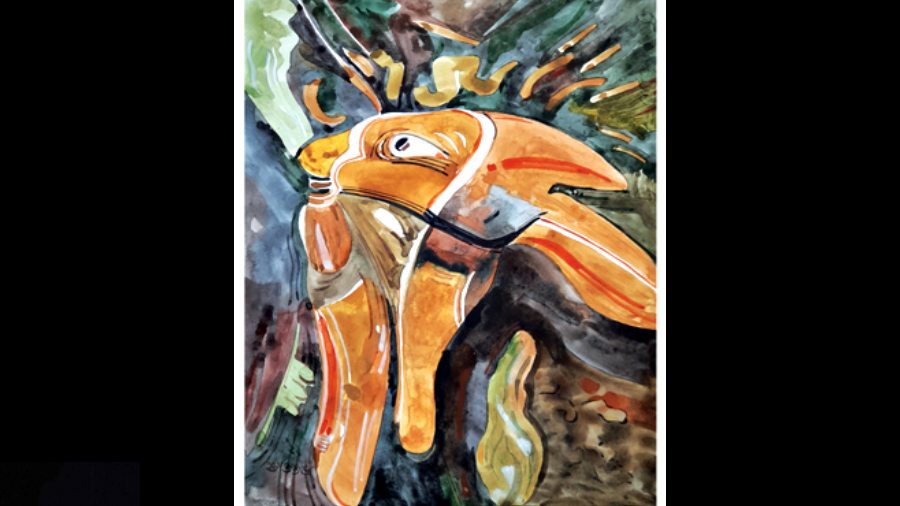 ---
Published 13.08.22, 03:38 AM
|
---
Would Sukti Subhra Pradhan have been better known as an artist had she not been overshadowed by her husband, Niranjan? Talented artists's wives have remained largely unrecognised in this male-dominated domain, be they Lee Krasner and Elaine de Kooning or Bani Mandal and the feisty Amina Kar.
Bringing together the art of the two Pradhans in one show in April was a gesture of sorts by Maya Art Space to correct this gender imbalance. Sukti Subhra's facility for different media — watercolour, tempera, gouache, pen and ink, linocut — probably encouraged her to explore various stylistic options rooted in the influences that were pronounced in her formative years (pictures). Given the smallish selection of works on view, it's difficult to identify the artist's signature, but not so her temperament of buoyant romanticism that Nature & Beyond largely focused on. Quick splotches and jabs of paint or ink, brusque smudges, skipping flicks of the brush, and scribbly, wriggly strokes turn out landscapes of poetic reflectiveness. Grey Mood, where the black of the ink seems to leave echoing shadows of grey, and Garden III (in watercolour), in which space breathes free around winding streams and a lone tree, are examples that can be cited. But the best of them is As I Feel II. Her ebullient brush composes in Chinese ink a dance of frisky, irrepressible strokes. Though ink is clearly her forte, her ease in temperas is evident in paintings like Dream Pond, with its hushed and blended colours, and Delightful Woodland, which is more playful with its sprightly trees. 
Niranjan Pradhan's sculpture, with its lean, faceted contours, has been regularly seen at the shows of his group, the ContemporarySociety of Artists. Over the years, the artist hasn't deviated much from a style that evolved in the 1970s. But there was one untitled bronze of arresting dynamism that ought to be mentioned: it may have been a homage to Matangini Hazra. What interested one in this show were the sculptor's paintings, particularly the light-hearted landscapes.