Spread joy, even if times are of despair
The empathy that Roy shares with his  subjects is amazing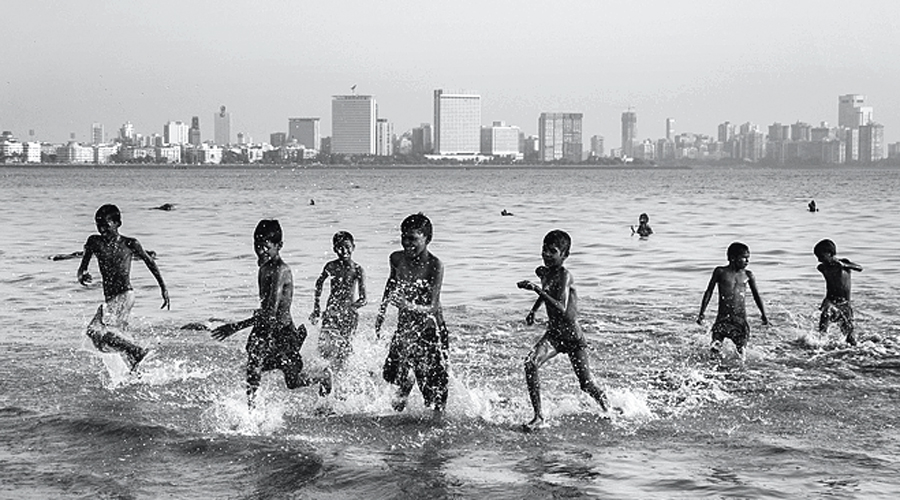 ---
---
Vicky Roy's heartwarming black-and-white photographs of deprived children at play in Vadhera Art Gallery's online exhibition, Bachpan (May 12-July 12), bear testimony to the fact that poverty cannot deprive them of the simple and spontaneous joys of bonding, a joy that they share among themselves unquestioningly, perhaps because they have few earthly possessions to speak of. These photographs were taken last year in cities like Calcutta, Mumbai and Delhi and states like West Bengal, Odisha, Jharkhand, Maharashtra and Uttar Pradesh. What is bound to strike the viewer is that for these children, the whole world is their playground.
Together they wave at passing trains at sidings, leap into ponds, go round in circles using an improvised maypole, try to enjoy rides, all of them together even when there are just two bicycles for the entire lot, climb trees, run together, slick their hair back with combs as they share a moment of narcissism, mirror in hand, get on top of a stationary car or a bullock cart while they have the fun of their lives. Although most of his subjects are boys, there are a handful of girls in the groups. Each photograph has its distinctive setting and it shifts from city to city. In the shot in which the children are climbing a tree, Delhi's Jama Masjid is in the backdrop. In another, the boys splash around in the sea with high-rises encircling the Mumbai horizon like beetling cliffs. More than being remarkable compositions, the joy and the innocence that these photographs convey make them memorable.
The empathy that Roy shares with his subjects is amazing. However, one is not surprised any longer when one learns that as a child Roy ran away from his Purulia home and spent a good part of his life as a rag picker on the Delhi railway station platforms. He was rescued by an NGO, which groomed him as a photographer at some of the top schools in the world. After a prolonged struggle, Roy established himself as a photographer. Little wonder, then, that Roy enjoys a special relationship with these children who spread joy.