Possibilities aplenty beyond the proscenium
It was refreshing to watch a motley para crowd assembling in a quiet afternoon, with the semi-circular performance space casually laid out on the lawns of club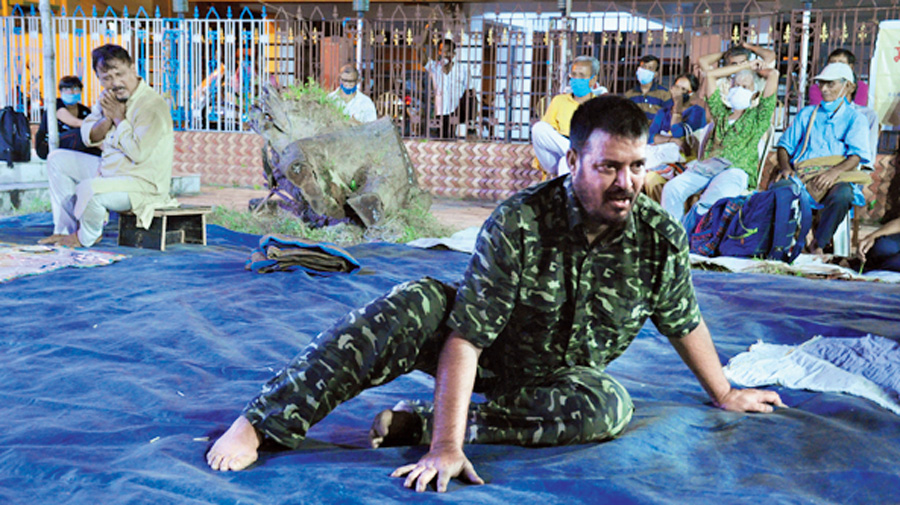 Moments from Tritiya Dharar Natak.
Anshuman Bhowmick
---
Published 28.11.20, 01:27 AM
|
---
Badal Sircar (1925-2011) is being missed at this point in history. It's been almost five decades since Sircar moved away from the proscenium theatre and embraced the 'Third Theatre' that allows greater flexibility in terms of mounting a drama and reaching out to the commoners. What he and his theatre achieved in the meantime — both in terms of philosophy and practice — has much been discussed but it appears to have stagnated over the period of time. Apart from organizing monthly theatre events (aptly titled 'Angan Mancher Natak') at off-proscenium venues in and around Calcutta, and gaining regular but not-so-steady support from a section of the youth, its activity in this state is largely cloistered. Besides old warhorses like Satabdi, Pathasena, and Aayna; a handful of others kept the flag flying when the pandemic struck.
With the pandemic delivering a body blow to the prospects of proscenium theatre all over the world, and open-air spaces being rediscovered at a feverish pace, Sircar's followers have an opportunity to gain new ground. This reviewer had his fingers crossed when he attended Tritiya Dharar Natak — a showcasing of Third Theatre works that Badal Sircar Natyacharcha Kendra presented at the premises of Vivek Sangha, off Jadavpur railway station, on September 27. It was refreshing to watch a motley para crowd assembling in a quiet afternoon. With the semi-circular performance space casually laid out on the club lawns, and the audience surrounding it, Swabhab — a no-nonsense music group consisting of three members — set the ball rolling with two songs hitting the solar plexus of social injustice. Anyakantha Natyagosthi from Lakshmikantapur presented Bhul Rasta, Sircar's allegory on the choices made by men. It was a reassuring solo act supported by very minimal accompaniment. The actress — Rajasmita — put on a colourful embroidered jacket on her black outfit, took a cue from the madari ka khel performances and made commendable use of her malleable timbre and agile moves to communicate with the audience. Given the universality of the narrative and the flexible design, this 35-minute-drama is tailor-made to win new admirers. Aayna has been staging Sircar's Araber Arindara for many years now. With the evening approaching slowly, they did it again. The seasoned duo has mastered the art of conveying the deep-rooted absurdity of the text. I saw this act many times before. The existential predicament has only grown more profound, and the actors have matured in the process.
Birsargo Theatre — a three-member ensemble that crisscrossed several West Bengal districts on bicycle during the lockdown months to enact their short length pieces at any venue at their disposal — performed Kouto. Written by Mohit Chattopadhyay, this drama exploring the frontiers of trust and mistrust made allowances for some rib-tickling fun. Bisargo, however, took it more seriously and turned it into an engaging drama banking entirely on acting. The short musical prelude accompanied by the seemingly irrelevant sharing of match-sticks among the audience was successful in getting them hooked and Chattopadhyay's quirky script went in their favour. Dwaipayan — Bisargo's team leader and lead actor — knows how to create intense drama out of nothing. His uninhibited act, ably supported by a smart Nibedita and a solid Dibyajyoti, demonstrated however flexible and portable theatre might be, it has to make bridges, and bridges could be built without any of the trappings that modern-day theatre offers. The body is the ultimate instrument and if tuned well — as Sircar had envisaged — it can still make theatre a compelling social act. 
Possibilities are plenty at this point. Would there be more takers?