Lined with nostalgia
The veteran artist, Shuvaprasanna, leads his viewers into these nooks and crannies in College Street (an exhibition of mixed-media postcards held at Debovasha recently)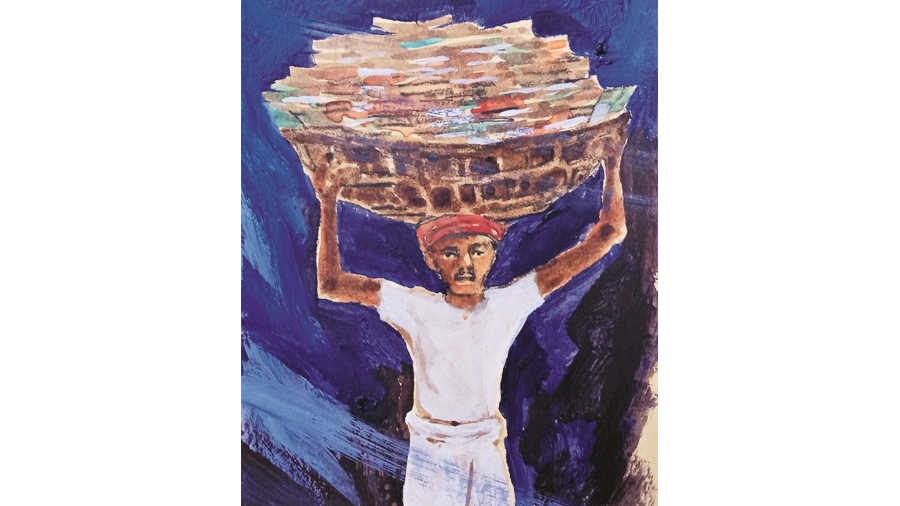 Artwork by Shuvaprasanna from the exhibition, College Street.
Debovasha
---
Published 26.12.20, 07:19 AM
|
---
Calcuttans worth their salt cannot claim to be ignorant about College Street. Unfortunately, the image that is most commonly associated with College Street is that of the main avenue, with pavement stalls lined with books jostling for space on either side. But the real treasures — books are not the only gems — lie hidden in the alleyways that criss-cross the thoroughfare. 
The veteran artist, Shuvaprasanna, leads his viewers into these nooks and crannies in College Street (an exhibition of mixed-media postcards held at Debovasha recently). Here, colourful books hang like Tibetan prayer flags, connoisseurs, young and old — dhuti and jeans co-exist quite peacefully on these streets — inspect books and haggle with shop-owners and familiar faces like those of Shakti Chattopadhyay and Nabanita Dev Sen brush shoulders with labourers who carry old tomes piled on a jhuri on their heads. Do they feel the weight of knowledge they carry? 
The artist's attention to details — the tiny crows that dot the entangled cables above the lanes, purveying the scenes below are especially delightful — makes these painted postcards fascinating. Yet, these are not the intricate watercolour cityscapes that are so popular these days. The deceptive simplicity of his brushwork, the rough edges of his figures, and the higgledy-piggledy houses make these scenes approachable. These are not postcards that people would stare at in awe of the artistry; these are scenes that invite the viewers in, leaving them awash with nostalgia — that is the mark of a true artist.