Fiery ideas
The fossil-like forms displayed at Art Exposure's 'A Mechanical Eye' were created with found paper, watercolours and graphite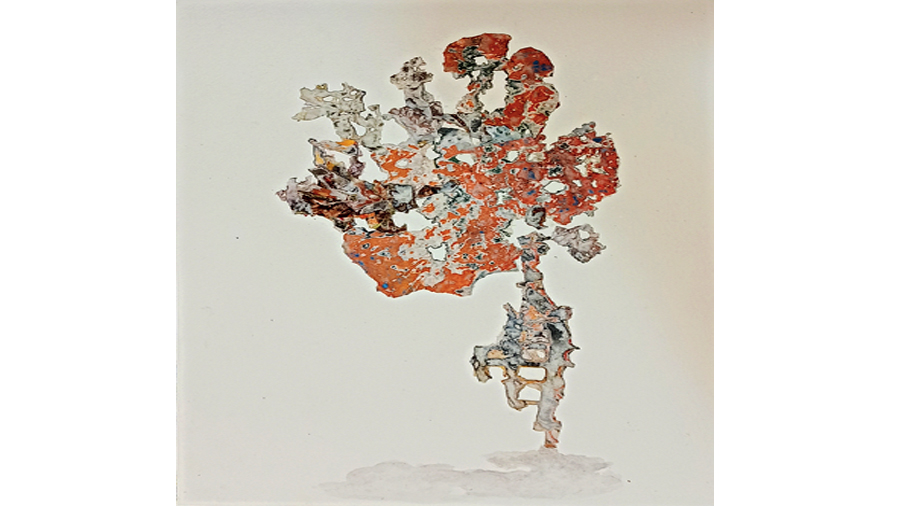 Viraag Desai, Half Life I.
Art Exposure
---
Published 17.10.20, 12:38 AM
|
---
It's amazing what young artists like Viraag Desai, who operates from both Calcutta and Mumbai, can achieve with scraps of paper collected from nowhere in particular if they are willing to exercise their imagination. The fossil-like forms Desai displayed at Art Exposure's online exhibition of his works titled, A Mechanical Eye (September 11-October 30), were created with found paper, watercolours and graphite. Done in muted and matte shades of grey, blue and the red of Rojo Alicante marble found in the Iberic peninsula, Desai creates forms that may tickle the imagination of viewers. One may wonder if he is referring to specific forms from everyday life or if they are all abstracts. The effect is of marbled paper out of which the forms may have been cut out. They may also remind one of the psychological test, Rorschach Test, where the subject's perceptions of inkblots are recorded and analysed.
These shape-shifting forms are intriguing; for one moment they resemble a drawing by a cartographer or rock formations, and vegetal life the next. One image distinctly looks like pietra dura or inlay work found in Taj Mahal. Desai has kept each form as simple as possible without succumbing to the temptation of making them unnecessarily complex and elaborate. A single idea has been embroidered in each instead of making multiple choices. This is not to say that each form is perfectly articulated, but these works are certainly of a far superior quality to the run-of-mill exhibits displayed in every other gallery.
Some of the images are particularly beautiful. In these, the forms of trees and flowers appear like phantoms against a background of hot, pulsating colours. They bring back memories of pressed flowers and petals kept between the pages of books. Another brings to mind a galaxy of stars turned into a misty veil and observed from great distances lightyears away. If one scrutinizes it, one can discover the intricate network of lines that created this beautiful nebulous formation. There is little that the curator's note — an exercise in gobbledygook — contributes to the understanding of these works.