Jean-Frederic Chevallier arrived in India for the first time in 2007. He was shooting a film essay or cinematic essay. His work brought him to Calcutta, where he spent three days. "I found life overflowing in the streets here," says the 45-year-old. Thereafter, he went back to Mexico, where he lived and taught Philosophy and Theatre at the National Autonomous University of Mexico, sold off his belongings and returned to Calcutta — this time for the long haul.
During his stint in Mexico, Chevallier had tried to introduce contemporary theatre in the villages there. A year after he moved to India, he co-founded Trimukhi Platform with the specific aim of doing the same, only this time with the Santhals of Borotalpada, 240 kilometres from Calcutta. "In India, my intent was not only to do things with people in remote villages but also bring people from the city to the villages," he says. "It is not social work," Chevallier is quick to clarify without the asking, "because we do not pretend to help anybody. Everything is to produce high-quality art."
Since 2009, Trimukhi, in association with other organisations, comes up with an annual event, known as the Night of Theatre. Every year, choreographers, intellectuals, farmers from different countries — including Spain, France, Mexico and Japan — congregate in the village of Borotalpada to create, practise and explore contemporary art such as theatre, sound and video installations.
When I meet Chevallier at his south Calcutta residence, the 2019 Night of Theatre is still a month away, but he shows me some videos from the previous years.
The first is titled Essay on Seasonal Variation in Santhal Society. It is from 2017 and begins with Santhal youths at a table, eating noodles with chopsticks. The eating is a live performance, Chevallier says. As they pick at the noodles, there is a projection of a woman eating rice and dal, and an audio clip of a man saying something in French.
Chevallier says Trimukhi's first public performance, titled Monsoon Night Dream, was rehearsed for over three weeks. It was staged in Borotalpada. It had no characters, no storyline, only 15 Santhal men and women and musicians going about their daily activities, performing parts of Santhal dances or just looking at someone in the audience.
He tells me that the venue is crucial to these performances. He says, "One of our performances was inside a lake." And then just in case I didn't understand, he adds, "inside the waters." He continues, "For our performances, the natural element is very important, as well as the presence of bodies, humans and animals. It is like cooking — we combine different elements."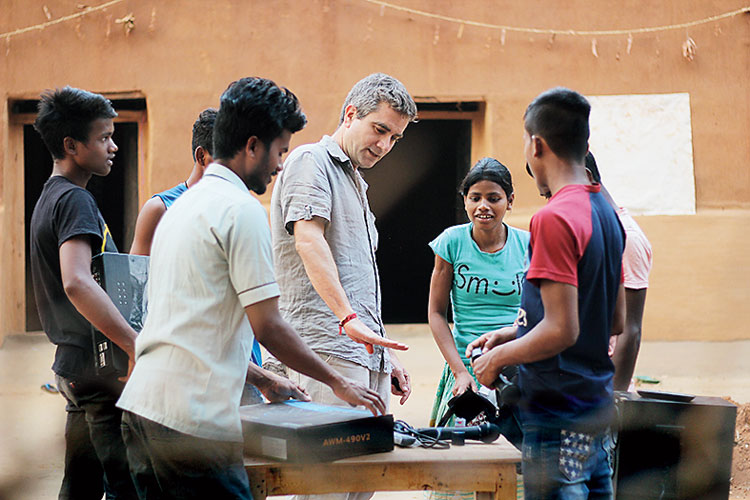 Chevallier at work Image: Trimukhi Platform
I am curious about what the villagers Chevallier works with make of the whole thing. He says, "When I met the villagers for the first time, I told them it will be theatre but not the kind that they have in mind. It is not simply theatre, it is the set-up and the total experience of it." He adds with a laugh, "They spoke among themselves in Santhali, and at that time I did not understand a word."
What the villagers made of Chevallier's idea, there is no telling. But given the increasing number of villagers involved with Trimukhi, something clicked. Perhaps it was the novelty of it, perhaps it was the creative expression, or it could even be the prospect of a continuous interaction with newer worlds, newer ideas.
Dhananjoy Hansda is 21 and a resident of Borotalpada. He has been associated with Trimukhi for many years now. Sometimes he is the lightman, sometimes a dancer, at other times the videographer. Farmers Budhray Besra and Chamru Soren also take part in the performances, as does Falguni Hansda, mother of three, daily wage labourer and cook at the primary school in Borotalpada.
"Sometimes parents from the neighbouring villages send their young children to perform," says Chevallier. Workshops, lectures and seminars about art and theatre are also organised for them. The audience includes people from the neighbouring villages of Nayagram and Jhargram, as well as theatre enthusiasts, intellectuals and professionals.
Samantak Das, who teaches at Calcutta's Jadavpur University, is one such Trimukhi regular. In his opinion, what makes the performances "fascinating" is that "there is no talking down to individuals who are from an allegedly lower, primitive social group". He adds, "This is more difficult to do than one imagines."
The performances are held in four languages — English, Santhali, French, Bengali — and at times in Hindi and Spanish too. "Sometimes we project subtitles, sometimes we decide not to. We do so to make people go on a sensitive journey," says Chevallier.
Says his wife and co-founder of Trimukhi, Sukla, "These people bring their very natural and simple style of presence into the performances, and it is very rich. The theatre we do is basically a work where you combine presences. It would not work in cities where people are hiding their own presences all the time by playing social roles."
According to her, Trimukhi is that platform that gives space and possibility to bring people of different backgrounds, ages, countries together. And they choose to remain free from aim, free from frame of work, so they can be more open to contemporary and unexpected lively movements in arts practices. She says, "In a way, we have no plan but we have a place. We have a place and we are who we are: I am Bengali, the families in the place are Santhal, my husband is French. Our guests are from all over the world."