Greater than the sum of its parts
Debashree Bhattacharya and Sohini Debnath's exhilarating duets are often dialogues in instinctive intimacy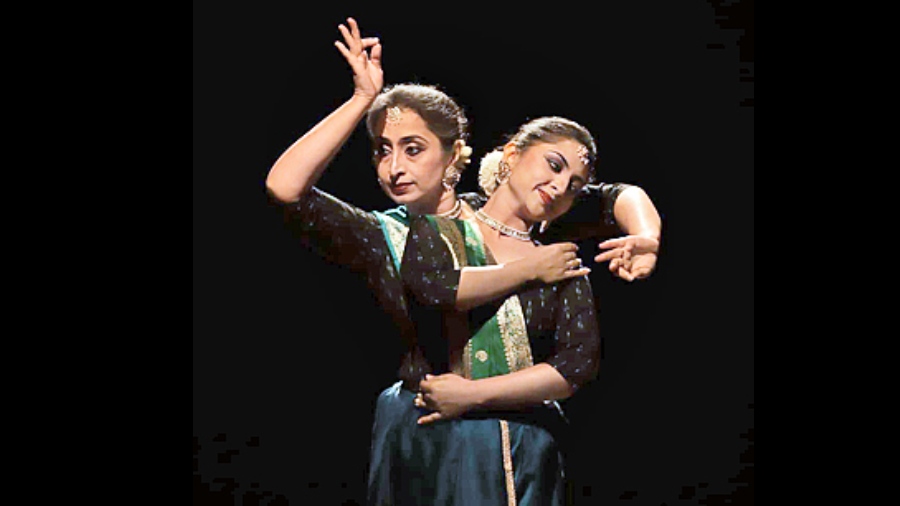 ---
Published 04.06.22, 02:51 AM
|
---
In sharing a story that isn't only one's own, even while performing what is essentially a solo form traditionally, Debashree Bhattacharya and Sohini Debnath's exhilarating duets are often dialogues in instinctive intimacy. Presentations in the third part of their collaborative Sanjog series, Shradhha, also featuring two other dancers, Samila Bhattacharya and Somdatta Banerjee, displayed a process and practice in which performers' expressions segued into one another's dance languages. Steeped as the dancers are in the legacy and technique passed on to them by their guru, the late Rani Karnaa, they offered a repertoire that was rich in their teacher's compelling style but redesigned with their combined energy, poise and precision and dovetailed into complex geometries of their own creation.
The pieces performed — "Radha Krishna nirata karata", paran, parmelu and kavitangi compositions in three taal cycles, "Vridavan raas nritya", "Krishna Chakradharan" and a hori dhamar — were not new. They come from rich dance and music traditions of northern India and had been choreographed by the dancers' guru and performed under her supervision. But what was wondrous was the neatness with which they traced elements from their parallel journeys through interesting physical interplay. The lively weaving of movements in the dancers' bodies created a delightful encounter between them.  
A playful exploration of this comfortable coming together of the bodies is Sanjog's contribution to Rani Karnaa's bequest. This is where they challenge their solo tradition to not just do the exact same thing together on stage but complete and complement one another's movements mellifluously to become a whole that is greater than the sum of its parts. 
The performance came alive through the clarity of the upaj, well-defined footwork, delicate aesthetics, precise pirouettes, pivoting turns and the intrinsic story-telling techniques of Kathak. The innovative dance design, illuminated by Dinesh Poddar, also gained from the colour-coded minimalism of the imaginative costumes.