Enticing tale
Director ropes in Subho Joardar, veteran puppetry exponent, to design masks that actors playing animals would wear and goes for collective effort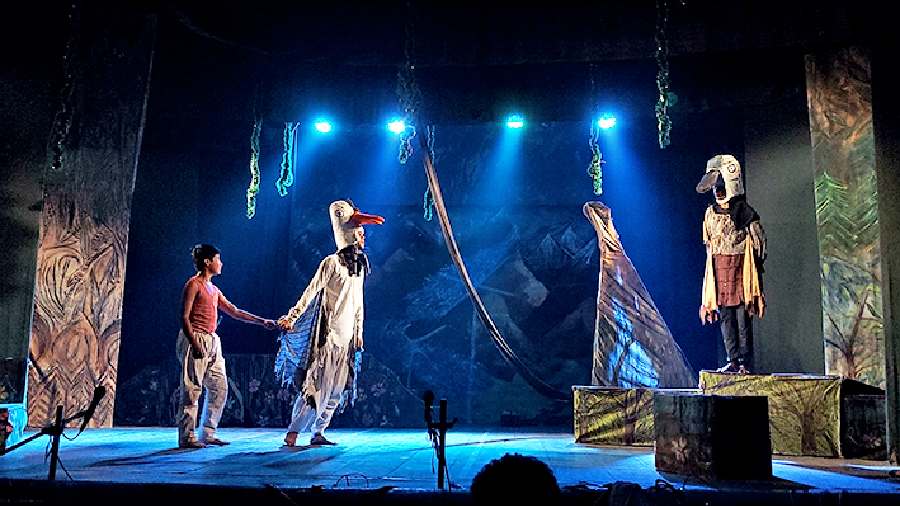 ---
Published 25.02.23, 03:58 AM
|
---
Buro Angla, Abanindranath Tagore's novel about the adventures of Riday, a thumb-sized boy perched on the wings of a lame swan in search of Ganesha, has seen a fantastic stage adaptation by Ramrajatala-based Kathok Performing Repertoire at the Bani Niketan Institute in Santragachi. Inspired by The Wonderful Adventures of Nils by the Swedish author, Selma Lagerlöf, this 1941 novel by Tagore travels along the northeastern side of the Himalayan range, exploring a panorama of flora and fauna. Given the challenge it poses before the theatre directors, Buro Angla has had few stage adaptations all these years. How to make Riday, the boy-hero, fly? This has been a major obstacle. 
Kriti Majumder, the director, goes for a collective effort. She ropes in Subho Joardar, the veteran puppetry exponent, to design the masks that the actors playing the animals would wear. Joardar also contributes to the stage properties. This gives KPR's Buro Angla a decisive edge over regular proscenium experiments with Tagore tales. Majumder collaborates with Abhijit Acharya for designing the music and comes up with a lilting, live ensemble featuring drums and strings, not to mention the lively singing by Subhajit Mallick and Sushanta Pal that keeps the momentum going. The songs, including Rabindranath Tagore's "Amader chhoto nodi" set to a raucous tune, complemented the dramatisation of Tagore's picturesque prose.
Majumder takes maximum advantage of Prashanta Bhattacharya's multipurpose set, occasionally resorting to rope tricks to probe the vertical space. With the narrators-cum-singers coming down the staircase to ensure proximity to the audience, the production acquired an immersive feel. Blue dominates Shiladitya Boral's light scheme, giving the play a dream-like quality. Srijan Bhattacharya, exuding innocence, was relaxed in his portrayal of Riday. Smart and leggy Roni Chakraborty complemented well as the lame swan. Among the rest of the cast, Prashanta Bhattacharya left a mark. The romantic plot involving the lame swan and Balihans (Shreya Chatterjee) was brilliantly executed, bringing the curtains down on an eventful adventure.