A dark river of troubling realities
Basu's Bangla translation of the original play is seamless, and Sengupta succeeds in mounting a drama replete with topical resonances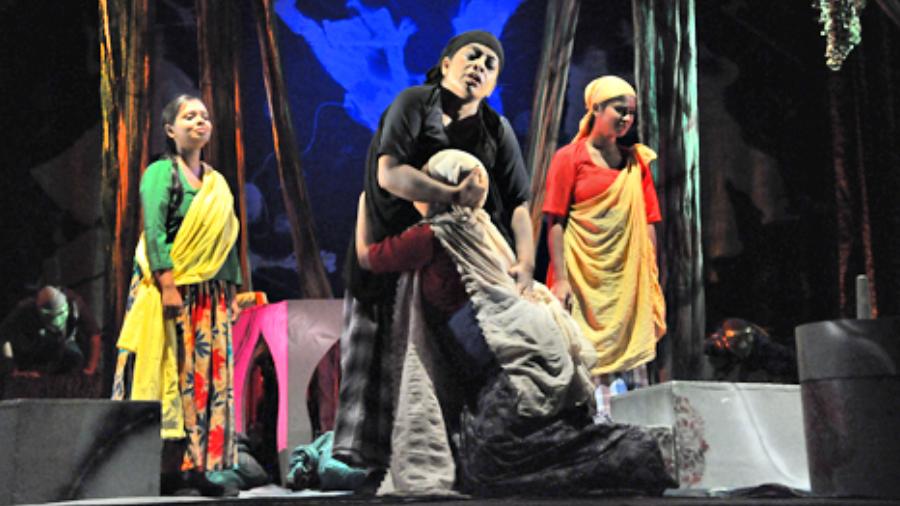 ---
Published 29.10.22, 04:04 AM
|
---
Kalyani Natyacharcha Kendra, arguably the most erudite conglomeration of Bengali middle-class theatre persons who believe in the transformative power of art, has returned to a subject that holds immense significance in contemporary India — State versus human faculty; more precisely, resistance against State oppression of all sorts. In 2008, the group led by Kishore Sengupta stunned us with Meyeti (The Girl), a nerve-wracking adaptation of Ariel Dorfman's acclaimed play, Death and the Maiden. Besides renewing our slowly diminishing ties with the best of contemporary proscenium theatre as practised in the West, Meyeti strongly echoed the last years of the Left Front regime in West Bengal. Memories of all that and more returned when the group produced Nadita (The River) this year. Once again, a Dorfman play — a relatively unknown one — and, once again, directed by Sengupta, who teamed up with the translator, Kaberi Basu, to explore the dark underbelly of a totalitarian regime.
Adapted from Dorfman's Widows, this finely tuned production spanning 105 minutes is reminiscent of the author's brush with General Pinochet's ruthless regime in Chile. A group of widows — Sophia (Soumi Acharya), Alisha (Madhumita Banerjee), Taha (Arpita Mondal), Katherina (Soumi Bhattacharya), Rose (Sharmistha Dey), Yani (Dipika Das) et al — wait at a riverine valley for their men who have gone missing over the years. When a few dead bodies — decomposed beyond recognition — suddenly come floating down the river, the situation takes a sudden turn. Should the women accept the inevitable? Then what would happen to Jemaima (Sanchita Das) who wants to start afresh, rather clandestinely, with a young army man whose superiors, led by the Captain (Kishore Sengupta), go all out to take control of the situation? Crises — both personal and communal — keep mounting as the play progresses.
Basu's Bangla translation of the original play is seamless, and Sengupta succeeds in mounting a drama replete with topical resonances. One wishes that Goutam Ghoshal's music score helped build the menace more effectively. Sanchayan Ghosh's heavy set, flirting with loosely hung fabric, was lit well by the new light designer, Chandan Das. Ghosh also designs the costumes, keeping the colour palette dark and gloomy. Soumi Acharya, in her first major role, looks poised for greater heights.