Not an 'I will buy today, I will flip tomorrow' story
Why Zomato's red-hot market debut is a pathbreaker for Indian start-ups
Not an 'I will buy today, I will flip tomorrow' story, the IPO changes in a positive way the outlook for all the newbies waiting in the wings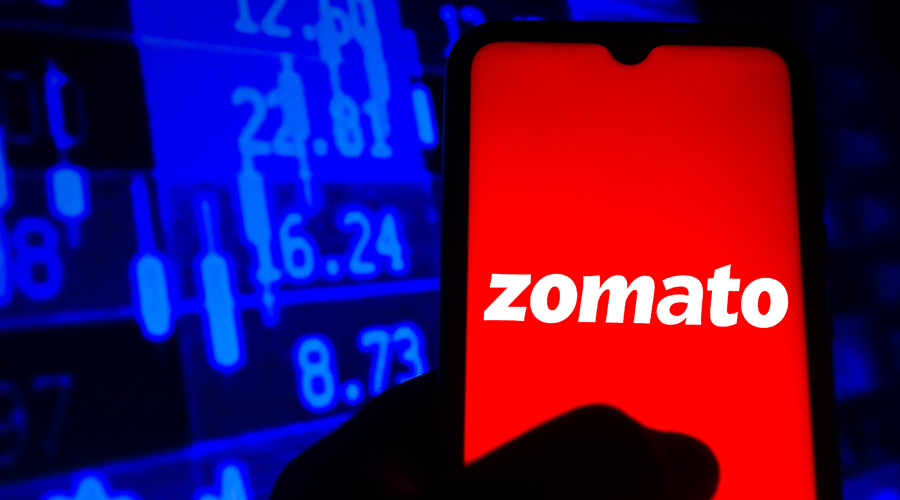 ---
New Delhi
|
Published 24.07.21, 01:45 PM
|
---
Here's a question for every retail investor who bought shares in food delivery company Zomato's IPO: The shares of India's first Internet unicorn to list on the stock market rocketed 82 per cent from their Rs 76 offer price after trading began Friday so should people have made a quick killing and sold within hours? Or was it better to hang on to the shares of the first Internet start-up to list on the Indian market?
"If you sold the first day, you may regret selling too early when it possibly rises 150 per cent six months later," says Pranav Pai, founding partner, 3one4 Capital, who adds: "Zomato is not an 'I will buy today, I will flip tomorrow' story. Investors are saying, 'I am buying your five-year story, your 10-year story. I am buying a company that is likely to inevitably grow.' Of course, there'll be crashes, there will be corrections. But this is a fundamentally solid story."
Aswath Damodaran, a professor at New York's Stern Business School and known as a 'valuation guru,' meanwhile, is more sceptical about what he sees as loss-making Zomato's "expensive" valuation. He considers Zomato to be a strong company but he puts its value per share at around Rs 41. 
He says: "I think it is hubris to dismiss those who invested in Zomato at 72 INR per share or higher as speculators or ill-informed. That said, I think that at a 70-75 INR per share price, the stock looks overvalued to me." The company ended its first day of trading at Rs 126, up 66 per cent from its IPO price, giving it a market capitalisation of Rs 980 billion or $13 billion. As a test of investor appetite for more Indian IPOs of loss-making Internet start-ups, Zomato passed with flying colours.
At the same time, Damodaran reckons an investment in Zomato, which incidentally is backed by Chinese billionaire Jack Ma's Ant Group, is "a joint wager on a company, a sector and a country." Elaborating, he explains he believes Zomato is a good company and that India's food-delivery sector can only grow. But beyond that, buying into Zomato is also a bet on India doing well as a country and as a market.
One thing that's important to underline: Zomato's red-hot market debut could be a pathbreaker for Indian start-ups. Pai and others believe it fundamentally changes in a positive way the outlook for the ambitious start-ups waiting in the wings to stage their own IPOs. Already, at least 12 companies are lined up for investors to take a stake in. First off the block is expected to be financial services giant PayTM, valued at $15 billion even before its IPO (the valuation could go higher). Others are already well-known companies including Flipkart; Nykaa, India's leading fashion and beauty online store; and PolicyBazaar, an online insurance marketplace. PolicyBazaar's aiming for a Rs 6,500 crore valuation. Most analysts view these as strong companies with a great future ahead.  
Three winners
Friday's Zomato listing created three immediate winners. First, there's Zomato co-founder and CEO, Deepinder Goyal, who has a 4.7 per cent stake in the company and is now worth around $650 million. He also has a further 368 million stock options.
Then, behind-the-scenes, there's Sanjeev Bikhchandani, one of the silent lynchpins of the Indian start-up eco-system. Bikhchandani's Info Edge had an 18 per cent stake in Zomato and has invested around $162 million in it. It's not clear exactly how much he has sold but he still has a large stake in the company. "Great things take time to build. Thank you for making us look like smart investors," Bikhchandani tweeted to Goyal soon after Zomato's market debut.
Bikhchandani's also a primary backer of PolicyBazaar which is getting its prospectus ready and could be looking at a December listing. Info Edge has also set up an investment fund with Singapore's Temasek that will initially have around Rs 375 crore. Pai praises Bikhchandani unreservedly: "He is one of the guys who has taken a long 25-year view of India. And he has delivered even though it has been hard for him. I would say this is his biggest win."
Uber happy too
Finally, one surprise winner is Uber. The US company sold Uber Eats, its Indian food delivery subsidiary to Zomato in January 2020, for around Rs 13.76 billion when it was leaving the country. Happily for Uber, it was an all-stock deal that gave the company a 9.19 per cent stake in Zomato. Now, that's worth Rs 90.84 billion. 
The Zomato listing also ends a fierce debate that has been raging amongst Indian venture capitalists and banks. Should Indian start-ups like Zomato list in India or should they head to New York's Nasdaq? Were Indian investors too unsophisticated for companies that were racking up huge losses and whose profit payday lay far in the future? Pai reckons that the Zomato listing has conclusively ended that argument. Bikhchandani agrees: "Zomato has shown that a start-up does not need to domicile or list overseas to succeed."
What's more, Pai argues, this gives Indian investors a chance to buy companies they're familiar with. "These are products we use every day. Now we can be part of the growth story. We are using Zomato to get food delivered home. We are using PayTM for our bill payments. This is similar to how Facebook, Google, Snapchat, and more became iconic stocks in the US".
Viable business model 
While "Zomato is a money-losing, cash-burning enterprise now," Damodaran says it has "immense market potential and is on track to delivering on a viable business model. Damodaran expects Zomato to face "plenty of challenges on that path" and he adds that he "would have no qualms about investing in the stock if the price drops in the near future."
Zomato lost Rs 812 crore in the last financial year. But those losses were down by 65 per cent from the previous year. Zomato's also flipped its performance on each order to earn an average of Rs 20.5 on every order in the last financial year from a loss of Rs 30.5 in the previous financial year, thanks to better efficiency.
At another level, the Zomato listing is extremely good news for the venture capitalists and the financial sector money players who've invested heavily in India's start-up sector. India has been minting unicorns – companies with a valuation of over $1 billion -- at a furious pace and now has around 48, which puts it in third place behind the US and China. New unicorns were making their appearance at the rate of about three a month even at peak pandemic times.
Capital market boom
Money has been pouring into these Indian start-ups even though none of them have been able to go public. That meant that the only way to get out at a profit was to sell onwards. In Flipkart, for instance, Walmart came along and bought everyone out. But the Zomato IPO and the slew of IPOs slated dramatically changes the picture. 
Once exits via IPOs start happening, that will free a great deal of cash which will start hunting for new good buys. Pai points out that big Indian players like Tata, Reliance, Mahindra and Wipro are looking to make sizeable investments. Also, he says, "Large funds are now coming back to the market to invest in the early stage." He adds: "It's a clear shift to maturity and I think that is a huge sign of positive evolution for the whole ecosystem." He's convinced that the start-ups will trigger a boom in the Indian capital markets over the coming decade.
Pai notes that if 10 companies manage a valuation of Rs 50,000 crore each, that will add Rs 5 lakh crore to the stock markets. Also, he adds, many traditional investors from Mumbai and middle India stayed away from the Zomato launch. He's convinced they'll now be rethinking their positions. Many investment houses may also look at larger allocations for the start-up sector.
Outlook positive
Longer term, whether Zomato's share price continues to gain ground will depend on how the company's profitability plays out, analysts say. Its market share has consistently risen and it's a market leader in terms of gross order. "With economics of scale starting to play out, the losses have reduced substantially," says Sneha Poddar, research analyst at Motilal Oswal Financial Services. "Predicting the growth trajectory at this juncture is a little tricky, but it's a good bet from a long-term perspective," she adds.
Jyoti Roy, equity strategist at Angel Broking, recommends that short-term investors looking for listing gains "can exit the stock while long-term investors can book partial profits." One investor who has made a fast profit already was headhunter Dony Kuriakose who tweeted: "Richly priced"? That's rich! I just made 50k in an opening punt on it and got out." He added: "Nope, I'm not ordering in. Heh heh."