Vodafone loses 2,700 crore after Kumar Mangalam Birla's letter
It is still unclear whether there was any communication between the government and Vodafone Idea Limited after the letter was submitted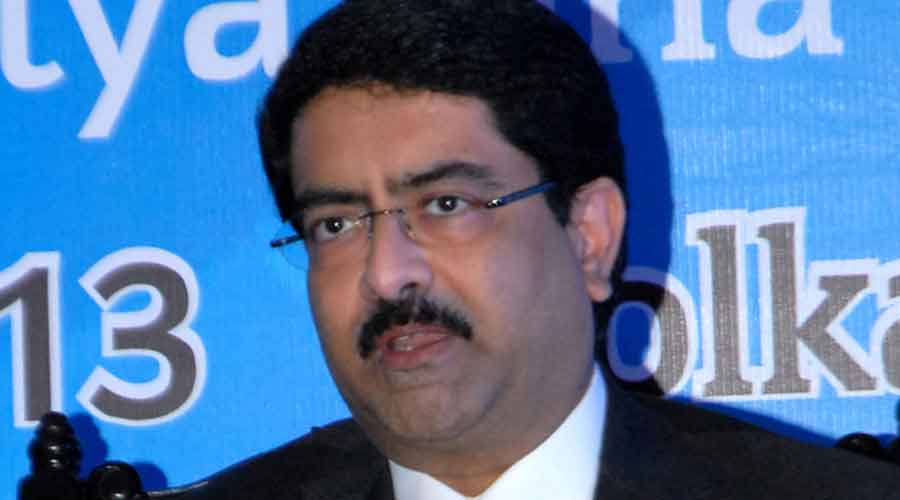 ---
New Delhi
|
Published 03.08.21, 11:17 PM
|
---
Vodafone Idea Limited, struggling to pay more than Rs 50,000 crore AGR arrears, lost more than Rs 2,700 crore in market cap on Tuesday, a letter from chairman Kumar Mangalam Birla was released to cabinet secretary Rajiv Gowda in June.
"It is with a sense of duty towards the 27 crore Indians connected by VIL, I am more than willing to hand over my stake in the company to any entity- public sector/government /domestic financial entity or any other that the government may consider worthy of keeping the company as a going concern," Birla said in the letter.
The stock plunged 10.30 per cent to close at Rs 7.40 on the BSE. During the day, it tumbled 13.09 per cent to Rs 7.17 — its 52-week low.
At the NSE, it closed at Rs 7.40, lower by 10.30 per cent.
According to official data, VIL had an adjusted gross revenue (AGR) liability of Rs 58,254 crore out of which the company has paid Rs 7,854.37 crore and Rs 50,399.63 crore is outstanding.
VIL along with Bharti Airtel had approached the Supreme Court for correction in the government calculations, but their plea was rejected.
In the letter, Birla, who holds around a 27 per cent stake in VIL, said investors are not willing to invest in the company in the absence of clarity on AGR liability, an adequate moratorium on spectrum payments and most importantly floor pricing regime above the cost of service.
Without immediate active support from the government on the three issues by July, the financial situation of VIL will come to an "irretrievable point of collapse," Birla said in the letter dated June 7.
Following are the top 10 points of the big story:
1. Bir Birla warns of a "growing crisis" and his 27.66 per cent stake in 27 troubled telecom companies may be deemed worthy by any public sector / government / domestic financial entity, or any other government – to keep (VIL) an ongoing concern. "
2. Aditya Birla Group Chairman said that despite "all possible efforts to improve operational efficiency", VIL's financial condition has "rapidly deteriorated" and "Rs 25,000 crore is required to manage VIL activities and pay the regulator / government debt".
3. "… without the immediate assistance of the government … by July 2021 … the financial condition of VIL will (reach) to an irreplaceable point" connected by 270 million Indian VILs ".
4. Birla said potential (non-Chinese) investors wanted to see "clear government intentions to market three-player telecoms … through positive action on long-term requests, such as clarity on AGR liability, adequate suspension of spectrum payments and, most importantly, A floor pricing system is above service costs ". Apart from this, investors are showing "understandable hesitation", he said.
5. No immediate comment was received from VIL or any other concerned party including the government. It is also unclear whether there was any communication between the government and VIL after the letter was submitted.
6. VIL AGR owes Rs 50,399.63 crore; It has already disbursed Rs 7,854.37 crore. The balance due after today's crash is more than double the current market cap of Rs 21,264 crore. In addition, till March 1, 2021, the total debt excluding lease liability and AGR arrears is Rs 1,80,310 crore. This includes Rs 96,270 crore of late spectrum payment obligations and Rs 23,080 crore of banks and financial institutions.
7. Faced with a letter warning of "immediate" danger, VIL stocks fell today, hitting a 52-week low of 12 percent before recovering somewhat. With the Sensex and Nifty hitting record highs in one day, various macroeconomic indicators point to a revival of demand in the economy as optimistic about the rapid pace of economic recovery.
8. Last month, the Supreme Court in January dismissed an application filed by telecom majors, including VIL, seeking a recalculation of the AGR, citing "mathematical errors" in the accounting of the AGR. In September last year, the court said the arrears could be paid over a 10-year period, but added that 10 percent had to be paid by March 2021.
9. Telecom companies Vodafone, Bharti Airtel and Reliance Jio are embroiled in a two-decade-old revenue-sharing dispute with the government that focuses on AGR, or collects total revenue. The government wants to include revenue license fees from non-core businesses, but companies say such revenue should be excluded.
10. In December 2019, Bir Birla warned that Vodafone would be forced to shut down if the government did not provide relief on AGR and other liabilities. "If we don't get anything, I think it's the end of the Vodafone Idea story," he said.