The Sunak Effect? Infosys shuts its Moscow office
Infosys acts days after Rishi Sunak, the chancellor of the exchequer and son-in-law of company founder N.R. Narayana Murthy, faces a barrage of attacks in British media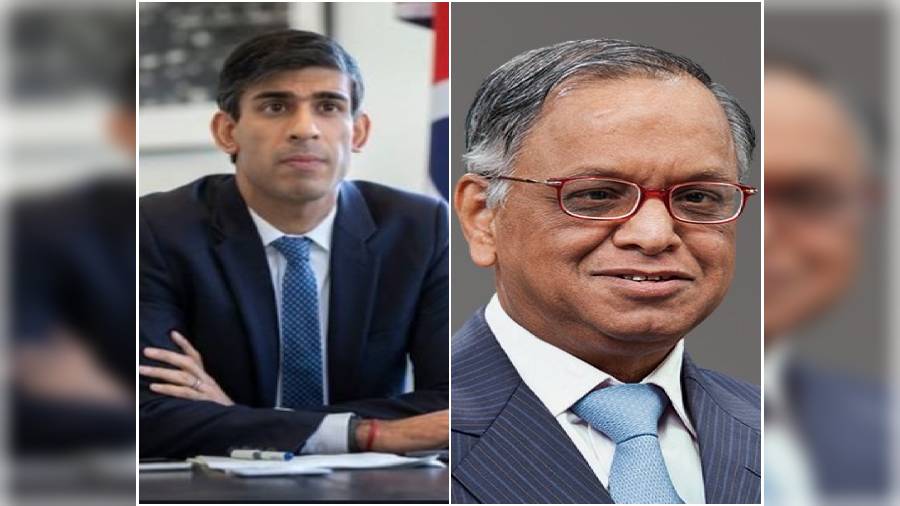 Rishi Sunak and N. R. Narayana Murthy.
File picture.
---
New Delhi
|
Published 02.04.22, 10:59 AM
|
---
Infosys, which has come under attack in the UK for not pulling out of Russia, has announced that it is closing its Moscow office. The company did not explain the sudden move but told The Guardian that it was, "in the process of urgently closing down its Russian operation". Staff in Moscow are being relocated to other countries.
The company refused to offer reasons for its move though the UK Chancellor of the Exchequer, Rishi Sunak, has come under an avalanche of pressure in the last few days because the company office in Moscow was still open. Sunak is the son-in-law of Infosys founder N. R. Narayana Murthy.
The British press has blasted Sunak with a high-decibel campaign in recent days accusing him of hypocrisy after he called on British companies to pull out of Russia but said nothing about Infosys in which his wife Akshata Murthy holds a large tranche of shares.
Satirical magazine Private Eye which specialises in feisty but fun covers put Sunak and Akshata on its latest cover with the headline "Rishi Hits Back at Critics". In a speech bubble Sunak is 'doing the Will Smith' and saying: Keep my wife's name out of your f***ing mouth.
The chancellor himself, in another interview, also made the Will Smith comparison and defended his wife, saying: "At least I didn't get up and slap anybody." He added it was, "very upsetting and…wrong for people to try and come at my wife."
Sunak's wife Akshata is an Infosys shareholder and her shares are variously reckoned to be worth between POUNDS STERLING 400 million and POUNDS STERLING 730 million.
The Daily Mail launched a broadside against Sunak with a giant headline that proclaimed: "Rishi Sunak's wife 'gets POUNDS STERLING 12 million in two dividend payments from Russia-linked IT firm" – as Chancellor is warned he has 'very serious questions to answer' over her shares." Infosys issued two dividend payments in April and October 2021. The Infosys board is scheduled to meet in a few days to consider another interim dividend.
Infosys shares have climbed steeply from Rs 585 In March 2020 when India went into lockdown to Rs 1,906 on April 1, 2022.  Akshata's father, mother and brother all have shares in Infosys. She is now reckoned to be one of the UK's richest women and considerably richer than the Queen.
Commentators have pointed out that Sunak invited trouble by declaring on TV after the Russian invasion of Ukraine that businesses should, "think very carefully about any investments that would in any sense support Putin and his regime."
The Daily Mail and other British publications and also newscasters like Sky News' Jayne Secker have ripped into the chancellor about Infosys not pulling out of Moscow. In an encounter with Secker, Sunak was left fumbling for words after the TV presenter bluntly cross-questioned him asking: "Are you giving advice to others that you are not following in your own home."
A visibly uncomfortable Sunak defended himself, first insisting: "I'm an elected politician and I'm here to talk to you about what I'm responsible for. My wife is not".
Secker kept up her grilling, saying: "Your family potentially could be benefiting from Putin's regime."
Under further questioning Sunak resorted to a flat denial, saying: "I have no idea because I have absolutely nothing to do with that company (Infosys)."
British newspapers have, in recent days, carried photos of Narayana Murthy wheeling a stroller-suitcase down Downing Street. The chancellor's official residence is 11 Downing Street, next door to the Prime Minister Boris Johnson who lives at Number 10.  The chancellor of the exchequer is the UK equivalent of India's finance minister.
Sunak has, in recent weeks, also come under attack for a tight-fisted spring mini-budget which critics said would result in higher costs of essentials like electricity. His critics added that the budget would not help small companies hit by the pandemic and also individuals who have been tossed out of jobs.
Besides that, Sunak, who was only 38 when he was first made chancellor, is thought to have played his political cards badly, resorting to strong self-promotion soon after he got the job and taking the credit for huge state payouts to small companies so that they could continue paying staff whom they might otherwise have had to sack.
As the UK's economic position got tighter, Sunak has often been wrongfooted. The British newspapers reported that he had come under attack from almost the entire cabinet during a recent cabinet meeting.
Opposition parties have also attacked him because he has not listed his wife's riches in Parliament's Register of Members Financial Interests in which all MPs are supposed to declare their and family's holdings other than their salaries. Johnson himself has talked about a cabinet reshuffle and there is speculation that Sunak might be one of the most prominent casualties.
The Labour Party's Deputy Leader, Angela Rayner, also slammed Sunak, accusing him of playing a double game, saying: "One minute he is telling British companies to think carefully about investments that in any sense support Putin and his regime….The next we hear his family are (sic) making millions from a company operating out of the Russian capital. She went a step further, adding: "The company, founded by Sunak's father-in-law, has been handed millions of pounds of taxpayers' money in contracts."
Infosys also has thousands of employees and many clients in the UK. It first opened an office there back before the turn of the century.