Supreme Court to Anil Ambani: Pay up or go to jail
The apex court held that a "deliberate misstatement" was made to "circumvent" the orders of the court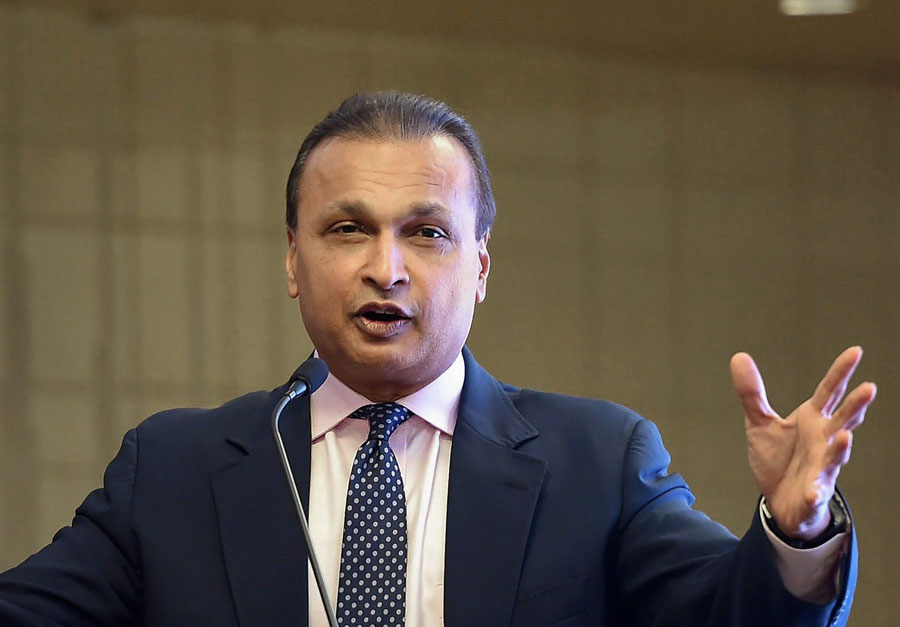 The three companies of Anil Ambani have to pay Ericsson Rs 550 crore plus interest
(PTI file picture)
---
New Delhi
|
Published 20.02.19, 10:04 PM
|
---
Anil Ambani, the bearer of a surname synonymous with opulence and brother to the wealthiest Indian, has been held guilty of contempt and threatened with three-month imprisonment if he fails to clear dues of Rs 453 crore within four weeks.
"Wilful default is made," the bench of Justices R.F. Nariman and Vineet Saran ruled, adding that a "deliberate misstatement" was made to "circumvent" the orders of the court.
Telecom firm Ericsson had taken to the court three companies of Anil, collectively called "Reliance companies" by the bench, for failure to stick to an extended deadline for clearing the dues that were run up while the Swedish multinational was operating the telecom network of Reliance Communications (RCom).
The three companies of Anil have to pay Ericsson Rs 550 crore plus interest. The Reliance companies have deposited Rs 118 crore with the Supreme Court registry. The court has now asked the companies to pay Rs 453 crore in four weeks in addition to the deposit that will go to Ericsson, which makes the total amount Rs 571 crore.
The three companies —RCom, Reliance Telecom and Reliance Infratel — will also have to cough up Rs 1 crore each as fine within a month. Failure to do so will invite imprisonment for one month for the chairmen, who include Anil. If the jail terms need to be activated, they will run concurrently, which means the maximum imprisonment will be for three months.
Reliance lawyer Mukul Rohatgi said: "I am sure RCom will honour the Supreme Court's order."
The profile of the defendant and the nature of the case were enough to make it a cause celebre but the issue garnered more eyeballs because of a cutting observation by an Ericsson advocate that Anil had money to invest in a controversial Rafale venture but not to clear dues.
Shovelling fuel into the fire, suspicion had emerged that a Supreme Court bench's order was tampered with in an alleged attempt to exempt Anil from personally appearing in the court. Two court officials were summarily dismissed. Anil was present in the court on Wednesday when the order was pronounced.
The bench headed by Justice Nariman expressed anguish at the reason stated by Reliance for missing the deadline that was originally September 9, 2018, but extended to December 15, last year.
The Reliance companies had cited the inability to close the sale of assets. The assets were supposed to have been sold to the Reliance group owned by Anil's big brother Mukesh Ambani.
However, the bench said: "It is clear that the three Reliance Companies had no intention, at the very least, of adhering to the time limit of 120 days or to the extended time limit of 60 days…. The undertakings given on the footing that the amount of Rs 550 crore would be paid only out of the sale of assets was false to the knowledge of the three Reliance Companies. This itself affects the administration of justice, and is therefore, contempt of court."
The court added: "To say that the sum of Rs 550 crore would be paid only out of sale of assets of the three Reliance companies is a deliberate misstatement made in the undertakings as well as the applications for extension of time filed before this court, which was done with the purpose of circumventing the orders of this court."