Start investing in crypto with less than $1 - buy Parody Coin (PARO), Hedera (HBAR), and Polygon (MATIC)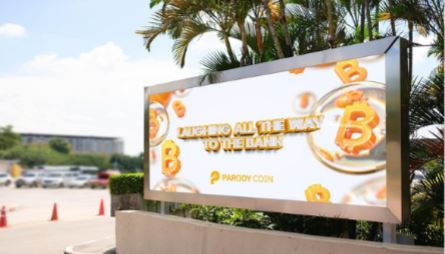 ---
Published 19.05.22, 07:58 PM
|
---
The crypto market volatility and saturation may be daunting to many new crypto investors. Putting your hard-earned money to work is important if you want to build financial independence. However, it can be challenging to begin with when you are not entirely sure how to make the best investment decisions.
You don't need large amounts of money to begin your crypto journey. Newcomer Parody Coin (PARO), and leading cryptos Hedera (HBAR) and Polygon (MATIC) are popular investment choices for many new and experienced crypto investors. All 3 coins currently cost less than $1 - meaning you can start investing with very little and not worry about high risks!
Why is Parody Coin's (PARO) presale a good opportunity?
Currently, in phase 2 of the presale, Parody Coin (PARO) has already sparked widespread interest in the crypto market. At the moment, the set price of PARO tokens is at $0.002 but it is anticipated to rise once publicly launched. PARO token launch is set for Initial DEX Offering (IDO) on PancakeSwap with a total of 300 million tokens pre-mined.
The native token PARO is used to pay to mint and transfer costs of NFT parodies between wallets on the marketplace, as well as for settling transactions involving the sale of parody NFTs. It also functions as a form of exchange in the Paroverse and the numerous decentralised applications (dApps) built in the ecosystem.
Users can mint, trade, and purchase parodies of popular NFTs on Parody Coin. The NFT Marketplace will allow parody NFTs to be sold or traded easily and quickly. The primary goal of Parody Coin is to solve the limitation of access to the NFT market caused by excessive fees and prices, as well as to give functionalities not available on other NFT platforms.
The Parody Coin's own dApp store will enable third-party developers to build and launch apps inside the ecosystem. These dApps will provide a variety of services, including those that will facilitate the minting, trading, and use of parody NFTs to promote the platform's growth.
Is Hedera (HBAR) a suitable investment for you?
Powerful decentralised apps can be built on Hedera (HBAR), which is based on Hashgraph, a novel ledger technology that improves on typical blockchains in terms of speed, cost, and scalability.
Hedera's native token, HBAR, fulfils two functions inside the ecosystem. HBAR supports Hedera services like smart contracts, file storage, and regular transactions while also securing the system and maintaining the platform's integrity. The platform promises 10,000 transactions per second throughput.=
At the time of writing, HBAR was selling just for $0.1064, making it a fairly cheap initial investment. Crypto experts suggest that this cryptocurrency is a promising investment for long-term holding.
Why is Polygon (MATIC) a leading cryptocurrency?
Polygon (MATIC) is an Ethereum-based Layer-2 scaling solution aiming to develop a multi-chain ecosystem improved upon Ethereum's shortcomings of interoperability and scalability. Polygon has successfully hosted thousands of applications, performed over a billion transactions, and is safeguarding billions of dollars.
Polygon focuses on making Web 3.0 accessible to all. It provides a user-friendly interface to promote decentralised innovation, but still ensures security and performance. Last week, Meta's Instagram announced that for their NFT integration pilot they will be partnering with Polygon alongside Ethereum (ETH), Flow (FLOW), and Solana (SOL).
The native coin MATIC is used for governance and utility. Ranking 17th place on CoinMarketCap at the time of writing, MATIC is available for only $0.71. High adoption rates and continuous development, are seen as key promising features to suggest the cryptocurrency's success in the future.
What should be your next steps?
There is no right time to start your investment journey. However, if you do your research and make sure you know where you are investing your money, you will feel much more confident about your decisions. If you are interested in the Parody Coin presale, follow the links below to learn more!
Presale:https://presale.parodycoin.io/register
Website: https://parodycoin.io/