Reliance Industries Ltd raises record $4 billion in foreign bonds
The proceeds from the issue will be used to refinance current borrowings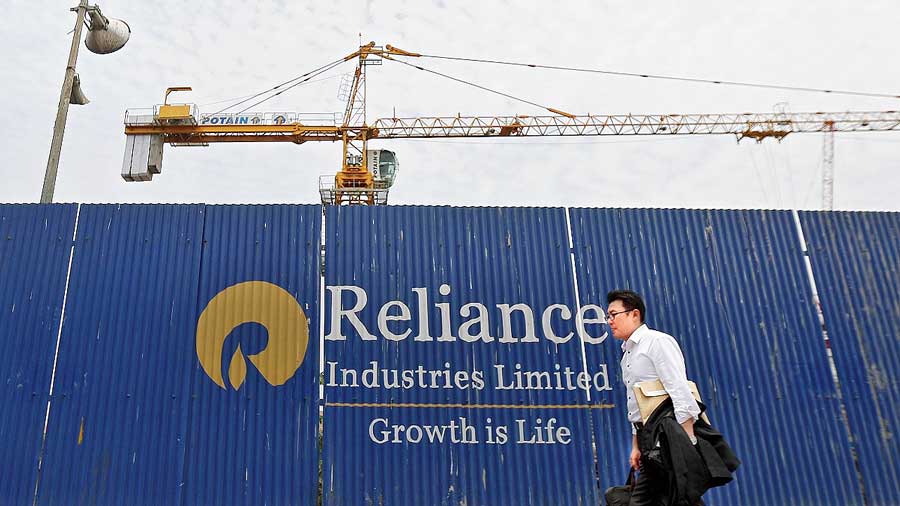 Representational image.
File picture
---
Mumbai
|
Published 07.01.22, 01:21 AM
|
---
Reliance Industries Ltd (RIL) on Thursday said it has raised $4 billion of bonds in three tranches, setting a record for a dollar-denominated issuance of notes for an Indian company..
The flotation also sets a floor for cheap overseas borrowings as the interest rates were fixed at a very tight spread above the underlying lending benchmarks. The proceeds from the issue will be used to refinance current borrowings.
Reliance raised $1.5 billion through 10-year debt at 2.875 per cent.
The Mukesh Ambani-company raised another $1.75 billion across a 30-year period at 3.625 per cent rate of interest.
Another $750 million were borrowed at 3.750 per cent, maturing in 40 years. The notes have been priced at 120 basis points, 160 basis points, and 170 basis points over their respective US treasury benchmarks.
The senior unsecured notes were rated BBB+ by Standard & Poor's and Baa2 by Moody's Investors Services, one notch above India's sovereign ratings of BBB- and Baa3 , respectively.
The overseas funds drive comes when the US Federal Reserve is expected to raise interest rates during this year to combat inflation. This may result in overseas borrowing costs rising for Indian companies. Yet, the successful fund raise by RIL at the beginning of the year may prod others to tap this route
Sweta Patodia, a Moody's analyst, had said the ratings reflected RIL's large scale and dominant market position across its diverse businesses, its management's strong execution track record and its expectation that the conglomerate's credit metrics will remain strongly positioned, despite the planned investments in clean energy and other business segments.
Over-subscribed notes
Reliance said that the notes were nearly three times over-subscribed with a peak order book aggregating around $11.5 billion.
RIL did not disclose the names of investors who subscribed to the bonds. RIL said orders were received from over 200 accounts in Asia, Europe and the US. In terms of geographic distribution, the notes were distributed 53 per cent in Asia, 14 per cent in Europe and 33 per cent in the US.
Reliance listed some other firsts for the bond issue: it was the first ever 40-year issuance by a BBB rated company from Asia excluding Japan.
In the 30-year and 40 year tranches, the coupon of 3.625 per cent and 3.750 per cent were the lowest coupon achieved by any firm rated BBB in Asia. Interest on the notes will be paid semi-annually.
"The support received from the marquee international capital market investors is reflective of the strength of our underlying businesses with established growth platforms across energy, consumer and technology as well as robustness of our balance sheet," Srikanth Venkatachari, joint chief financial Officer of Reliance said.
"This issue continues the tradition of Reliance being a sophisticated and innovative issuer across the capital structure,'' he said.