Rain to blame for onion woe
'There were several structural issues related to the storage of onions and the government was trying to address them'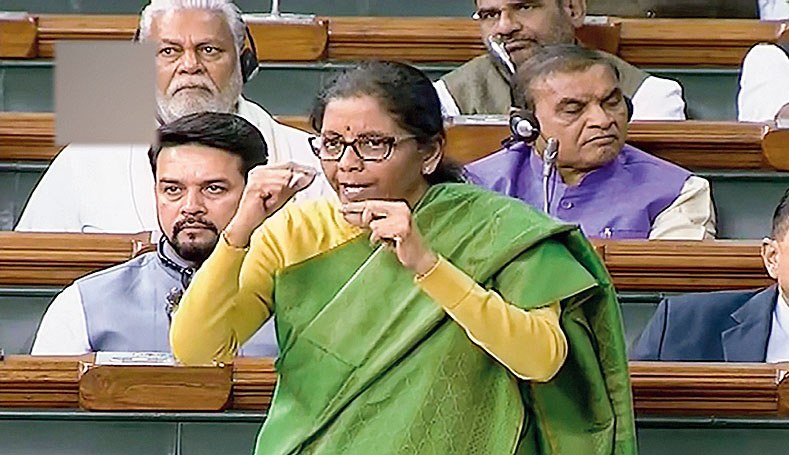 ---
---
Blaming the weather and other structural reasons for the spurt in onion prices, finance minister Nirmala Sitharaman said the government was taking several measures, including importing the kitchen staple, to deal with its rising prices.
She said there were several structural issues related to the storage of onions and the government was trying to address them. The minister was replying to the debate on the first batch of Supplementary Demands for Grants.
Unseasonal rain in the onion growing regions have resulted in the lower sowing of the crop, which has affected overall production and has added to the price pressure, she said.
Steps taken by the government to check rising prices include a ban on exports, imposition of a stock limit, and the import and transfer from a surplus to a deficit area.
On the direct benefit transfer scheme , Sitharaman said its implementation has helped the government to save Rs 1.41 lakh crore in the last five years.
The government has plugged all loopholes through DBT and "all dalals and middlemen have been eliminated from the system", she said.
The Lok Sabha later passed the first batch of supplementary demands for grants allowing the government to spend an additional Rs 21,246.16 crore, including over Rs 8,820 crore in the newly formed Union Territories of Jammu and Kashmir, and Ladakh in the current fiscal.
GST compensation delay
Finance ministers and representatives of Opposition-ruled states met the finance minister and expressed their concern over the delay in the release of GST compensation. The finance ministers of Delhi, Punjab, Pondicherry and Madhya Pradesh and representatives from Kerala, Rajasthan, Chhattisgarh and Bengal attended the meeting.
Punjab finance minister Manpreet Singh Badal said August and September compensation had not been released. "Even the compensation for next period (October-November) will be due now, so it is August-November. The government is under obligation to pay."