PSU oil retailers once again hike petrol and diesel prices
In Calcutta, prices on Tuesday were raised by 25 paise in the case of petrol and 29 paise in diesel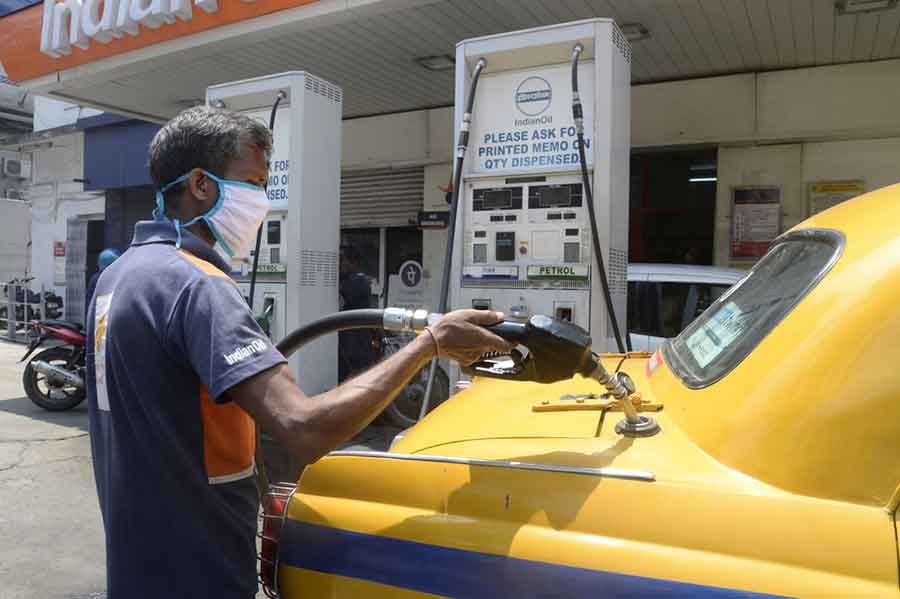 ---
New Delhi
|
Published 19.05.21, 01:28 AM
|
---
PSU oil retailers have once again hiked petrol and diesel prices, the tenth this month since the freeze on the price was lifted with the end of the elections in Bengal.
In Calcutta, prices on Tuesday were raised by 25 paise in the case of petrol and 29 paise in diesel.
The petrol price in Mumbai at Rs 99.14 per litre is almost on the verge of hitting the century mark.  India's financial capital would be the first among the five major metro cities where the petrol price will touch the Rs 100-per-litre mark if oil firms continued to increase prices which is likely as Brent crude has touched $70 per barrel for the first time since March 15. Crude prices had stabilised around $65 per barrel in April, but they have once again started rising in May.
Several cities in Rajasthan, Madhya Pradesh and Maharashtra have already crossed the Rs 100 psychological mark.
Analysts said the retail prices of petrol and diesel in India were likely to rise by another Rs 1-2 if the crude prices remain at $70-per-barrel.
This could put pressure on the Modi government to cut excise duties as inflationary pressure has pushed the wholesale price inflation to an 11 year high of 10.49 per cent in April.
Drivers in Calcutta have to pay Rs 92.92 for a litre of petrol and Rs 86.35 for a litre of petrol on Tuesday. A litre of petrol in Mumbai now comes for Rs 99.14 and diesel is priced at Rs 90.71 per litre.
Fuel prices differ from state to state depending on the incidence of local taxes such as VAT and freight charges. Rajasthan levies the highest value-added tax (VAT) on petrol in the country, followed by Madhya Pradesh and Maharashtra.
Loss recoup
Oil industry sources said pump prices were also high because the PSU retailers were recovering their past revenue losses when they pressed the pause button while global crude prices continued to spike. The retailers started raising prices from May 4 after an 18-day hiatus when there was a freeze on account of the state elections in states such as Bengal.
International oil prices and the rupee-dollar exchange rate impact domestic pump prices as India imports over 80 per cent crude oil it processes and pays in dollar.