Oil refiners to expand
Plan to double refining capacity to 450-500 million tonnes in 10 years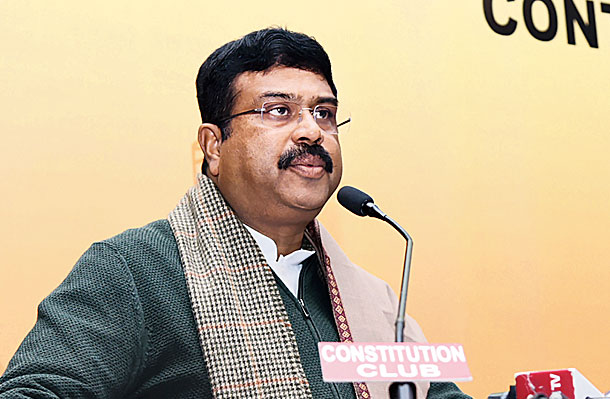 ---
---
The country plans to almost double its oil refining capacity to 450-500 million tonnes in 10 years to meet the growing fuel demand, oil and steel minister Dharmendra Pradhan said.
He also urged the oil and gas industry to use domestic steel for its expansion plans.
Addressing a webinar on 'Atmanirbhar Bharat: Fostering domestic steel usage in oil & gas sector', Pradhan said the Indian steel sector can strive to be a major player in the global stage only after it fulfils all the domestic requirements.
"Domestic players should rise to the occasion so that cost does not escalate in our efforts to promote localisation of the supply chain," he said.
Pradhan said the oil and gas sector is one of the largest end-users of steel pipes and tubes, with pipeline being the major mode of transport for petroleum, oil, and lubricant products.
The expansion of the city gas distribution network to cover 70 per cent of India's population, refining capacity augmentation, a plan to set up 10,000 CNG stations, exploration and production activities — all will drive steel demand in the sector.
He said the domestic steel manufacturers have all the capabilities to cater to the future requirements for steel in the sector. Meeting steel demand domestically and reducing import dependence on imports will significantly enhance employment opportunities in the sector and would also give a boost to micro, small and medium enterprises in the steel sector and lead them to produce more value-added products.
Pradhan said the construction of a new 60 million tonnes a year west coast refinery, which is crucial to the capacity doubling plan, will start soon. "Our capacity will increase from about 250 mt per annum now to 450-500 mt in the next 10 years," he said.