Nirmala's shock-absorber tag miffs retail investors
Her remark does little to soothe the distress and helplessness that investors have experienced after being lured into investing in several IPOs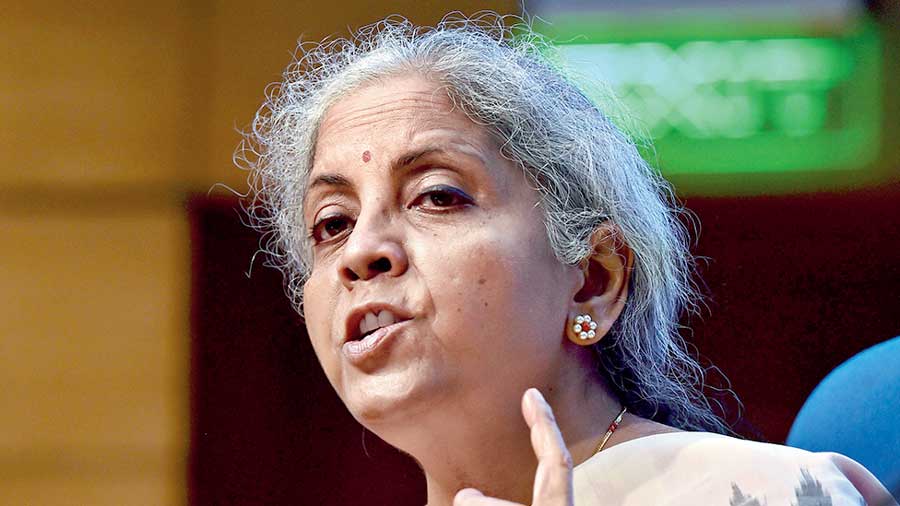 Nirmala Sitharaman
File Picture
---
Mumbai
|
Published 08.06.22, 02:12 AM
|
---
Finance minister Nirmala Sitharaman has said retail investors are acting like "shock absorbers" at a time when the foreign portfolio investors (FPIs) are pulling their money out of the country.
"Retail investors have come in a big way that they seem to act like shock absorbers... if FPIs went away, our markets did not really have to show their ups and downs in a very distinct way because small investors in the country have come in a big way," she said at an event organised by the ministry of corporate affairs as part of the Azadi ka Amrit Mahotsav.
Sitharaman is also in charge of the corporate affairs ministry.
It is doubtful if retail investors would be pleased to hear a metaphor that likens them to a "shock absorber" – and places on their twitchy shoulders the burden of a gut-wrenching downturn in the stock market.
The Sensex has tumbled almost 10 per cent from the January 19 high of 60,870.17.
Sitharaman's flippant and somewhat insensitive remark does little to soothe the distress and helplessness that investors have experienced after being lured into investing in several initial public offerings (IPOs) including the over Rs 21,000 crore mega issue by the Life Insurance Corporation, many of which are now treading water after being whipsawed by volatile markets
India's largest life insurer has slumped more than 20 per cent since its listing on May 17. Since its debut, investors have lost nearly Rs 1.2 lakh crore.
Market pundits, however, admit that had it not been for the retail investors, who invested directly in the stock markets through their demat accounts or indirectly through mutual funds, the Indian stock markets would have been considerably worse off.
The FPIs, who have been relentless sellers since the start of this calendar year, have offloaded stocks worth Rs 1.75 trillion till date. Data also reveals that they have withdrawn over $ 27 billion from India since October last year. (See chart)
Although domestic indices have also fallen in line with the global trend, the decline is much less compared with some of the other peers. For instance, the Nasdaq has plummeted by almost 23 per cent year-to-date (as of June 6), Dow Jones Industrial Average (DJIA) by over 9.40 per cent, Kospi (11.79 per cent), Hang Seng (7.97 per cent), Shanghai Composite by almost 10 per cent or DAX which HAS has lost almost 7.75 per cent.
However, the year-to-date fall in the Sensex and the Nifty is around 5.40 per cent.
In March, the Central Depository Services (India) Ltd said the number of active demat accounts opened with it touched the 6 crore mark.
During the month, net inflows into equity mutual fund schemes stood at Rs 15,890 crore which was much lower compared to a record net inflow of Rs 28,463 crore in the preceding month.