Music is the food of start-up Mulo
Archisman Chatterjee was born and brought up in Calcutta and Aniket Ghosh Choudhury is from Jamshedpur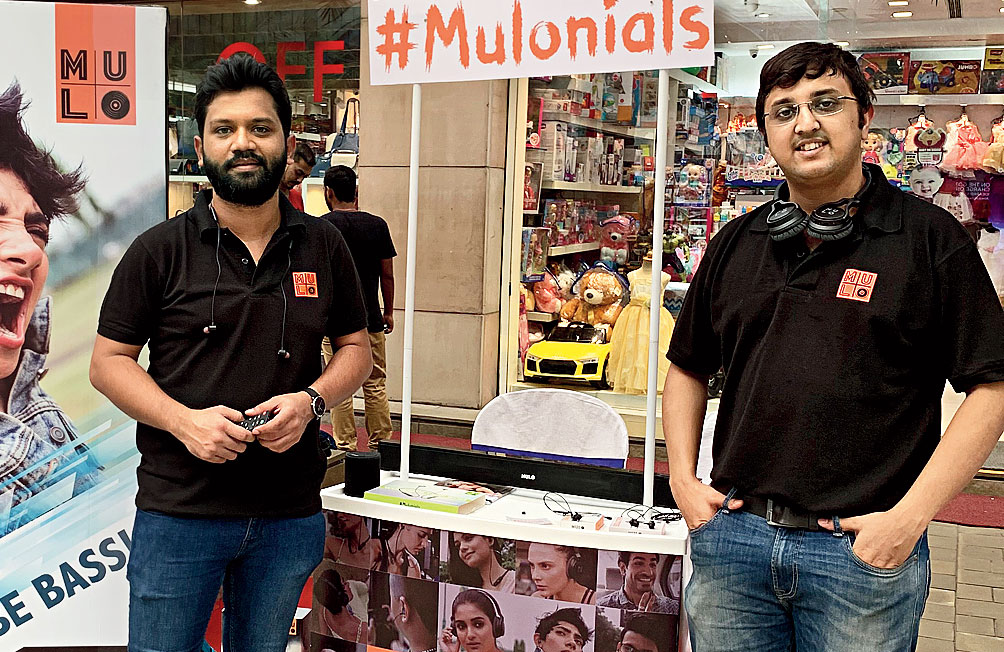 Aniket Ghosh (left) and Archisman Chatterjee
Telegraph picture
---
Calcutta
|
Published 21.07.19, 06:32 PM
|
---
Two ex-Flipkart managers who bonded over their love for music, especially EDM (electronic dance music), decided to quit their jobs and float a business after attending a music gig together last year.
Archisman Chatterjee, born and brought up in Calcutta, and Aniket Ghosh Choudhury, from Jamshedpur, both in their early thirties, met during their tenure at the e-commerce firm.
While one of them was handling audio brands, the other was part of a team which sourced audio, mobile accessories and home appliances.
"We met through a common friend. At that time, we were in different teams. We had gone to music gigs together and felt that a connection was there," Chatterjee said.
"Our main foundation came from music and it was important for our bonding," said Choudhury, who also had a stint with Chinese firm Xiaomi.
"In weekends while we were brainstorming, I told him that you know everything from China to India and I know everything from India to customer. We are completing a full circle," Chatterjee said.
The result was the launch of a start-up in February, called Mulo, short for music lovers, which currently sells headphones in the wired and wireless category with plans to expand into bluetooth speakers and soundbars later this year.
Game of names
Inspired by HBO blockbuster TV series Game of Thrones, Chatterjee stumbled upon the name of their venture.
"I loved GoT and was intrigued by the name 'Hodor' which actually came from the word 'Hold The Door'. My would-be-wife proposed the name Mulo," he said.
"I was happy with a four-letter world. It will make branding easier. Even the name Sony came from a mix of two words. We were music lovers and this represented both our interests," said Choudhury.
Rising demand
Chatterjee said during his tenure at Flipkart, he saw a rising customer demand for audio accessories such as headphones and speakers with the increasing penetration of smartphones and the internet.
"The more mobile and internet penetration is growing, the more content is being created. As a result earphones, headphones, wireless bluetooth speakers etc are more and more in demand. We felt there was a gap which we can address," he said.
"India is a huge market and different people have different tastes in music," he said, adding that while one of their wired headphone offers more bass, the other is for individuals who prefer clear vocals.
Business strategy
Chatterjee said in 2019 the company would focus on brand and product building and will have six audio devices available by Durga Puja. The company is currently selling through Amazon and is in discussions with retailers in Calcutta to build an offline presence.
Mulo, which started with a seed capital of Rs 2 crore, plans to generate a business of around Rs 1 crore a month by December, following which it will look to raise capital.