Mukesh's Reliance springs rights issue surprise
First such plan in nearly three decades linked to attempt to slash debt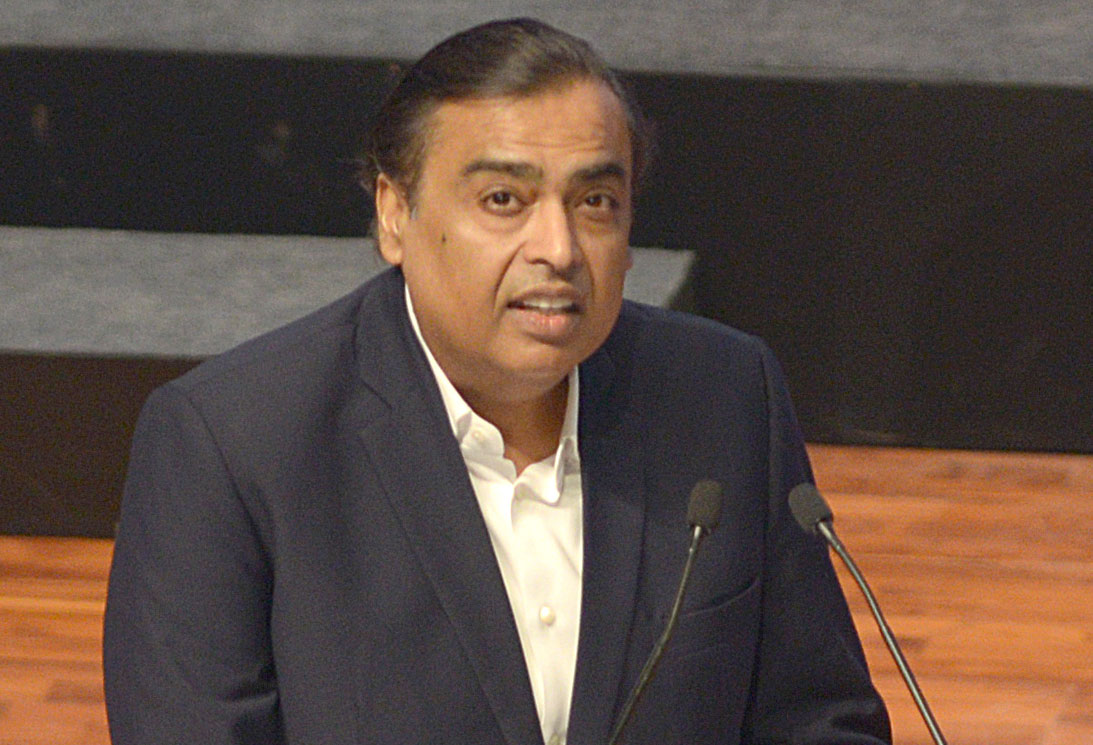 Last August, chairman and managing director Mukesh Ambani had announced his ambition to turn the company into a zero net debt company by March 2021.
Telegraph file picture
---
Mumbai
|
Published 28.04.20, 09:02 PM
|
---
Mukesh Ambani-owned Reliance Industries sprang a big surprise on coronavirus crisis-wracked markets and investors by announcing plans for a rights issue of shares that has the potential to turn into one of the largest capital issues of all time.
The refinery-to-retail and telecom giant, which reported a consolidated turnover of Rs 6.2 lakh crore in the year ended March last year, has said its board of directors will consider its first rights issue in almost 30 years when it meets on Thursday.
The move is part of an effort to slash the massive debt of over Rs 3 lakh crore on its books as of December 31 last year.
Last August, chairman and managing director Mukesh Ambani had announced his ambition to turn the company into a zero net debt company by March 2021.
In September 1991, Reliance Industries — the country's largest private conglomerate — had announced a 1:20 rights issue.
Since then it has declared bonus issues four times — dipping into its reserves to reward shareholders with free shares. In 2017, it had declared a 1:1 bonus issue.
But this time, shareholders are being asked to stump up their money for the shares.
The rights issue ratio will determine whether RIL is able to eclipse the telecom twins — Vodafone Idea and Bharti Airtel — both of which raised over Rs 25,000 crore from similar issues last year.
The surprise announcement comes just days after Facebook said it would spend $5.7 billion to acquire a 9.9 per cent stake in Jio Platforms, a wholly owned subsidiary of Reliance Industries that houses the group's digital businesses.
"Reliance's rights issue is a surprise, considering that they are getting an equity infusion from Facebook," said Naveen Kulkarni, chief investment officer at Axis Securities. "There will be some dilution because of the issue but it is difficult to gauge at this point in time how much the stock will fall because the quantum is not known."
On the Bombay Stock Exchange, the RIL stock closed at Rs 1,428.10, down just Rs 2.20 from its Monday close. Soon after the announcement, the stock had dipped almost 2 per cent before staging a recovery.
The board will also review the fourth quarter results of RIL and possibly announce a dividend.
Discount offer
The rights shares are expected to be issued at a discount to the current price. The size of the discount will depend on the ratio at which the rights shares are issued.
The Ambani family, which has a 50.03 per cent stake in the company, is expected to subscribe fully to the rights issue.
The promoters hold 309.8 crore shares out of the total paid-up issued stock of 633.92 crore.
The company has 22.28 lakh retail shareholders, one of the largest investor pools in the country.
A rights share grants a shareholder the right — but not the obligation — to subscribe to the issue.
Most shareholders will wait to see at what price the share is offered and then decide whether they should subscribe.
The issue will also test the market's appetite for such a large issue at a time the country is in a lockdown because of the coronavirus scare and lingering uncertainty over when the restrictions will be lifted.
The decision to go in for a rights issue appears to have been made as the company hasn't been able to report any progress on a tentative agreement reached last July with Aramco, which had planned to pick up a 20 per cent stake in the company's oils to chemicals business for $15 billion.
The Aramco deal was critical to Reliance's debt reduction plan — and the gridlock over the deal has forced it to consider other options.
Morgan Stanley — which quickly hashed out a scenario analysis after the announcement — said RIL could raise anywhere between $1.9 billion and $13.8 billion.
The wide disparity between the two figures is explained by the various estimates of the new shares to be issued (which ranges from 2 per cent of the total equity to 12 per cent) and the price discounts.
The scenario analysis assumed price discounts of 5, 10, 15 and 20 per cent to the current market price.
A price discount is expected because a sudden issue of fresh shares will raise the pool of stock that can be traded in the market, which will automatically trigger a decline in the price.
If RIL raises $13.8 billion through the issue at a 5 per cent price discount and a new shares component of 12 per cent of the resulting total equity, it will mean a cash inflow of Rs 1.05 trillion at the current exchange rate — wiping out over 68 per cent of its current net debt.
But if the new shares amount to only 2 per cent of the total equity, it will work out to $5.7 billion or over Rs 43,000 crore at the same price discount.
But if the price discount rises to 20 per cent and if it issues new shares worth 2 per cent of the total equity, the company will raise a modest Rs 14,470 crore.
But not everyone believes that the company will immediately issue rights equity shares.
"It could be in the form of a convertible debenture issue wherein the conversion into shares happens at a later date. It will unlikely be a pure rights issue as the company does not benefit from a huge dilution," Arun Kejriwal, director at investment firm KRIS, told The Telegraph.
Dhirubhai Ambani, the group's late patriarch who triggered a capital market revolution in the early eighties, was famous for introducing innovative capital instruments. It remains to be seen whether son Mukesh will choose to be as adventurous.
What is a rights issue?
In a rights issue, a company grants the shareholders the right, but not the obligation, to buy new shares usually at a discount to the current trading price. It helps the company to raise additional capital.
When was the last time that RIL came out with a rights issue?
Almost three decades ago, in September 1991
Is this a big deal now?
Yes, it is. RIL hasn't had a large capital issue for a long time. In 2017, it came out with a 1:1 bonus issue In a bonus issue, shareholders are given "free shares" — a sort of reward — by dipping into a part of a company's reserves. But in a rights issue, a company asks shareholders to stump up new money by paying for these shares.
Why now?
RIL reported a gross debt of Rs 306,851 crore ($43 billion) as of December 31, 2019. The company had cash and cash equivalents (which include investments that can be liquidated very quickly) of Rs 153,719 crore. This meant that its net debt is around Rs 1.53 lakh crore (which is gross debt minus cash and cash equivalents). Last August, Mukesh Ambani said the company aimed to become a "zero net debt" company by March 2021.