Modi, Jaitley and Pradhan meet on oil prices
Surge in prices has govt worried, but finance ministry against any tax cuts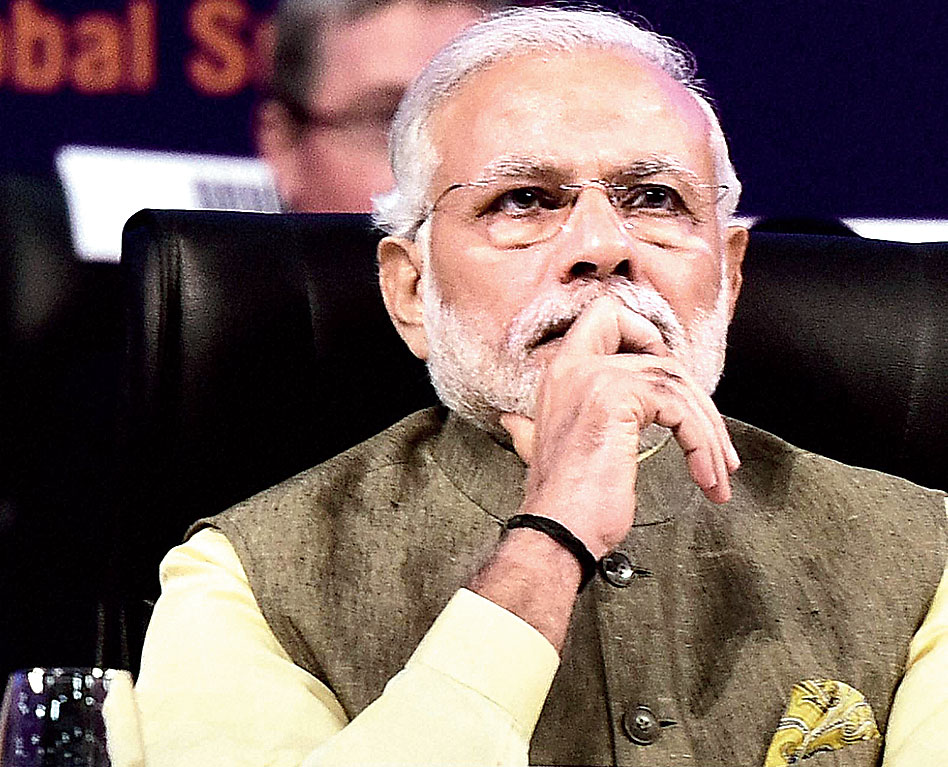 ---
New Delhi
|
Published 12.10.18, 07:38 PM
|
---
Prime Minister Narendra Modi on Friday went into a huddle with his senior ministers to combat soaring oil prices that threaten to turn into a poll issue at the upcoming state assembly elections.
Modi discussed possible steps to slow down the oil price rise with oil minister Dharmendra Pradhan and finance minister Arun Jaitley.
India had cut oil prices Rs 2.50 a litre by reducing taxes by Rs 1.50 a litre and asking oil marketers to cut prices by another Rs 1 a litre. However, the subsequent crude oil price increase has negated the impact.
Ahead of the state polls, the government is keen to rein in runaway oil prices, but the finance ministry is against any more tax giveaways, said officials. The decision to cut the excise duty by Rs 1.50 per litre is expected to cost the Centre Rs 10,500 crore this financial year in lost revenues.
Representatives of oil PSUs joined Modi and the ministers at a later stage.
The falling value of the rupee has made India's imports of crude costlier by an estimated $26 billion for this fiscal.
India has decided to continue its imports from Iran in a limited manner as well as step up investments to increase oil and gas output.
The imports from Iran will be paid in euros and through a rupee payment mechanism, said the officials.
Separately, senior government officials took stock of measures to stall the fall of the rupee including a slew of customs duty increases on telecom and communication devices announced late last night as well as a plan for an NRI bond. Officials said the government will continue to import crude from Iran, in effect ignoring US pressures, but would reduce import volumes in the coming months once alternate sellers at "similar prices" could be found.
India's dependence on crude imports has been rising and stands at 83.2 per cent of its requirement, up from 77 per cent about 5 years ago. The sanctions imposed by the US on Iran has been compounding the problems.
India imported 528,000 bpd (barrels per day) of Iranian oil in September. Saudi Arabia, has promised to deliver an extra 4 million barrels in November, in a bid to replace Iran in the Indian market. However, officials said Iranian imports remained cheaper despite the higher insurance cover being paid for them.
"We will try taper it (oil imports from Iran) off, but to stop imports by November 4 is not possible and we will be stating that position to the US officials from state and energy departments who are expected to meet us later this month," said officials.