Lockdown: Surge in demand for cheaper homes
City-based developers and brokers say enquiries have gone up and the number of bookings have increased in June and July compared with the previous two months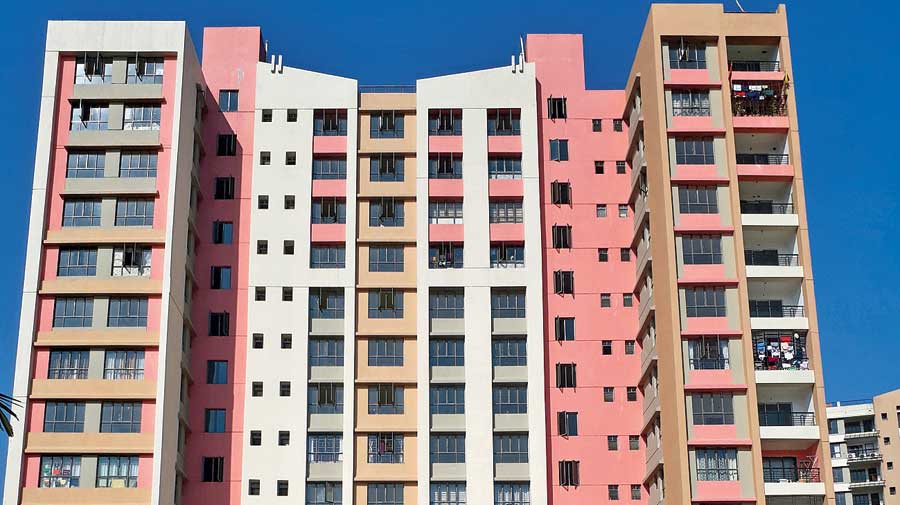 ---
|
Calcutta
|
Published 12.08.20, 02:23 AM
---
Pent up demand created during the lockdown period has induced a spike in booking for apartments in the last two months, bringing relief to the hapless developers who expect the momentum to continue only if there is a corresponding uplift in the overall economy.
City-based developers and brokers say enquiries have gone up and the number of bookings have increased in June and July compared with the previous two months, but they are still far away from the pre-Covid levels.
"Enquiries which had completely stopped have started coming back a bit. Properties priced below Rs 1 crore has traction and ready-to-move (RTM) apartments have an edge over unfinished ones. I believe well known brands will do better in the current scenario," Harsh V. Neotia, chairman of Ambuja Neotia, said.
Sanjay Jain, managing director of Siddha, agreed. "Seeing demand for RTM properties in one of our projects in north Calcutta, we are readying 100 more units to bring to the market," said Jain, who claimed sales are back to 60-70 per cent of normal times.
NK Realtor, one of the top city-based brokers, says three out of four properties booked in the last four months are under the Rs 50 lakh bracket. Biplab Kumar, vice-president of NK, said there has been a month-on-month improvement in booking with the best seen in July.
There is a changing bias towards large complexes post Amphan and during the pandemic. Around 47 per cent of the 500-odd respondents to a survey conducted by the brokerage say they prefer to stay in projects having 500-plus apartments.
Visible advantages of staying within a gated community during a crisis is drawing buyers in Calcutta and beyond. Arya Sumant, managing director of Eden Realty Ventures, witnessed more bookings in June-July than November-December in his ultra-affordable project (Rs 9 lakh-Rs 23 lakh) in Serampore.
"I was really surprised. Believe that the fence sitters came forward. It was more of a pent up demand created during lockdown," Sumant said.
But he had a word of caution too. "How the rest of the year is going to pan out will depend on the economy. If there is no job security, how many people would come forward to buy property? After all, one takes a long term view of income while taking a home loan," Sumant said.
Jitendra Khaitan, chairman and managing director of Pioneer Properties, noted that only serious buyers are in the market.
However, that would not necessarily mean that all bookings would translate into agreement for sale. "There is at least 10-15 per cent cancellation from booking usually. Given that many developers offered easy exit terms, the number may rise," an industry source pointed out.
Sidharth Pansari, managing director of Primarc, however, sees little challenge in existing projects. "If you have built a reputation for delivering quality projects on time, there should not be any problem," Pansari said, adding focus on right size and pricing has paid off during this time.
Few launches, loans scarce Knight Frank, an international property consultancy, noted that there have been no launches in the Calcutta market during April-June. Neotia said he didn't expect launches before November.
Top developers sell around 11,000-12,000 units a year on an average. The Knight Frank report suggests 2,937 units were sold during January-June, all of which took place before lockdown.
The report says more than 30,000 units continue to remain unsold as on June 30.
The bias towards RTM properties also means that there is an incentive for builders to complete existing projects rather than taking up new ones which typically takes 36-48 months to complete. Bank finances have also become scarce and costlier, said Surekha Bihani, managing director (East) of JLL India.
Even though many projects have been registered with state regulator from April onwards, builders are wary of bringing them to the market, fearing lack of demand. This, however, does not mean that there is any dearth of choice.