KDM India's CEO, Nilesh Mali Gets Honoured With Bharat Gaurav Award For Contributing In The Success Of Make In India Campaign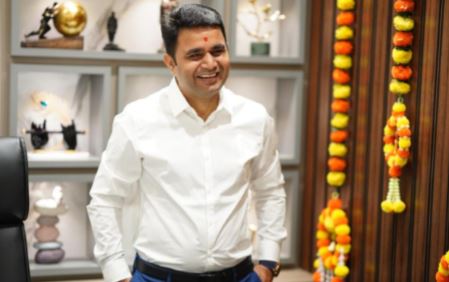 ---
Published 18.07.22, 11:14 AM
|
---
Nilesh Mali, KDM India's CEO is one of the most prominent businessmen in India. Ever since he started KDM in 2011, he has been serving the demands of a huge section of the Indian demographic with great quality and economical mobile accessories. With this, he's not just helping a huge population meet their lifestyle-related demands, he's also helping the national economy and boosting the Make In India program.
For the same reason, Nilesh Mali was recently honoured with the prestigious Bharat Gaurav Award. The award is a mark of respect given to unsung heroes who have played a vital role in making the Make in India theme of the GOI a success. Nilesh Mali has also been honoured with several other awards for his work including the 'Rising Brand of the Decade' award at the ZEE Business Excellence Awards 2021, and the MOBEXX 2021 Award for Most Preferred Mobile Accessories & Gadgets Brand amongst others.
But the interesting part is that Nilesh Mali has achieved everything despite spending a great part of his life struggling. He was a young boy with starry eyes when he arrived in Mumbai. Despite having big dreams, he didn't mind taking a slow start. Nilesh comes from a humble background and hence didn't have strong support. He started his career by doing odd jobs at retail shops and used every achievement as a push toward his goals.
When a friend suggested to him to do trading in mobile accessories, he took it up and that's where he changed his life. "I realised quite early that there were many big brands in the market that were giving the best quality products but those were not affordable to the masses, especially in tier 2 and 3 cities." In 2011, Nilesh started his lifestyle and mobile accessories brand, KDM, and the rest we know is history.
"We wanted to fill this space through KDM by serving the masses with value-for-money products. Striving for excellence and providing the most innovative products using the latest technology is our mission," he says.
Now the company hopes to be a household name in every town and remotest area of the country. It aims to reach over 1 lakh dealer network by 2025 with a vision of 'Har Ghar KDM'.
This is a sponsored article.