Infosys cloud, cyber security pays off
At a virtual media interaction event, CEO and managing director Salil Parekh said they had invested a lot in high potential areas and re-skilling in these areas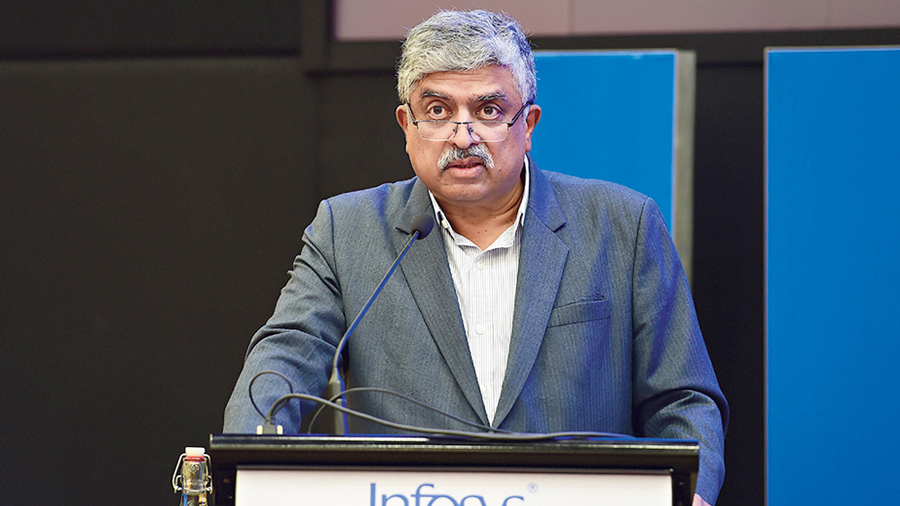 ---
Mumbai
|
Published 16.12.20, 12:58 AM
|
---
The strategy adopted by Infosys over the last three years in cloud, cyber security and other areas to help enterprises in their digital journey has began to pay off and the country's second largest software services firm is now seeing its deal momentum remaining steady despite the current quarter being a seasonally weak period. 
At a virtual media interaction event, Infosys CEO and managing director Salil Parekh said they had invested a lot in high potential areas such as cloud, cyber security and re-skilling.
Parekh said the strategy had been appreciated by clients, with Infosys witnessing lot of traction in its digital offerings and the "live enterprise" well received by customers. 
While the October-December quarter is usually a lean period because of holidays and furloughs, Parekh said that there had been no adverse impact on deal wins which continue to remain steady and strong.
The US elections has also not affected the decision making at a client level even as the intensity of connecting with them has only gone up due to multiple virtual interactions.
The technology spend scenario remains extremely strong at this stage, Parekh said.
In his inaugural address, Nandan Nilekani, co-founder and chairman, Infosys said that there had been a "consumerisation of IT" as he referred to the massive impact of consumer oriented technologies on corporations. 
Nilekani focused on three trends — the adoption of cloud, need for cyber security as more applications get exposed on the public Internet and the huge need to retrain or reskill employees.
He averred that till 2005-06, it was enterprise driving technological innovation. But after the arrival of the iPhone in 2007 and subsequently the Android operating system, the smartphone became the essential vehicle or engine of innovation.
This led to a major change in how digitization as there was consumerisation of user experience and people who used enterprise applications wanted the same ease of use. It led to the rise of big data and artificial intelligence and large companies used data to find out what consumers needed. It also led to demand of modernization of existing applications of large enterprises. He added that a huge challenge facing enterprises is their legacy systems of many decades. However, today's world required much more agile infrastructure and more services on cloud.