India's fiscal constraints pose threat to net zero emissions target
Reduced storage costs and the scalability of renewable projects with storage would support a faster transition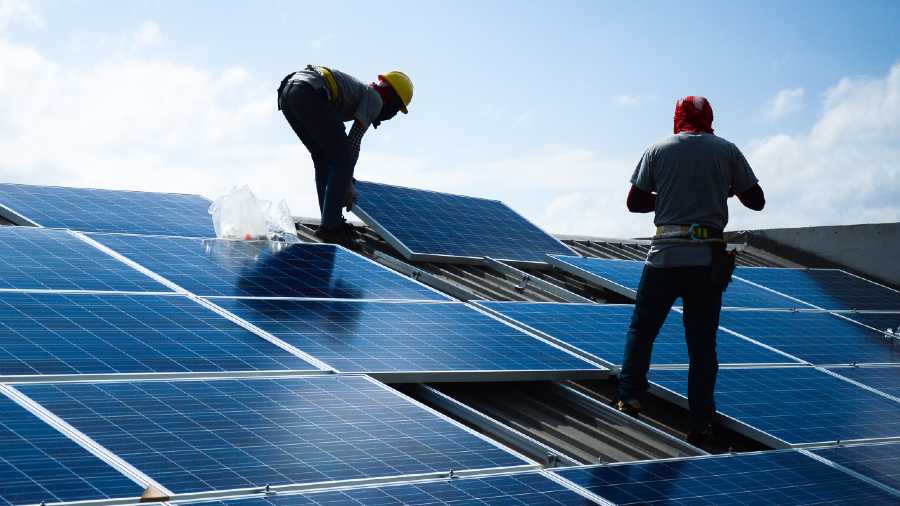 Renewable energies — notably solar and wind — are already cost-competitive and do not require government subsidies.
File Picture
---
New Delhi
|
Published 20.04.22, 02:34 AM
|
---
The country's development needs and fiscal constraints could pose a challenge to meet the Modi government's ambitious net zero emissions target by 2070 or intermediate goals by 2030, global rating agency Moody's said.
"The pace of India's carbon transition will depend on the extent to which the government can balance energy affordability and reliability needs against its emissions reduction commitments," Abhishek Tyagi, Moody's vice- president and senior credit officer said.
"Reduced storage costs and the scalability of renewable projects with storage would support a faster transition," Tyagi added.
The Moody's report pointed out that "over the pandemic, India's government debt has risen to nearly 90 per cent of GDP in fiscal 2021, while interest payments increased to nearly 26 per cent of revenue from 22 per cent before the coronavirus outbreak."
Renewable energies — notably solar and wind — are already cost-competitive and do not require government subsidies; a challenge for the central government will be to maintain the sector's attractiveness to private investors and address broader hurdles in the investment environment, such as land acquisition.
While it has removed nearly all fuel subsidies over the last decade, the government derives a high proportion of its revenue from fuel taxes.
Based on government data, total taxes included in the retail sale price of petrol and diesel in India are about $92 and $73 per barrel respectively.
For fiscal 2021, the central and state governments together received about $90 billion from taxes on the sale of petroleum products and other contributions from the oil and gas sector in India, equating to around 29% and 7% of their respective revenue receipts.
On one hand, this can be viewed as an inherent carbon tax but it can also be a driver for government reluctance to further dis-incentivise consumption of fossil fuel given its important contribution to revenue, it added.
Last year, Prime Minister Narendra Modi had set a 2070 deadline for the country to achieve net-zero emissions. Crucially, it pledged that by 2030, the carbon intensity will reduce 45%, and half of the country's energy needs will be met through renewables.
It will then come down to the private sector to lead the way if these targets are to be met. Already, a large number of Indian companies are ramping up their net-zero targets and looking at ways to transition to renewable energy. Such private sector firms are leaving behind their state-run counterparts in managing the energy transition risk, the Moody's report said.
"Private sector enterprises that already have strategies and targets in place to combat energy transition risks will have the first-mover advantage and also more time to adjust their business models in response to the changing energy landscape."
According to Moody's, the government can support this through policy signals that would encourage the transition and attract investment. Sovereign wealth funds of companies, which are already active in India's renewable space, can provide access to low-cost and "more patient" capital for the private sector, the report said.